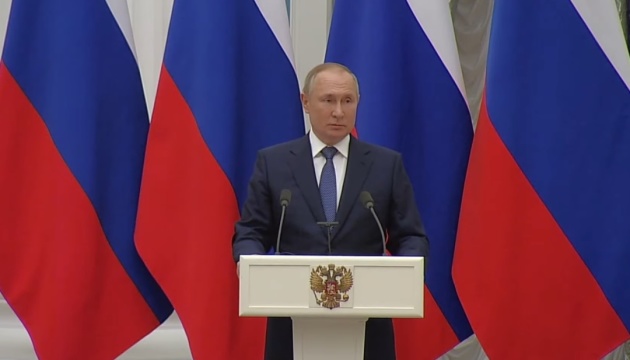 13.11.2022 12:40
President Vladimir Putin of the Russian Federation introduced an amendment to the draft law on the possibility of revocation of acquired citizenship, which was approved at first reading.
This was reported by Meduza on its Telegram channel, according to Ukrinform.
The norm will apply to those who received a passport not by birthright, but as a result of the "accession" of new territories.
It is noted that Putin supplemented the list of crimes for which citizenship can be revoked. The list includes:
Spreading fake news about the Soviet Union and discrediting the Russian army.
Insulting Russia's flag and coat of arms.
Participating in an undesirable organization.
Inciting separatism.
Encroaching on the life of a statesman and calling for extremism.
Read also: Putin definitely not tired of war – Zelensky
The very decision on stripping someone of Russian citizenship can be made regardless of when the crime has been committed.
As reported by Ukrinform, the Center for Countering Disinformation under the National Security and Defense Council stated that Russian propaganda and some foreign media are spreading fake news about NATO's split on the issue of their stance on the war in Ukraine.
(C)UKRINFORM 2022