Is now the time to make peace in Ukraine?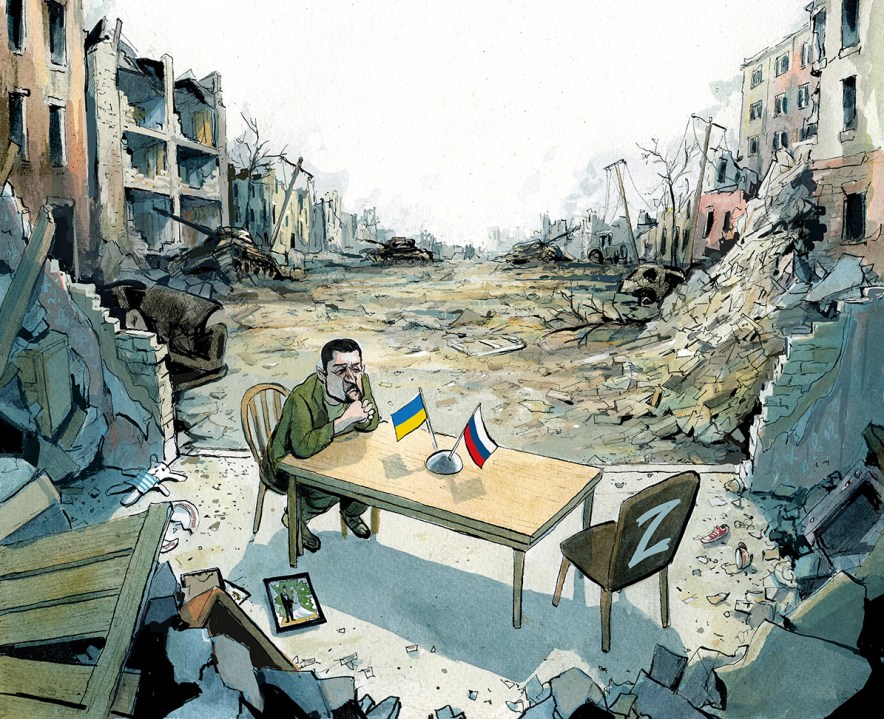 Since Russia's invasion of Ukraine in February, British press and public opinion has been firmly behind Volodymyr Zelensky. But is it healthy to look at any subject so uncritically? If a year or more of fighting will achieve nothing, then why prolong the bloodshed? The How To Academy has just held a debate about this delicate subject in London. The motion was 'Now is the Time To Make Peace in Ukraine'. I went along, with some of the Spectator team. Our colleague Svitlana Morenets, who writes our weekly Ukraine email (sign up here), was speaking against the motion. It was a fascinating debate.
Peter Hitchens, opening for the motion, said that the British press was very good at whipping up fervour for war but not so good at campaigning for peace. His main quarrel, he said, is with countries who are 'using Ukraine as a battering ram for reasons of their own'. Responsible citizens in our country, he said, 'should question this a lot more than we do'. Mary Dejevsky, also supporting the motion, said that some British politicians are now speaking for Ukraine's interests a bit better than they do British national interests. Ukraine, she said, had made things tougher for itself by bombing the Crimea bridge: it was warned not to by its allies, she said, and now Russia is taking our Ukrainian power plants in retaliation. Things are getting out of control. British support for Ukraine, Dejevsky said, is already starting to wane and Ukraine's 'blitz spirit' may not last.
Morenets spoke about that spirit, saying that she spoke to her mum recently. 'She and my brother had spent two days without electricity, phone signal or water. But my mum said to me: "I'm ready to spend all winter like this – I just want them to leave our country"'. Some 90 per cent of the Ukrainian public would say the same, she said. The plan is not for years of battle, but the military defeat of Russia. Putin's latest display of weakness, she said, came this week when he threatened not to recognise the 'grain corridor' that currently allows Ukraine to export grain (we spoke about that today here). He threatened to pull out of it, but had to crawl back when it was clear that Turkey and the US would carry on without Russia. In the end, he had to ask Ukraine to guarantee that we would not shell the grain corridor. Can you imagine him asking us for that nine months ago?
Of course Ukraine wants peace, says Morenets – she has known nothing but war for most of her life. At school, she and her classmates knitted nets to disguise tanks; growing up, she attended the funeral of everyone killed in the war. Her seven-year-old brother spent today in a bunker, not in class. But this war has been going on for seven years with 45,000 dead before 22 February – killed a war barely recognised by the West. Time after time, she said, Ukraine accepted Putin's peace offering – and found that, every time, he came back stronger for war building up to full invasion.
The panel also spoke about Russian public opinion. Hitchens said that 'it's partly our fault' as we so badly mishandled the collapse of communism and 'backed the wrong people'. 'Russia's threat to the West is a bogeyman,' said Hitchens: its army is a mess and now stands exposed as such. 'Russia's status as a threat has now been hugely weakened for the world to see. So in a peace negotiation, Russia would have to give quite major things'. One of the problems, he said, is that in Ukraine 'virulent nationalism has been predominant, rather than the civic nationalism that you find in Scotland.' It's easier to be a non-Scot in Scotland, he said, than an ethnic Russian in Ukraine. 'Half the difficulty', he said, is the ugly strain of Ukrainian nationalism that made life difficult for ethnic Russians in Ukraine.
In the end, a show of hands showed the motion defeated by a margin of two-to-one. I took a ropey video of Svitlana's opening statement and will post it later.
WRITTEN BY
Fraser Nelson is editor of The Spectator