For their full restoration, more than 38 billion hryvnias will be needed.
Part of the war crimes of the Russian invaders is connected with attacks on hospitals. Since the full-scale invasion, the Russians have damaged 1,100 medical facilities in Ukraine. More than 38 billion hryvnias will be needed to restore them.
According to the press center of the Ministry of Health, 144 medical institutions have been completely destroyed. Such objects will need to be rebuilt from scratch. Another 95 health care facilities have been almost completely restored. And 204 objects were partially repaired.
"Restoration of destroyed medical facilities is tentatively estimated at more than 38 billion hryvnia," the Ministry of Health summed up.
A map was attached to the post with a division into regions according to the number of damaged medical facilities. Front-line and front-line regions are expected to take the first places. In Kharkov – 249, in Donetsk – 210, in Nikolaev – 148, in Kyiv – 121, of which 41 are in Kyiv. All medical facilities remained intact in the Kirovohrad, Lvov, Volyn, Transcarpathian, Chernivtsi and Ivano-Frankivsk regions, as well as in the territory of the temporarily occupied Crimea.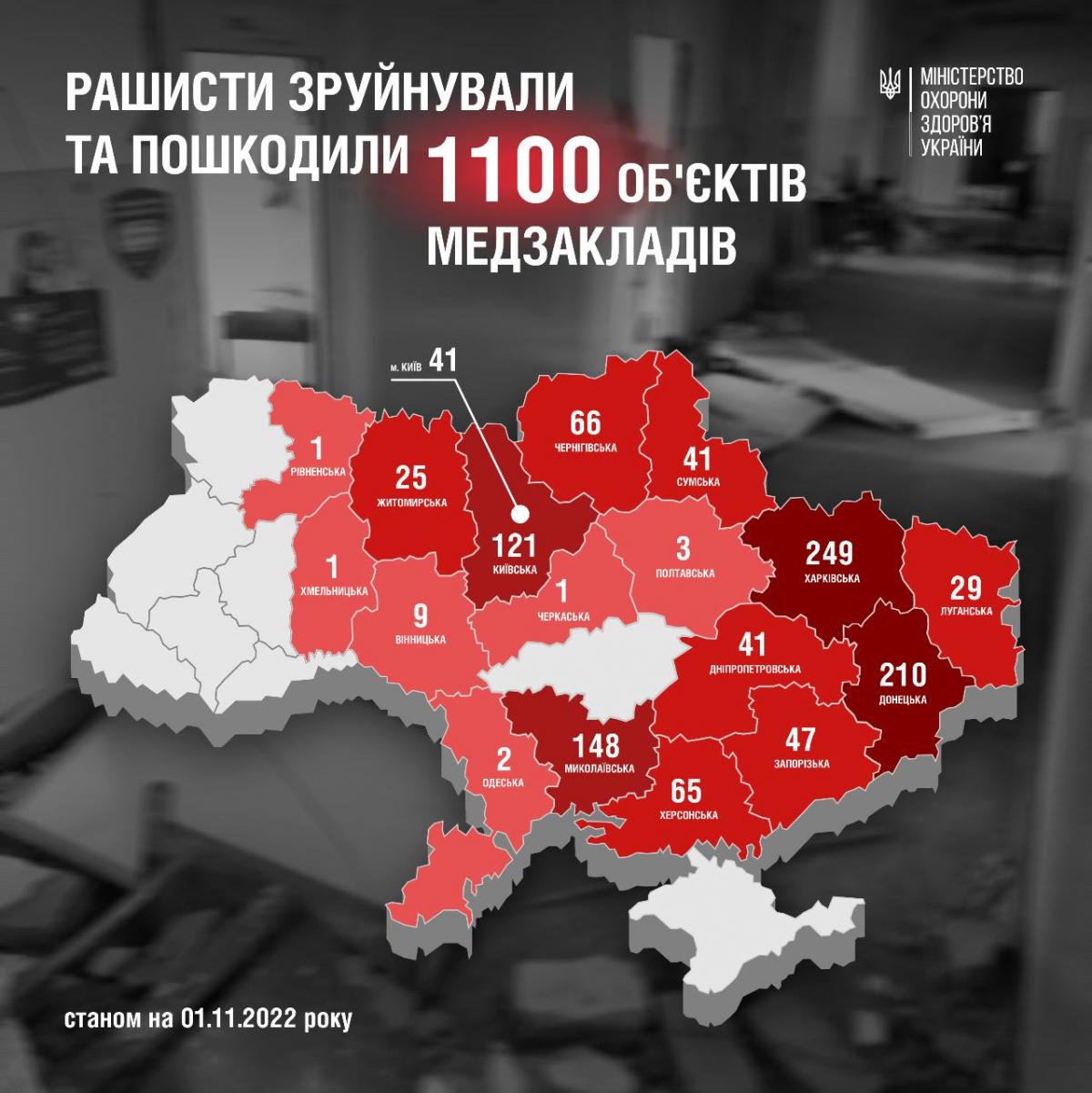 Russian war crimes: the latest information
During the full-scale invasion, the Russian invaders committed thousands of war crimes. This includes not only the shelling of hospitals, but also torture, executions, sexual violence, and so on.
According to the General Staff of the Armed Forces of Ukraine, the rashists are taking people out of the territory of the Kherson region against the background of the counteroffensive of the Armed Forces of Ukraine. Residents of Ukraine are first deported to the Crimea, and then to the Russian Federation.
The occupiers also kidnap children in the temporarily occupied areas. For example, on November 5, the Commissioner for Human Rights of the Verkhovna Rada, Dmitry Lubinets, reported that enemies continue to take children out of the Oleshkovsky orphanage.
In early November, the occupier confessed in an intercepted conversation that Russian troops were leaving Liman: "We killed everyone there. Old people were slaughtered, men. Women were raped and also killed. screamed so much."
(C)UNIAN 2022