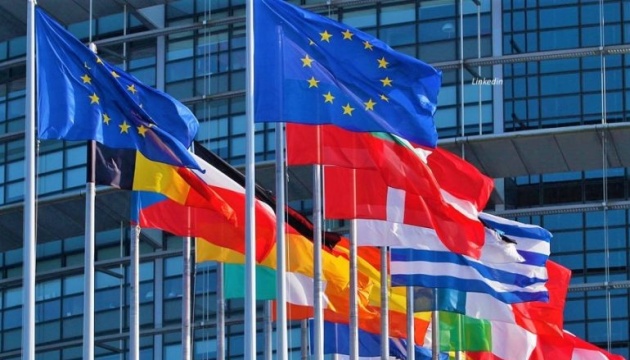 04.11.2022 06:43
The European Union is studying the feasibility of using billions of euros worth of Russian central bank assets already frozen by member states to help with Ukraine's reconstruction efforts.
The relevant statement was made by Bloomberg, referring to people familiar with the matter, an Ukrinform correspondent reports.
The discussions are at an early stage and legal experts have been recently tasked to look into possible options. Assessing whether or how to take control of the assets is extremely complex and potentially legally fraught.
According to Bloomberg, the EU executive in Brussels is exploring ways to permanently cut off Putin's access to the assets remaining in the EU.
The options would focus on how to eventually seize some of the about $300 billion of the Central Bank of Russia's reserves that were frozen by the EU, the US and other allies following Russia's invasion of Ukraine.
According to Bloomberg's source, the issue has been raised with the US, but it is unclear if the Biden administration would also take steps to seize Russian reserves held in dollars. In May, Treasury officials expressed concern about setting a precedent that would discourage other foreign central banks from parking their assets in the US.
The European Commission is "exploring how to make Russia pay for the destruction it caused" and it's been asked by EU leaders "to present options for using frozen assets for the reconstruction of Ukraine, in line with EU and international law," spokesman Christian Wigand noted, adding that "work is underway."
The EU's justice commissioner Didier Reynders told German media group Funke on Saturday that the frozen reserves could be kept as a guarantee until Russia voluntarily participates in the reconstruction of Ukraine.
The Ukrainian government has been calling for months to transfer frozen Russian assets to its accounts as compensation to use in rebuilding the war-torn country. The cost of reconstruction is estimated at $750 billion, Ukrainian Prime Minister Denys Shmyhal said in September.
The Ukrainian side also counts on the implementation of an international compensation mechanism through the United Nations.
Separately, the EU has been looking at powers to seize the assets of sanctioned Russians by extending the list of crimes, such as money-laundering and corruption, to include the violation of EU sanctions.
EU nations have so far frozen about 17.5 billion euros of assets belonging to sanctioned Russian individuals and entities, Bloomberg added.
(C)UNIAN 2022