September 19, 2022 – By RFE/RL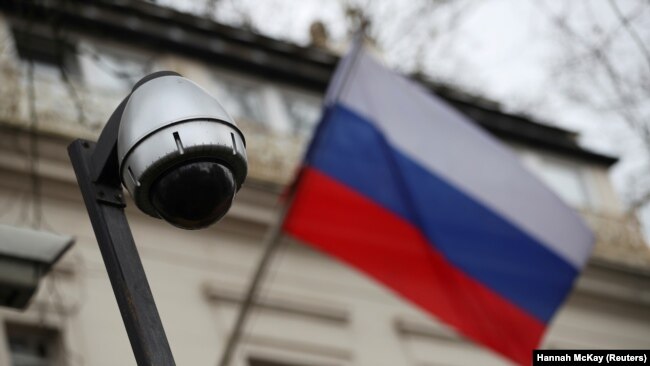 The Russian Foreign Ministry has summoned the Canadian ambassador over alleged attacks on the Russian Embassy in Ottawa.
The ministry said in a statement on September 19 that an unknown person threw a Molotov cocktail onto the territory of the Russian Embassy in the Canadian capital.
The ministry also said that law enforcement officers in Ottawa had not prevented what it said were "aggressive" demonstrators who it said had blocked an entrance to the consular section of the embassy.
"The Russian side demanded immediate measures to secure due safety of the Russian entities abroad, as well as that of their employees and members of their families," the statement said.
The statement did not specify when the incidents took place.
Russian Ambassador to Canada Oleg Stepanov was quoted by Russian state-owned news agency Sputnik as saying that the bottle was thrown early on September 12 but didn't ignite.
Stepanov said a video of the incident was sent to Canadian police, but Ottawa police said they were not aware of any such report, according to the Canadian Broadcasting Corporation.
A spokesman for Canadian Foreign Minister Melanie Joly said relevant authorities were looking into the matter.
"We know that Canadians are shocked at the latest images coming out of Izyum," Adrien Blanchard said in a statement. "That is why we will not spare any effort to hold [Russian President Vladimir] Putin and his accomplices accountable for their war crimes."
Ukrainian officials said last week that they had found 440 bodies buried in a forest near Izyum, a town in northeastern Ukraine recaptured from Russian forces. They said most of the dead were civilians.
Blanchard also quoted Joly as saying violence and vandalism were not acceptable.
Relations between Russia and Western countries, including Canada, have been tense since Russia launched its full-scale invasion of Ukraine in late February.
Canada has closed its airspace to Russian aircraft, barred Russian vessels from using Canadian ports and internal waters, banned the sale of luxury items to Russia, and prohibited Canadian banks from conducting transactions with Russia's central bank.
Ottawa has slapped sanctions on some 1,500 Russian citizens and companies, including President Vladimir Putin, his two adult daughters, Russian athlete Alina Kabayeva, who is believed to be Putin's current partner, Foreign Minister Sergei Lavrov, central bank Chairwoman Elvira Nabiullina, and many other close associates of the president.
https://www.rferl.org/a/russia-embassy-canada-complaints/32041587.html