In addition, the Russians are asked to buy 50 icons for the invaders, apparently, they can only pray.
In the Kherson region, the occupiers were in such a deplorable state that they literally howled because of the "inferno", because of which they are now unlikely to be able to get out. And while some rashists are preparing to surrender, others are asking for help.
The Russian propagandist Kholmogorov opened a collection for the occupiers, but the list of what the rashists requested only causes a smile.
So, "guys" from the so-called self-proclaimed "DPR" turned to him. The invaders are in such a deplorable position that they even ask for outdated Soviet helmets.
"The situation is deplorable. They even asked for Soviet helmets. In addition to them, a comrade-in-arms from the RER Spetsnaz detachments wrote, they are now in the thick of Kherson. They also urgently need equipment," the propagandist wrote.
The invaders are asking for body armor and a diesel generator. They also understand that with the onset of cold weather, the Russian Federation will not rush with help and "warming", therefore they need winter clothes.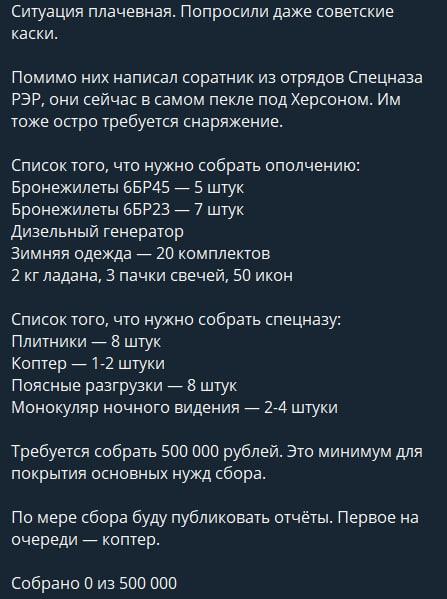 But the fact that the Russians ask for 2 kilograms of incense, three packs of candles and 50 icons deserves special attention. Apparently, the invaders realize that now they only have to pray, because the Armed Forces of Ukraine will not wait for a "gesture of good will" and are already rapidly moving towards Kherson. 
Earlier, UNIAN already reported that the Russians began to remove "valuable" tanks from conservation . The Russian Federation is in agony and is forced to take extreme measures due to a lack of equipment.
(C)UNIAN 2022