Law enforcement agencies will establish the circumstances of each deceased.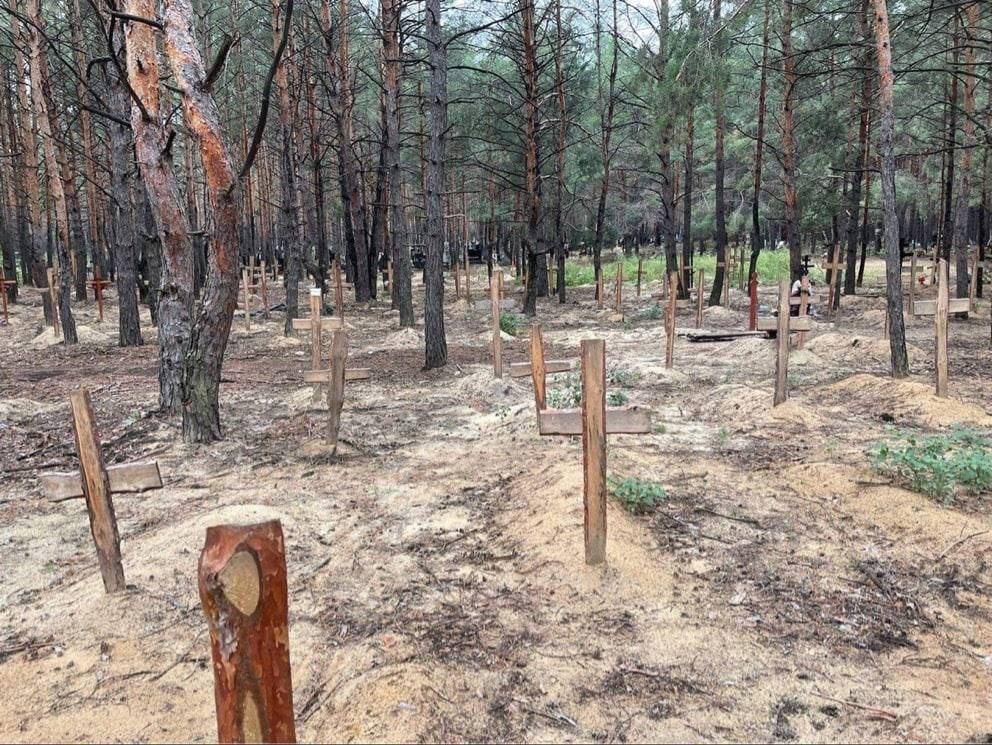 A mass grave was found at a cemetery in the forest near the city of Izyum , Kharkiv region, liberated from the invaders, where more than 400 bodies of people were buried.
Advisor to the Minister of Internal Affairs of Ukraine Anton Gerashchenko announced this on the air of an information telethon.
"We have just published photographs of a cemetery in the forest, where more than 400 bodies of people are buried. It will be necessary to exhume each body, as was the case in Bucha. Unfortunately, we have such a negative tragic experience, and we will establish the circumstances of the death of each of those more than 400 people buried in the cemetery near Izyum," Gerashchenko said.VIDEO OF THE DAYPlay Video
He also said that Izyume's houses were in ruins and, referring to the data of local residents, said that 47 people's bodies were pulled out from under the rubble of only one of these houses.
"This is a three-story house, in which two entrances collapsed as a result of a Russian aerial bomb. According to local residents, when they were ordered to dismantle the rubble under the occupation of the Russians, they got 47 bodies of the dead there," Gerashchenko said.
He suggested that in general, the number of deaths in Izyum during the occupation could approach 1,000 people.
"And it will be twice as much as in Bucha. Of course, we will check everything," Gerashchenko stressed.
President Volodymyr Zelensky has already commented on the mass grave of people in Izyum.
"A mass grave of people was found in Izyum in the Kharkiv region. The necessary procedural actions have already begun there. More information – clear, verified information – should be available tomorrow. Tomorrow there will be Ukrainian and international journalists in Izyum. We want the world to know what is really happening and what the Russian occupation has led to. Bucha, Mariupol, now, unfortunately, Izyum… Russia leaves death everywhere. – said the head of state.
As UNIAN reported earlier, on September 14, President Volodymyr Zelensky said that almost 400 settlements in the Kharkiv region were liberated from the Russians, in which about 150,000 Ukrainians lived under occupation for more than five months.
Today, September 15, informing about the work of the police in Balakliya, Izyum, Kupyansk and other settlements of the Kharkiv region after they were liberated by the Armed Forces of Ukraine, Deputy Interior Minister Yevgeny Yenin said that occupiers' dungeons were found in the territories of a number of liberated settlements.
(C)UNIAN 2022