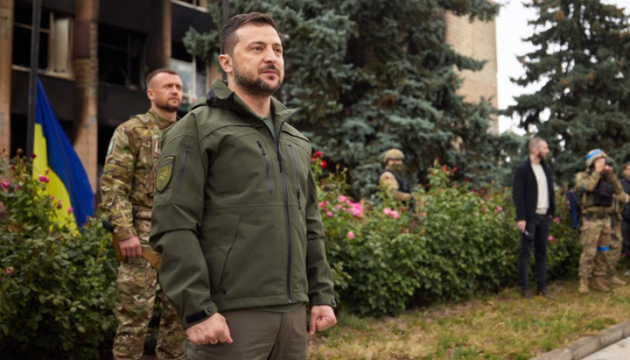 14.09.2022 17:52
President Volodymyr Zelensky thanked Ukrainian military personnel for liberating Ukrainian lands from Russian invaders.
"You can temporarily occupy the territory of our state. But you definitely cannot occupy the Ukrainian people. You can brainwash people's minds, but you cannot do this to the hearts of Ukrainians. I am thankful to Commander of the Ground Forces of the Ukrainian Armed Forces Oleksandr Syrsky, to all our warriors for liberating the Ukrainian land from the enemy. You save our people, our hearts, children and the future," Zelensky posted on Telegram, following his trip to Kharkiv region.
The President also published a video featuring today's trip to the de-occupied areas of Kharkiv region and flag-raising ceremony in Izyum.
As reported, President Zelensky visited the town of Izyum liberated from the Russians on Wednesday, where he took part in raising the State Flag of Ukraine.
(C)UKRINFORM 2022