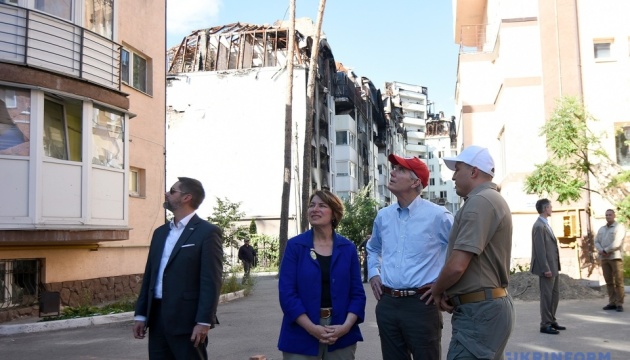 30.08.2022 21:57
The US Senate delegation, consisting of Republican Rob Portman and Democrat Amy Klobuchar, visited Bucha, Irpin, and Hostomel towns in Kyiv region.
As an Ukrinform correspondent reports, the senators walked through the destroyed neighborhoods of Irpin town.
"When you see that they went to civilian dwellings and shelled them… We know right near here journalists were killed, we know near here civilians were killed right across the street, and all of this happened, and it is really a suburban area that you would see anywhere in the US, like the suburban area in the twin cities of Cincinnati or Cleveland," Senator Klobuchar said.
"When you see this civilian apartment buildings, these were not military targets, and you can read about it, but you can see it, feel it, talk to the people who lived through it. It is hard to believe. So, we are in the position to go back and talk about that, my firsthand experience. That is important because the American people have been very generous, but you need to ensure that there is a commitment to Ukraine over the long haul," Senator Portman added.
In Hostomel, the senators visited the Antonov airfield, where they were shown the destroyed Mriya and Ruslan aircraft and told about the defense of the airfield. The senators thanked the Ukrainian service members for their bravery.
As reported, the delegation of the United for Ukraine interparliamentary network visited Kyiv region on August 24.
(C)UKRINFORM 2022