Shells and rockets cost the occupiers the most. The salaries of Russian soldiers are one of the smallest items of expenditure.
The Russian Federation spends about $400 million a day on the war in Ukraine. The most expensive are rockets and shells, the cheapest are the salaries of the occupiers.
Forbes writes about it .
Army spending
On average, about $200 per day is spent per soldier participating in the war. The approximate number of Russian military is 100,000 people. That is, the daily cost of paying for the troops is about $20 million per day.play video
The budget of the Russian Federation should spend about $50 million a day on compensation for the wounded and killed military.
Rockets and projectiles
Russia spends much more on shells and missiles. During the day, Russian troops use up to 50,000 shells worth about $1,000.
During the day, the enemy fires about 20 missiles at Ukraine. Their cost ranges from several hundred thousand dollars (Tochka-U, X-59) to $10 million or more (X-101, X-47 "Dagger"). But most often the enemy uses Iskander missiles for $3 million each, Caliber for $6.5 million, and cheaper Soviet Kh-22 and Kh-55 missiles worth $1-2 million.
The average price of one rocket is about $3 million.
Vehicle losses
The greatest losses among equipment are tanks and aircraft of the enemy. On average, during the day of the war, Russia loses aviation in the amount of $60 million, and tanks and armored vehicles in the amount of $40 million.
The most expensive achievement of the Armed Forces of Ukraine is the sunk cruiser "Moskva" worth $750 million. In general, Ukraine sank the Russian fleet in the amount of more than $1 billion during the entire war.
Collateral losses
Russia also incurs significant indirect costs: financing the occupation administrations, additional payments to the Russian Guard for work in the occupied territories, financing mercenaries, among which is the so-called Wagner Group. The logistics and delivery of equipment to the front, its restoration and removal from storage, the training and rest of reserve forces, and the treatment of the wounded should also work to support the costs of the war.
Estimated costs for rear support are $50-100 million per day.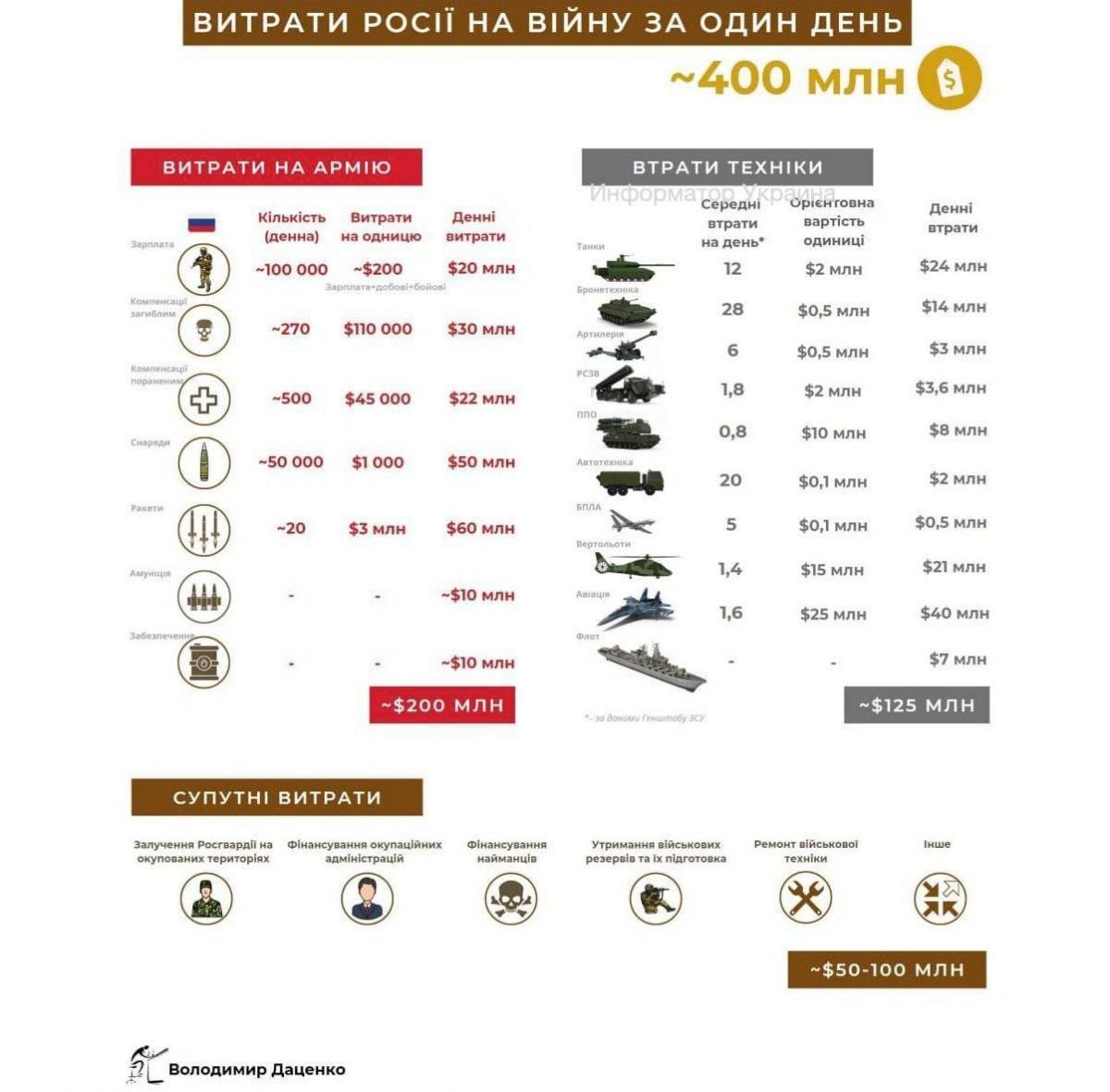 "In general, Russia loses every day in the war an amount equivalent to the cost of natural gas exports to the European Union. Russia can shift some of these funds to future periods … In the long term, Russia may pay one of the highest prices for a war after World War II. But for now the Russian budget is enough to cover direct military spending, the enemy is unlikely to be stopped by the cost of the war and its economic consequences," writes Forbes.

(C)UNIAN 2022