Very few citizens of the Russian Federation were not happy about the shelling of Vinnitsa.
Many residents of the Russian Federation enthusiastically accepted the missile attack of their army on Vinnitsa, as a result of which, in particular, children were killed.
The Russians actively commented on the news about the missile attack in the Telegram of propagandist Margarita Simonyan.
"Well done! Beat, beat them without pity," wrote Nadezhda Kaledina.
Video Player is loading.
"They should not post pictures, but announce surrender and sit down at the negotiating table," Katyusha believes.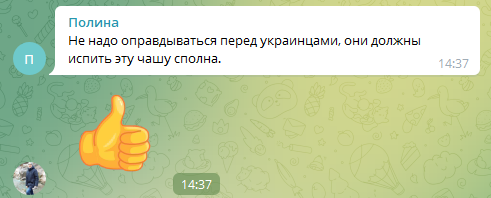 "Is it really possible for someone to think that the Russian army could strike at civilians … and even more so at a maternity hospital? How much you need to not know and dislike your country in order to allow this," the NO user asked.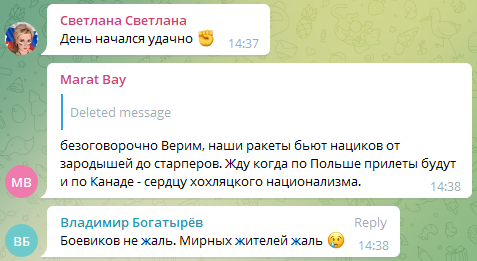 There are also adequate comments from Russians, but they are much fewer.
"20 civilians were killed. Of these, 3 children. What are you happy about ???" Andrey asked.

"Of the 20 dead, three children – where are the soldiers here?" – put the question Nataliya.

Recall that on July 14, Russian invaders fired on the center of Vinnitsa with Caliber missiles from a submarine that was in the Black Sea. Opponents hit civilian infrastructure.
As a result of the missile attack, according to the latest data, 20 people were killed, another 15 people are considered missing . Among the dead are three children.
(C)UNIAN 2022