Several dozen occupiers may be wounded or killed.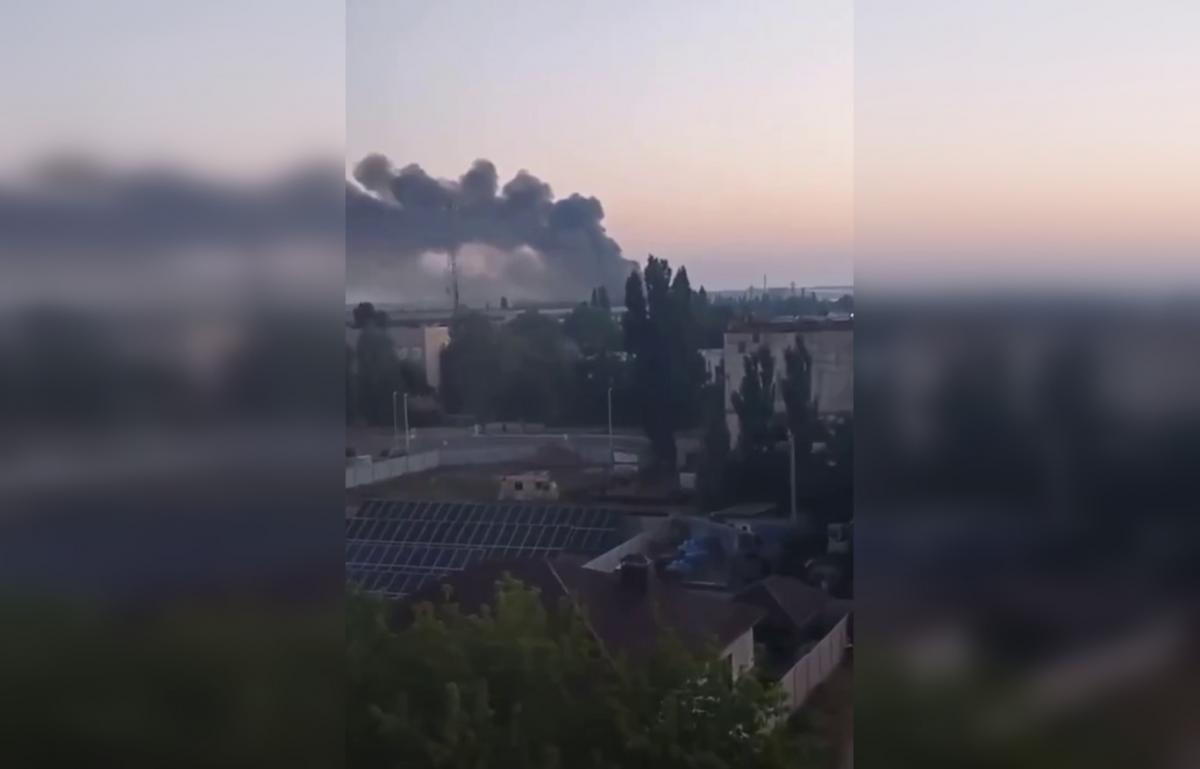 In the morning, an ammunition depot of Russian troops was destroyed in Novaya Kakhovka in the Kherson region.
This was announced by the speaker of the Odesa OVA Sergey Bratchuk.
"New Kakhovka in the morning. Preliminary, minus BC (ammunition – UNIAN), air defense, and several dozen orcs wounded / killed. Information is being specified," he wrote and added the corresponding video.
As the adviser to the chairman of the Kherson OVA Sergey Khlan said on the air of Espresso, this is already the third arrival in New Kakhovka. The invaders, according to the adviser to the head of HOVA, tried to relocate their warehouses from there.
"The warehouses are being destroyed for the third time. They are constantly relocating, they wanted to relocate to Kakhovka (the distance between settlements is about 14 kilometers – UNIAN), their warehouses, but they relocated to some other place. And this morning a well-aimed hit. There is no official information yet, This is information from witnesses," he said.
According to Khlan, the explosion was powerful, after which there was detonation for some time.
Undermining the warehouses of the occupiers may be an element of preparing the Ukrainian defenders for a counteroffensive.
"Warehouses that they have located away from the front line… They think that they have a safe rear. But as we can see, well-aimed hits go to the ammunition depots. And this is already becoming such a tradition. Destroying the orcs once we can calmly begin counter-offensive actions. I think that this is such a definite preparation, because in recent days we have been constantly hearing about explosions at the warehouse of the invaders in its rear – either in Kherson, or in Nova Kakhovka, or in Chernobaevka, " he added.
Recall that Kherson and part of the region have been under Russian occupation for a long time. The aggressor periodically declares its intention to hold a "referendum" there, and also carries out repressions against the civilian population. At the same time, residents of the city and the region are trying to resist the Russian military, hinting in every possible way that they are not welcome there .
At the same time, the invaders  decided on the date of the fake referendums  in the temporarily occupied part of Zaporizhia and Kherson regions. The Russians are planning to steal Ukrainian territory on September 11th. The inhabitants of the cart show resistance to the pseudo-referendum .
(C)UNIAN 2022
On June 29, Kherson Gauleiter Kirill Stremousov announced the start of preparations for a "referendum on joining Russia." The traitor did not name the exact date. He is confident that the Kherson region will decide to become part of Russia.
Now Russia is transferring part of its forces to the Donbass, opening the prospects for the encirclement and de-occupation of Melitopol and Kherson to the Armed Forces of Ukraine. General Malomuzh voiced likely scenarios.
The other day, residents of the temporarily occupied Kherson region were urged to stay away from accumulations of enemy equipment or Russian troops, as "the Armed Forces of Ukraine are coming."