Scholz said that his country helps Ukraine more than "almost anyone else."
Germany delivered only a third of the weapons promised to Ukraine
This is reported by the German tabloid Bild .
Until June 7, Germany promised Ukraine 542 million euros in aid (only the US, Poland and the UK promised more).
But the difference between the promised and realized arms deliveries is great.
According to the monitoring of the Kiel Institute for the World Economy, so far Germany has delivered supplies worth 192 million euros – 35% of the promised. Thus, Germany ranks eighth in the list of countries supplying weapons to Ukraine.
The United States promised the most weapons (by 4.14 billion euros). They also lead in terms of deliveries (by 1.97 billion euros, this is 48% of the promised).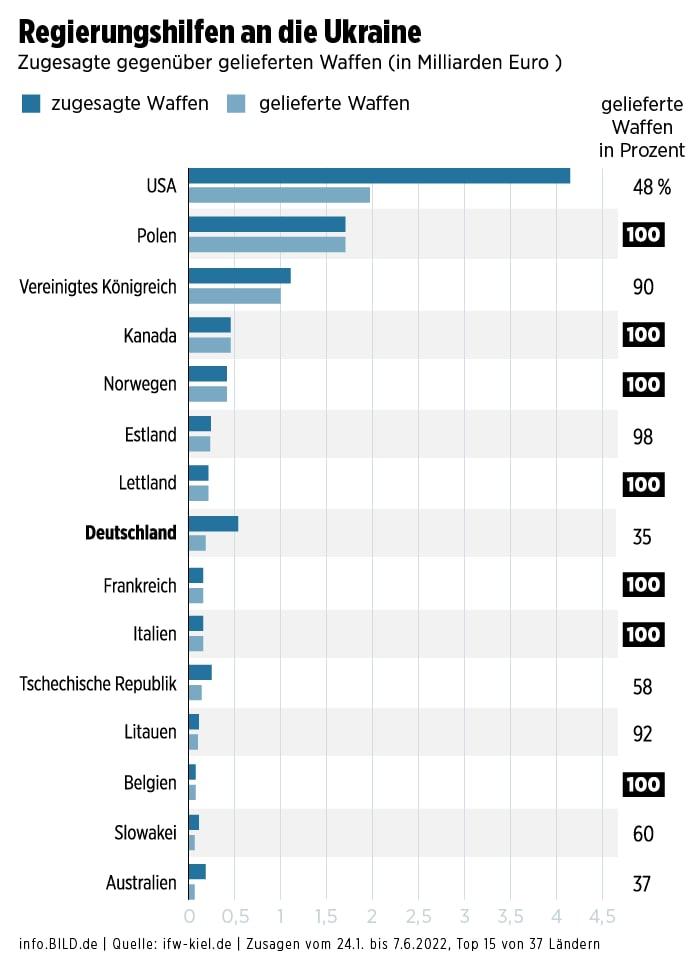 A number of countries delivered 100% of the promised weapons (Norway, France, Latvia, Italy, Belgium, Luxembourg, Finland, Croatia, Bulgaria, Austria, Romania and Poland). But the total supply there is lower than in Germany.
The report of the Kiel Institute for the World Economy refutes the words of German Chancellor Olaf Scholz, who said that his country helps Ukraine more than "almost anyone else."
"Germany is one of the main supporters of Ukraine militarily, and probably only the United States provides more support than us," Scholz said at a press conference along with the leaders of Lithuania, Latvia and Estonia.
Earlier, Aleksey Arestovich, an adviser to the head of the President's Office, said in an interview with the German publication Bild  that German Chancellor Olaf Scholz is responsible for the dead Ukrainians, because he does not give Ukraine the heavy weapons he promised.
(C)UNIAN 2022