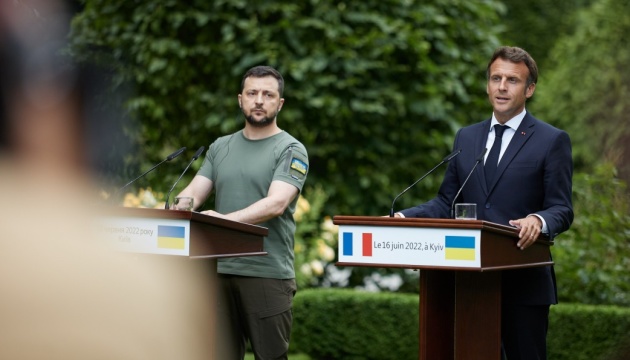 16.06.2022 23:30
President of France Emmanuel Macron has acknowledged that his talks with Russian president Vladimir Putin have not yielded the desired results but considers it necessary to continue these talks.
"Given the number of hours I spent talking to him [Putin] and my current insight, especially after visiting Irpin and Bucha, if we talk about the result, I'm not just disappointed – it's not enough a strong word when you see this barbarism and what all this [Putin's actions] has led to," Macron told Ukrainian journalists on Thursday, an Ukrinform correspondent reports.
He noted that he had talked to Putin on his own initiative and on behalf of France, but had informed his EU counterparts about the communication every time.
"Sometimes I did that at the request of President Zelensky when he wanted to convey certain messages or proposals to Putin," Macron said.
According to the President of France, he had no illusions about the intentions of the Russian leader.
"That's why I worked so hard to prevent this war from being unleashed. That's why I went to Moscow in the winter and spent so much time with this person. Because I understood that every new stage he goes to, every new step would create something irreversible for both Ukraine and Russia," he said.
At the same time, Macron noted that despite the current fruitlessness of talks with Putin, in his opinion, "this will still have to be done because one way or another, sooner or later Putin will have to talk to President Zelensky and negotiate."
As reported, on June 16, President of France Emmanuel Macron, German Chancellor Olaf Scholz, Prime Minister of Italy Mario Draghi, and President of Romania Klaus Iohannis arrived in Ukraine and held talks with President Zelensky.
On February 24, Russia launched a full-scale invasion of Ukraine. Russian troops shell and destroy key infrastructure, massively fire on residential neighbourhoods of Ukrainian cities, towns, and villages using artillery, MLRS, aviation bombs, and ballistic missiles.
(C)UNIAN 2022