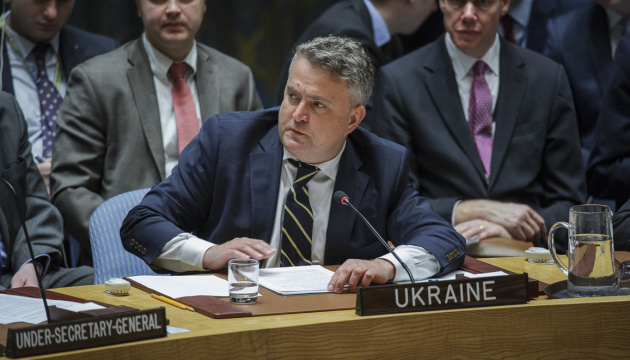 06.06.2022 23:20
Ukraine's Permanent Representative to the UN Sergiy Kyslytsya has criticized the position of politicians who advise Ukraine to make concessions to Russia in order to stop the war.
According to Ukrinform's correspondent in New York, he said this on Monday at a meeting of the UN Security Council on sexual violence and human trafficking caused by Russian aggression.
"We reiterate therefore that any 'concession' that some 'well-wishers' advise now will be only the way to a new war. With the same scope for violence and closer to our western borders," he said.
According to him, if the recently occupied territories are not liberated, Russia will turn them into new strongholds for renewed attacks.
"There's hardly any other European nation that has experienced such deep devastation by Bolsheviks-Stalin-Hitler and eventually Putler within such a short period of history," he said.
"Seventy-seven years ago, mankind united in its struggle to destroy evil. Dozens of millions of lives were lost in order for us to realize that appeasement and concessions to the aggressor do not work. History tends to repeat itself if its lessons are not learned," Kyslytsya stressed.
Putin's Russia must be defeated. For the sake of international peace and security. For the sake of the Ukrainian people who pay the highest price now. For the sake of people throughout the world, in particular those depending on grain supplies from our region. And for the sake of the people of the Russia that should return to the family of democratic nations following its 'deputinization'," he added.
Kyslytsya stressed that "there is no other option but to resolve the problem of Russia's squatting in the Soviet permanent seat."
He noted that the Russian delegation continues to show up at the Security Council meetings on Ukraine.
"Everything said by the accomplices of crimes can and will be used against them in court. Of course, they have the right to talk to a lawyer for advice before they speak here for their own sake, and maybe they already do," Kyslytsya added.
(C)UNIAN 2022