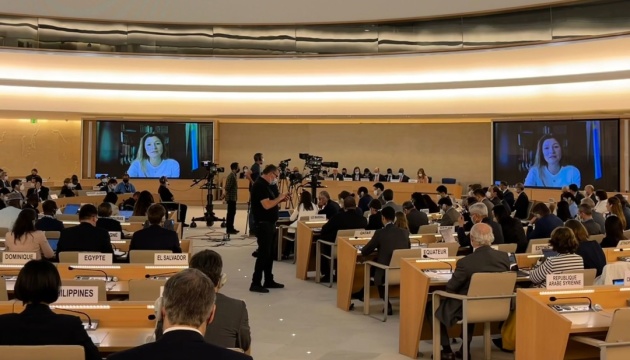 12.05.2022 17:11
Russian troops forcibly take Ukrainians out of the occupied territories and put them in Crimean prisons. If Ukrainians refuse to cooperate with the occupation "administrations", they are killed.
"We receive alarming reports from human rights activists on the use of Crimean prisons for Ukrainians illegally detained and forcibly displaced from the newly occupied territories of my country, particularly from Kherson. The Russians have also launched a new project – the creation of the so-called 'Kherson People's Republic', blackmailing people, killing them just if they refuse to cooperate with collaborators, a 'new administration'. I am talking about Melitopol, Mariupol, and other cities," First Deputy Minister of Foreign Affairs of Ukraine Emine Dzheppar said at the 34th session of the UN Human Rights Council in Geneva, an Ukrinform correspondent reports.
The official called on the Council and its member states to take decisive action and outlined the blatant human rights violations recorded in Kyiv, Chernihiv, Sumy and Kharkiv regions in late February and March when Russian troops were stationed there.
"Thousands of innocent civilians were executed in the presence of their families, women were raped in front of their children, and entire families were buried alive under the rubble of destroyed buildings. The Russian authorities responded to these atrocities in their own way – denying everything, spreading misinformation, assigning higher ranks to the brigade members that committed these crimes in the town of Bucha," said the first deputy minister.
Dzheppar called on the UN Human Rights Council to take effective steps and respond decisively to the Russian army's war crimes in Ukraine.
In particular, she mentioned Mariupol, which had been reduced to ashes, and the persistent resistance that Ukrainian defenders continue to put up while holding positions at Azovstal steelworks.
"Moscow's war, unleashed in violation of the UN Charter and the fundamental principles of international law, is a war against all of us. And only when the world stands in solidarity with the Ukrainian people, this evil can be defeated," Dzheppar stressed.
The 34th session of the UN Human Rights Council on the deterioration of the human rights situation in Ukraine due to Russian aggression is held in Geneva today.
(C)UKRINFORM 2022