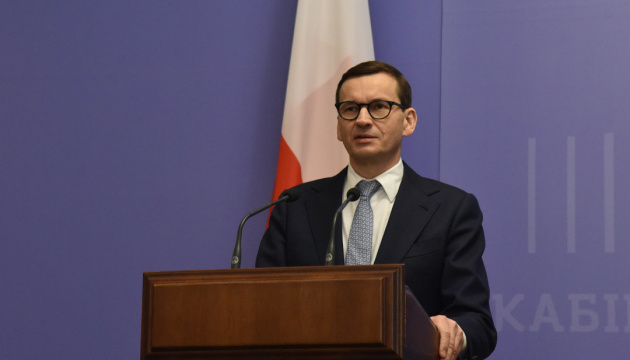 25.04.2022 17:00
Russia's armed aggression against Ukraine has led to a change in current geopolitical realities. Now it is impossible to imagine a return to relations with Russia as they were before the aggression. Putin is carrying out a "special genocide operation" in Ukraine.
This was stated by Prime Minister of Poland Mateusz Morawiecki during the 14th European Economic Congress in Katowice on Monday, an Ukrinform correspondent reports.
In his speech, the Polish prime minister stressed the need to preserve Ukraine's sovereignty so that all Russian soldiers withdraw from Ukraine.
According to the head of government, now is the "special time" when nations need to go beyond existing schemes and think about solutions that until recently did not even come to mind.Read also: Propagandists inadvertently confirm scale of Russian atrocities in Mariupol
"We (Poland – ed.) offer such solutions, we offer a plan for the reconstruction of Ukraine, a plan of hope for Ukraine, but also for the whole EU. This is a plan that will be based on new geopolitical grounds," said the head of the Polish government.
He noted that Poles had until recently been accused of Russophobic views. However, today it is clear that more and more Western nations see a great threat coming from Russia.
"Today I am afraid not so much of severed trade chains with Russia, but of the fact that there will soon be those who want to restore such chains of economic contacts with Russia," Morawiecki said.
Therefore, he stressed the need to resolutely oppose Russian aggression and do it "here and now."
"This is what we're doing thanks to sanctions. We must also prevent the return to what we had before (in relations with Russia – ed.)," said the chairman of the Council of Ministers of Poland.
He added that the views of Western leaders are changing, and therefore there will be no return to normal relations with Russia, as it was before.
"This is very important because we are building a new geopolitical system, a new geopolitical order is being created before our eyes," Morawiecki said.
The head of the Polish government noted that Putin had attacked not only Ukraine, but also Europe's energy security, food security, and created inflation, which the Polish prime minister called "Putin inflation."
"In preparation for their so-called special operations, Putin and the Kremlin had taken action months ago to keep gas and energy prices high in order to destabilize economic growth in Europe in the post-pandemic period. After that, another special operation took place: the so-called migration crisis (on the Belarusian-Polish border – ed.), and then another, which already has the features of a war crime – a special genocide operation (in Ukraine – ed.)," said the prime minister.
(C)UKRINFORM 2022