UKRINFORM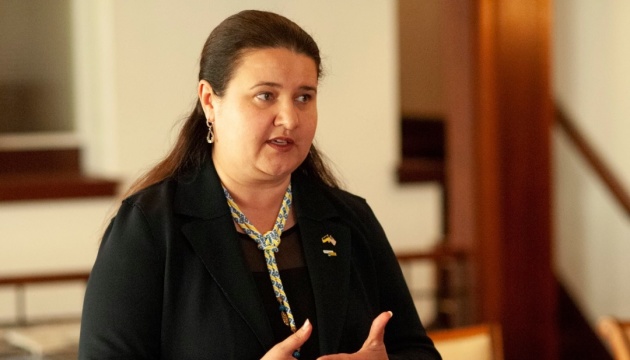 17.04.22
Russian diplomats spreading lies in an attempt to justify and defend Russia's atrocities in Ukraine are the same kind of aggressors who deserve an international trial and have no right to be called "diplomats."
That's according to Ukraine's Ambassador to the United States Oksana Markarova, an Ukrinform correspondent reports.
"Unfortunately, they are all lying shamelessly. This applies not only to those in the United Nations, but also to their representatives in the Organization of American States, of which I am also a representative from Ukraine. This also applies to Ambassador (of Russia to the United States – ed.) Antonov, who from time to time appears on certain platforms to spread Kremlin's narratives," said the Ukrainian ambassador.
She stressed that now the situation in the world has become "black and white" thanks to journalists who tell the world the whole truth, while Russia just keeps lying.
"I have already stopped referring to the Russian armed forces as 'armed forces' because they are a gang of war criminals who abuse children, women, and other civilians. It is also time to stop referring to Russian diplomats as "diplomats." And let's not forget that after World War 2, all Nazi diplomats were tried in the same way as Nazis who had been killing and burning people in gas chambers," Markarova said.Read also: No diplomatic notes can alter U.S. position on arming Ukraine – Ambassador Markarova
She stressed that in the end, none of them will escape responsibility for their actions and beliefs. And that is why now everyone in Russia, regardless of their profession, must make their own human choice: whether you are on the side of evil and war criminals, which makes you a war criminal as well, or on the other side."
"And this choice must be made by everyone, not only diplomats, not only the military or businesses, but everyone," said the ambassador.
As Ukrinform reported earlier, representatives of Russian diplomatic missions both at international organizations and in foreign capitals are trying to justify Russia's aggression in Ukraine. However, in the first weeks of the latest invasion, on March 2, a total of 141 UN countries voted in favor of the resolution "Aggression against Ukraine," which condemns Russia's invasion of Ukraine and demands that Russia immediately withdraw troops from Ukrainian territory.