The Russian cruiser was hit by two Neptune missiles, the journalist noted.
Wikipedia
The Moskva missile cruiser of the Russian Black Sea Fleet was hit by Ukrainian Neptune missiles.
Journalist Serge Marko wrote about the defeat of the Russian cruiser on Facebook , and his information has already been confirmed by the Odessa Regional State Administration.
"The cruiser Moskva has just been hit by two Neptune missiles. It is standing, burning. And there is a storm at sea. Tactical flooding is required, apparently," the journalist shared.
The head of the Odessa Regional State Administration Maxim Marchenko confirmed the hit on the Russian cruiser.
"The Neptune missiles guarding the Black Sea inflicted very serious damage on the Russian ship. Glory to Ukraine!" – shared the official.
Aleksey Arestovich, adviser to the head of the President's Office, in an interview with lawyer and human rights activist Mark Feigin, said that the cruiser Moskva was on fire.
"Something unexpected happened to the flagship of the navy, the cruiser Moskva. It's on fire … There are 510 crew members, we can't understand what happened – two sailors smoked in the wrong place, whether they once again violated any security measures no luck," he joked.
https://t.me/uniannet/46715?embed=1
The All-Seeing Eye channel on Telegram published an alleged photo of the burning cruiser Moskva and deleted it almost immediately.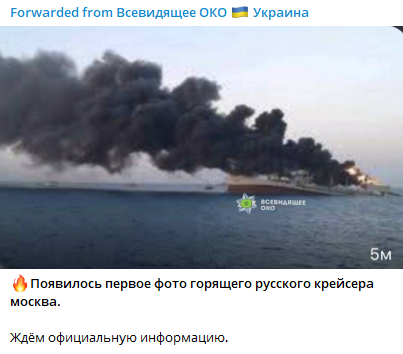 Illustration photo
It is worth noting that the Moskva cruiser is the same Russian ship that the Ukrainian border guards from Serpent 's Island sent to "x * y" at the end of February.
(C)UNIAN 2022