The streets of the Kazakh city of Baikonur are already patrolled by Russian armored vehicles.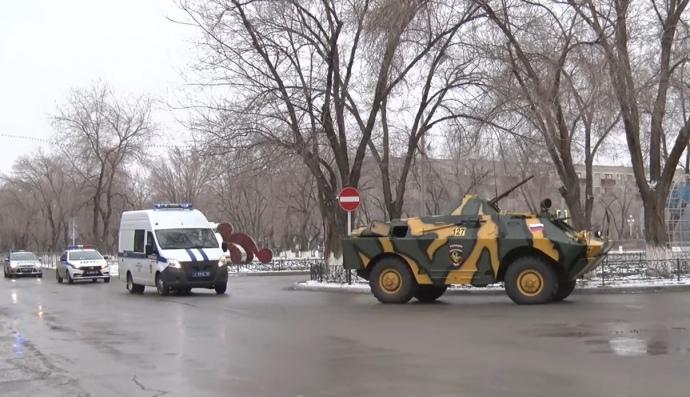 The streets of the Kazakh city of Baikonur are patrolled by Russian armored vehicles \ screenshot from video
An increased level of "terrorist threat" was established at the Baikonur space base in Kazakhstan until January 19.
The streets of the Kazakh city of Baikonur are already patrolled by Russian armored vehicles, Ukrainskaya Pravda reports, citing a video from the local TV channel BaikonurInfo.
In the city, the security forces are working in an enhanced mode of service, while it is not specified whether we are talking about local law enforcement officers, or about Russian security officials.
In the video, you can see an armored reconnaissance vehicle with a Russian flag and a military truck, which are accompanied by a police convoy.
Since January 7, in connection with the protests in Kazakhstan in the city of Baikonur, residents were prohibited from moving around the city in groups of more than three people, with rare exceptions, and a curfew was also imposed.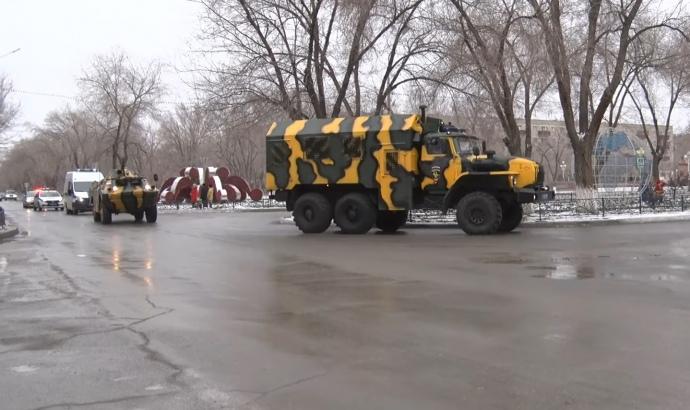 Russian armored vehicles are driving around the city \ screenshot from video
Situation in Kazakhstan
Protests have been held in Kazakhstan since January 2. People took to the streets of cities due to the rise in prices for liquefied gas. Later, citizens began to demand the resignation of the president, the government, and the introduction of democratic changes.
During the rallies, law enforcement officers used force against the protesters.
On January 5, the government of Kazakhstan resigned. An emergency regime was introduced throughout the country.
On the night of January 6, President Kassym-Jomart Tokayev announced the start of an "anti-terrorist operation" and asked for help "in putting things in order" from the CSTO.
Russia, Belarus and Armenia have already sent their military to Kazakhstan.
On January 7, in an address to the people, Tokayev said that he had given the order to open fire to kill without warning. He noted that peace negotiations with "armed and trained bandits" are inappropriate, so they need to be destroyed, this will be done in the near future.
Tokayev also said that the emergency regime will be gradually lifted in the regions of the country where the situation has returned to normal, and all the demands of the citizens of Kazakhstan, which were expressed in peaceful forms, have been heard.
According to official data, 44 people, including 18 security officials, were killed during clashes in different cities of Kazakhstan.
The Ministry of Internal Affairs of Kazakhstan announced the detention of more than 4 thousand people, including foreigners.
Reference : The Baikonur Cosmodrome is located on the territory of Kazakhstan, in the Kyzylorda region near the village of Tyuratam. The cosmodrome and the city of the same name together form the Baikonur complex, leased by Russia from Kazakhstan for the period until 2050.
(C)UNIAN 2022