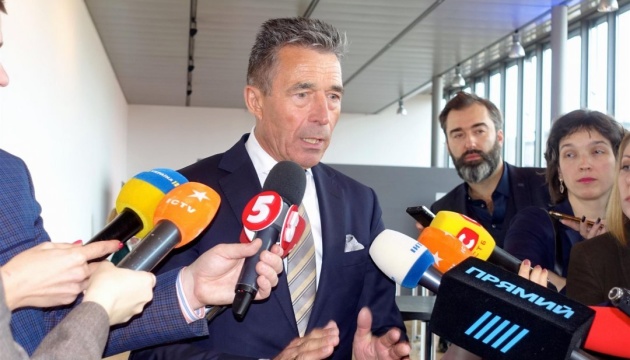 04.01.2022 13:5
1Now is the time to realize the promise NATO made to Ukraine and Georgia in 2008 and give them seats at the table of the military alliance, former NATO Secretary General Anders Fogh Rasmussen has said.
According to Ukrinform, Rasmussen wrote this in his article for Politico.
"We promised both Georgia and Ukraine seats at the NATO table in 2008, and it's time we set out an action plan to realize our promise. If necessary, we can do this with a proviso stating that NATO's Article 5 only covers the territory under the control of Kyiv and Tbilisi, but NATO cannot have an open-door policy on enlargement in which it continues to allow Putin to act as the doorman," he said.
Rasmussen also recalled that Russia signed up to the OSCE Charter for European Security in 1999, which grants "the inherent right of each and every participating State to be free to choose or change its security arrangements, including treaties of alliance, as they evolve."
"Ukrainians are a battle-hardened people willing to fight for the freedom that much of Europe has taken for granted, and we in the free world should be under no illusion that they fight for our freedom too. History tells us that aggressors tend not to stay in their own neighborhoods," he said.
Ukrainian President Volodymyr Zelensky in a phone call with U.S. President Joseph Biden on January 2 thanked the United States for its readiness to respond decisively in the event of Russia's further aggression against Ukraine.
(C)UKRINFORM 2021