Food prices in Crimea are growing. The inhabitants of the annexed peninsula felt this especially acutely on the eve of the Christmas holidays, although the occupants conceal the true scale of the problem.
Reported by OBOZREVATEL .
No money
Recently, the statistics department of the invaders published data on the average salary of Crimeans. It is argued that over the past five years, the income of the inhabitants of the peninsula has grown on average from 24.14 thousand rubles. (8700 UAH) up to 34.18 thousand rubles. (12 300 UAH). At the same time, the average salary in the Russian Federation fluctuates at about 54.6 thousand rubles. (UAH 19 700).
At the same time, residents of Crimea doubt the veracity of such data. They actively express their dissatisfaction on social networks, especially unhappy with the rise in food prices and the dollar exchange rate.
READ ALSOEU to extend Crimean package of sanctions against Russia for a year: ambassador"Who is this who gets 34 thousand rubles from us? Our janitor earns 10 thousand (3600 UAH), and the plumber 15 thousand (5400 UAH). The teacher receives about 15 thousand rubles. Who came up with these numbers?" – said a resident of Simferopol Elena.
Olga Valerievna, a pensioner from Yalta, said that only officials and the military can receive such salaries in Crimea.
"For a Crimean resident, 20 thousand (7200 UAH) is a very good salary. earnings in the same Russia. Because with the disappearance of water on the peninsula, it became impossible to grow something in their gardens, "says Olga Valerievna.
However, the level of salaries on the peninsula can be easily tracked using job search services. Consequently, a cashier and a seller in Crimea can earn from 20 to 30 thousand rubles (7200 – 10 800 UAH), as well as storekeepers with police officers. However, some employees are offered 50 thousand rubles (UAH 18,000). This is how much a logistician, accountant, head of a department can earn.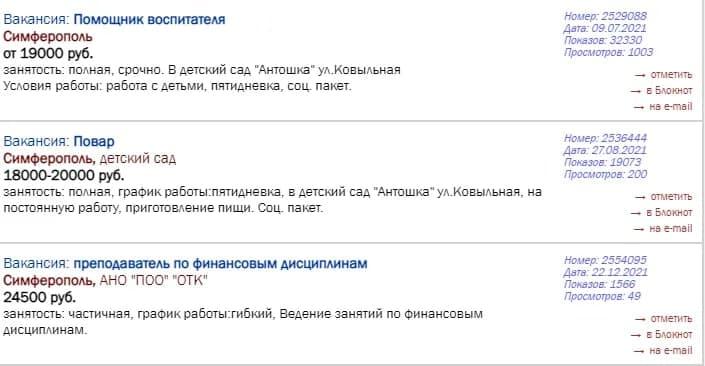 Salaries in Crimea / photo ok-crimea.ru
Sometimes the invaders still admit that the level of prosperity of the Crimean people is falling. In particular, recently the leader of the occupiers of Crimea Sergey Aksenov said:
Unfortunately, citizens' incomes are falling and this problem cannot be ignored.
Aksenov even decided to save the situation with the help of a working group of representatives of medium and small businesses in order to find "non-standard solutions aimed at increasing the efficiency of productivity, which will lead to higher incomes." At the same time, he did not provide any specifics.
Prices are rising
On the eve of the New Year and Christmas, Crimeans especially felt the frenzied rise in food prices. According to the "official" data of "Krymstat", the festive festivities have risen in price by about 10%. The invaders calculated that a family of four would spend about 8 thousand rubles (2880 UAH).
However, residents of the annexed Crimea are skeptical about these "statistics." According to them, prices rose by at least 15-20%.
READ ALSOResidents of the occupied Crimea were allowed not to return debts to Ukrainian banks"Today I went to the market. Our potatoes before the New Year have become golden. The cheapest is 55 rubles (20 UAH), and the best is 65 rubles (23 UAH). Fruit-apples have risen in price by 70 rubles (25 UAH). And a pack of oil 300 rubles (108 UAH) ", – said Olga Valerievna.
Prices have also increased in supermarkets. For example, Crimeans can count on the following prices:
oranges – 157 rubles (57 UAH);
eggs – 113 rubles (41 UAH);
salmon (slightly salted) 200 g – 479 rubles (172 UAH);
a bottle of milk 0.9 liters (2.5%, a Crimean manufacturer) – 107.9 rubles (39 UAH);
potatoes – 65 rubles (23 UAH);
pork – 419 rubles (151 UAH);
butter (pack 200 g) – up to 375 rubles (up to 135 UAH).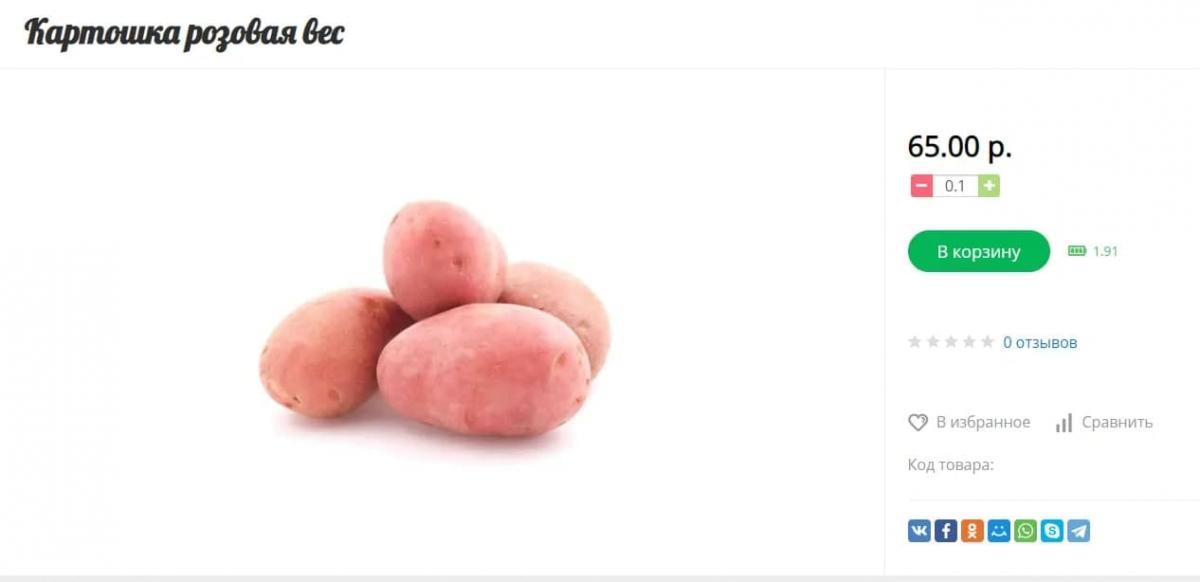 Potato price / photo teleshka.ru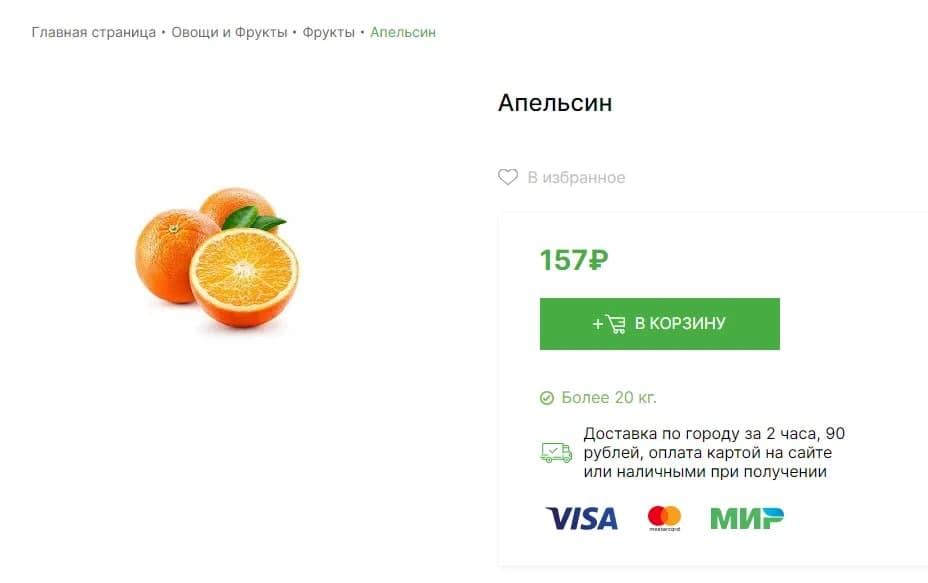 Price orange / photo korzina.su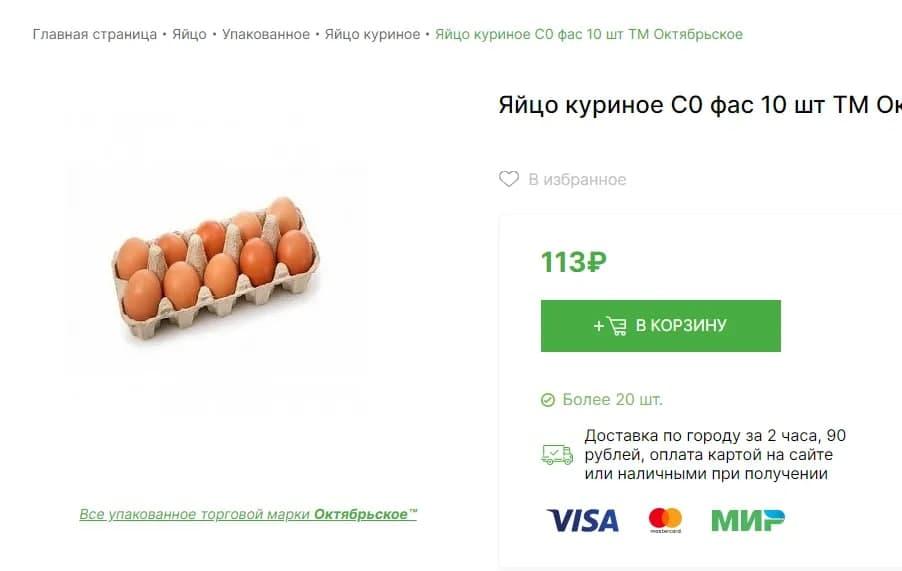 Egg price / photo korzina.su
Salmon price / photo korzina.su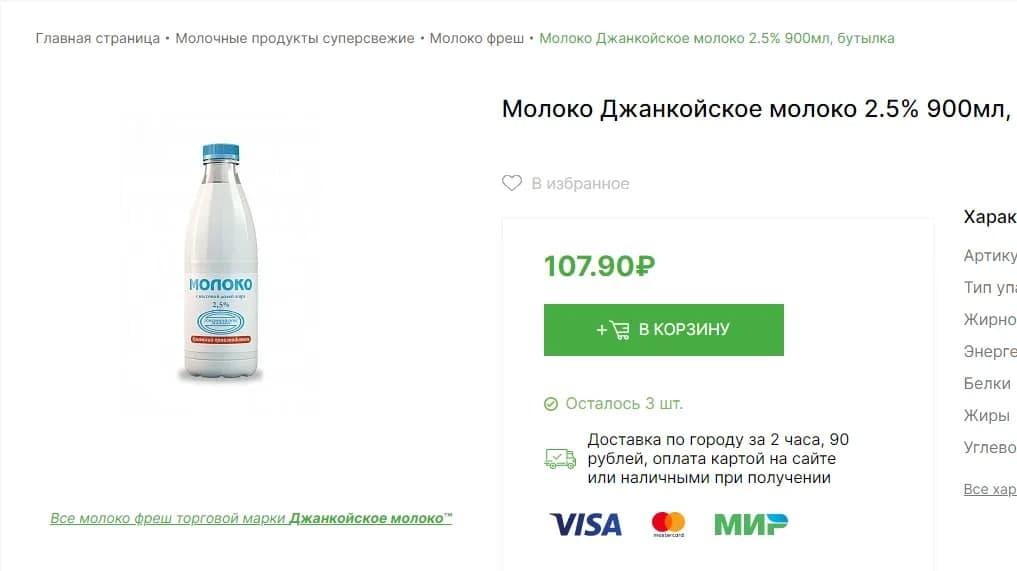 Milk price / korzina.su
For comparison, in Kiev, you can buy butter for 60-80 UAH, a bottle of milk – up to 30 UAH, eggs – 30-38 UAH, potatoes – 15-18 UAH.
We've calculated how much Olivier will cost us. About 800 rubles (300 UAH) went to a family of four. "Fur coat" will be released for 600 rubles (216 UAH). This year, we also have more expensive beets, and herring before the holidays too. And we plan to spend up to 9000 rubles (3240 UAH) for the entire New Year's table. This is 1,500 rubles more than last year. And this is without any frills in the form of red fish or caviar. A bottle of champagne costs 460 rubles (166 UAH) we will bake sweet ourselves, we will buy fruits at the market, which is cheaper. Most of the meat will be chicken, for a side dish – mashed potatoes, salads, vegetable preparations. My husband and I work in budgetary organizations, I am a teacher, he is a doctor, "says Evgenia, a resident of Sevastopol.
In the meantime, pensioners from Alushta Valentina Pavlovna and Sergey Semenovich are preparing to celebrate the New Year more modestly than usual. Fortunately, they can count on help from children.
"While we are being rescued by children who planted meat delicacies, sweets, even champagne for the holidays. They live in the controlled territory, so they took care of us in advance. Well, we will buy potatoes, canned vegetables, fish ourselves. I did not calculate the amount, but the table will be modest. Although there will certainly be pies, "complains Valentina Pavlovna.
According to the Crimeans, prices have increased significantly due to the weather. In the summer, floods destroyed crops, and before that, drought. In addition, there is still a problem with water on the peninsula, and many Crimeans consider Russian-made products unpalatable.
(C)UNIAN 2021