The former air traffic controller told Polish investigators about the details of the forced landing of Ryanair in May.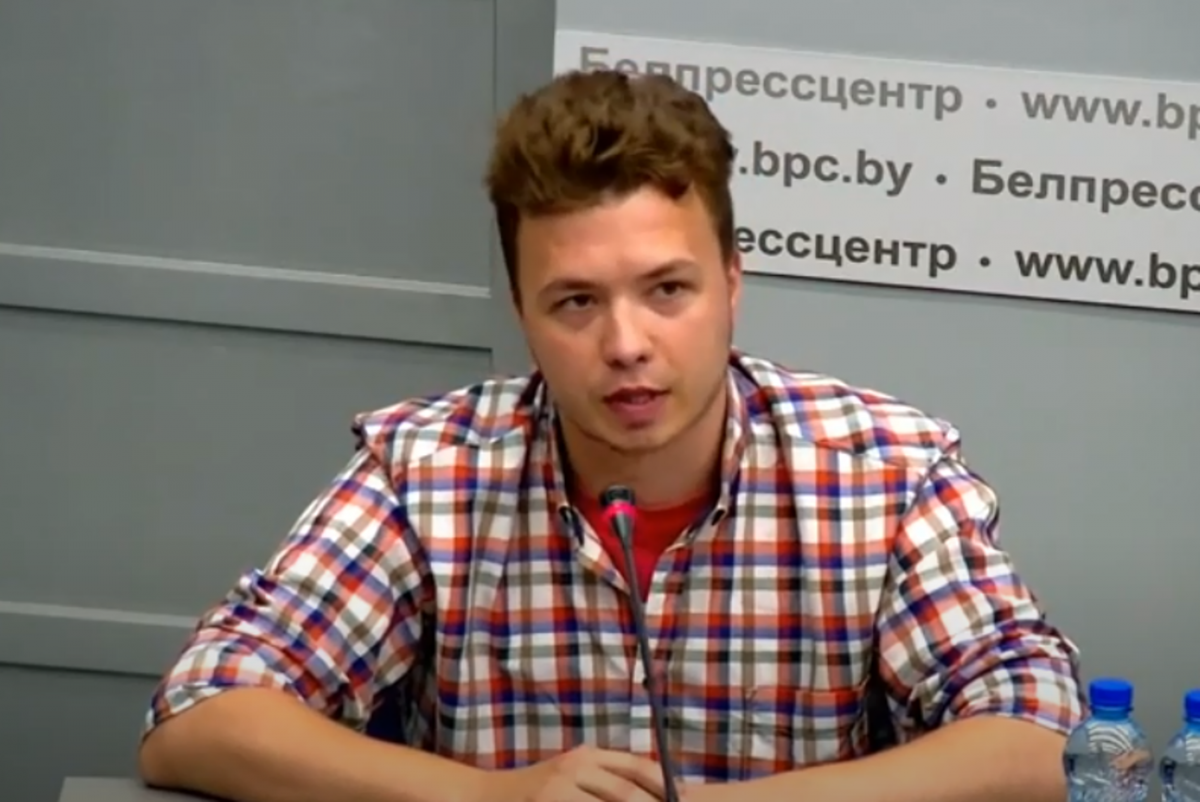 Roman Protasevich was detained after a forced landing in Minsk / screenshot
The former air traffic controller told Polish investigators that the forced landing in Minsk of a Ryanair plane in May 2021 with opposition journalist Roman Protasevich on board was a special operation of the Belarusian special services.
The New York Times writes about this with reference to unnamed representatives of the European intelligence services.
The former air traffic controller of Minsk airport reportedly fled to Poland with migrants from the Middle East. He provided Polish investigators with detailed evidence that the plane had been landed in Minsk with the help of a false bomb threat on board as part of a special operation to detain opposition journalist Roman Protasevich.
According to his testimony, then there was a KGB officer of Belarus in the control room, who "at the decisive moment took control of the air traffic control service." After that, he kept in constant contact with someone and informed him by phone about everything that was happening with the plane.
It is also reported that the name of the air traffic controller is Oleg Galegov, he is an ethnic Georgian and is married to a Belarusian. On the day of the incident, it was he who informed the pilot of the plane that there was allegedly a bomb on board, and that he should land the liner in Minsk for security reasons.
Ryanair plane lands in Minsk and Protasevich is detained
On May 23, the Ryanair Athens-Vilnius plane turned over the territory of Belarus and urgently landed in Minsk after the message about mining , which the Minsk airport administration allegedly received and handed over to the crew.
However, in the end, the country's authorities detained the founder of the opposition Telegram channel NEXTA, Roman Protasevich, who was flying on this plane and was wanted in Belarus. The incident caused a reaction from the world community, it was reported that the flight was landed under pressure from the authorities.
Ukraine has completely stopped flights with Belarus since midnight on May 26. Also, Ukrainian airlines and aircraft are prohibited from flying in the airspace of the Republic of Belarus. Since May 29, the Cabinet of Ministers has banned Belarusian aircraft from using the airspace of Ukraine.
The European Union began work on new restrictive measures against the Belarusian authorities, and as a result, the Belarusian state-owned airlines were banned from using EU airspace and airports.
The International Civil Aviation Organization (ICAO, ICAO), a specialized UN agency that sets international standards for civil aviation and coordinates its development, has undertaken an investigation into the circumstances of the forced landing in Minsk.
(C)UNIAN 2021