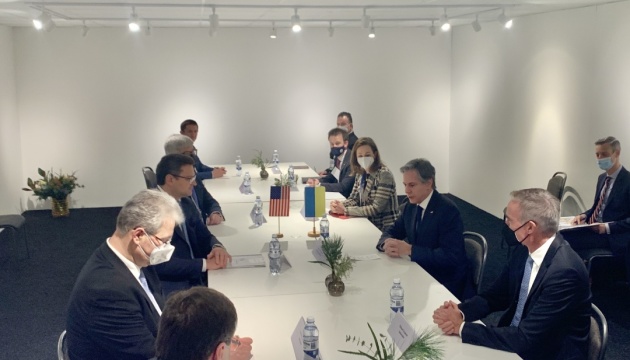 02.12.2021 11:52
Ukrainian Foreign Minister Dmytro Kuleba and U.S. Secretary of State Antony Blinken have discussed a comprehensive package of measures to deter Russia from further aggression.
According to Ukrinform, Kuleba announced this on Twitter.
"Great meeting with U.S. Secretary of State Antony Blinken in Stockholm. We are closely working together on developing a comprehensive deterrence package, including severe economic sanctions, to demotivate Russia from further aggressive moves," the tweet said.
According to Kuleba, the enduring Ukraine-U.S. strategic partnership was reaffirmed.
Kuleba is on a visit to Sweden on December 1-3, where he is taking part in an annual meeting of foreign ministers from the OSCE participating states.
(C)UKRINFORM 2021