The German President handed over an important document to Merkel.
Angela Merkel Receives "Certificate of Dismissal" from Frank-Walter Steinmeier / Reuters
In Berlin on Tuesday evening, October 26, German President Frank-Walter Steinmeier handed Chancellor Angela Merkel a notice of the end of her term.
Merkel received a "letter of resignation" at the Bellevue Palace, according to photos published by Reuters.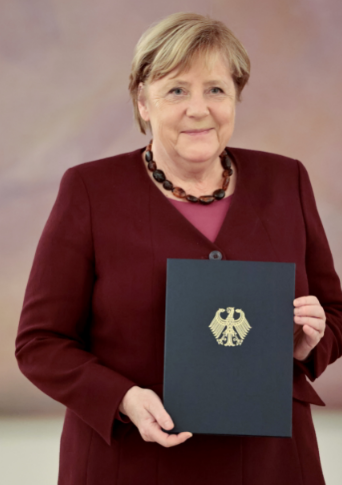 Angela Merkel was presented with a "certificate of dismissal" / Photo by Reuters
A video has already appeared on the network, which shows how Steinmeier thanked Merkel before handing over the "certificate of dismissal.
Recall that Angela Merkel first took over as German Chancellor on November 22, 2005. In 2021, Merkel decided not to run for parliamentary elections.
In the country, elections for the new Bundestag were held on September 26 . The first place in the electoral race was taken by the Social Democratic Party of Germany. This political force has bypassed the ruling German party "Christian Democratic Union", which includes Merkel.
While the country has not yet formed a new government, Merkel will be acting chancellor. A possible candidate for the post of chancellor is the leader of the Social Democratic Party, Olaf Scholz.
(c)UNIAN 2021