Youth of Slavyansk joined the all-Ukrainian flash mob.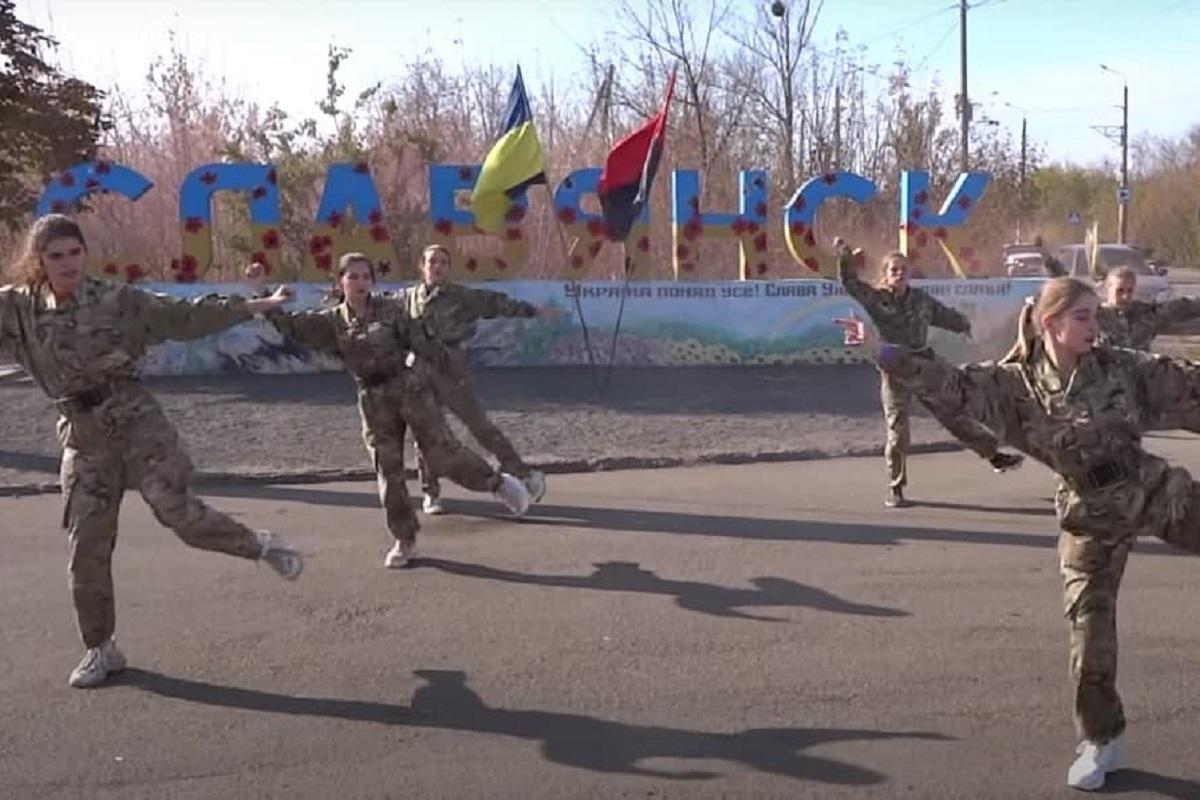 Girls performed their dance on October 17 / screenshot from video
In the Donetsk region, young girls danced to the viral song "Our Batko Bandera". Young people "lit" at the stele in Slavyansk, they hung up two flags and added "special effects" in the form of red and black smoke bombs.
A video with incendiary dances to a song about Bandera appeared on YouTube .
As reported by the "Novinarnya" edition , young people from the public organizations "Slavyanskaya Sich" and "United Family of Donetsk" joined the flash mob. Girls in camouflage uniforms danced to a remix of the song "Our Batko Bandera" against the background of a stele at the entrance to Slavyansk.
The youth installed two flags on the stele: yellow-blue and red-black (the flag of the national liberation struggle of the Ukrainian people). In addition, incendiary dances were accompanied by the smoke of red and black flares. The checkers formed a two-color smoke. The video description indicates that the girls performed their dance on October 17th.
In the comments, users noted that in the Russian Federation they will again "blaze" from the song, to which they have now danced also in the Donetsk region, not far from the occupied territories of Donbass.The youth of the Donetsk region danced to the song about Bandera
"Our Father Bandera" – what is known about the song
"Our father is Bandera, Ukraine is mother, we will fight for Ukraine!" The main character was lying under an oak tree "without a left leg and a right leg" when his mother approached him. Subsequently, the woman buried her son: "On his grave she wrote the words: Glory to Ukraine! Glory to all heroes!"
The patriotic song has been popular for many years, and in the fall of 2021 it became trending on the TikTok social network. Recently it became known that schoolchildren in Kiev tricked a "vatnitsa" teacher with a song about Bandera, after which she refused to go to work. 
In addition, UNIAN has already reported that the scandalous Kiva celebrated the murder of Stepan Bandera with a gun in his hand and a salute.