According to the president, in the near future, Ukrainians will be presented with a model for transforming Ukraine's energy security.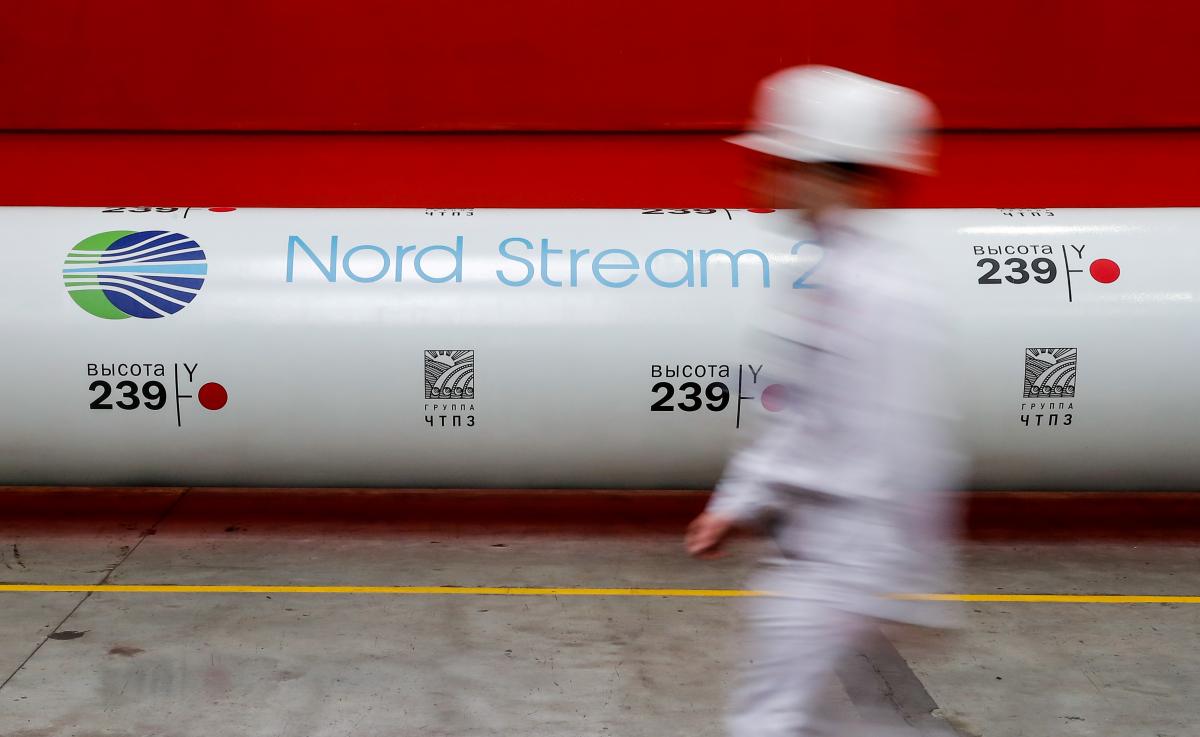 Gas sales price in Europe reached almost 2 thousand dollars per thousand cubic meters / photo REUTERS
Ukrainian President Volodymyr Zelensky said that Nord Stream 2 is Russia's modern weapon, the consequences of which no one knows yet.
The president said this in an interview with ICTV channel.
According to him, Europe is already listening to Ukraine, which sounded the alarm even before the start of the heating season.
In particular, representatives from Ukraine spoke with many leaders of Europe and the United States of America.
They talked about the fact that there will be a shortage in the gas market, and Russia will use this to press for a very quick introduction of Nord Stream 2
"It was understandable for us. We understood that there would be challenges for us, but we have our own gas and our society will be provided," the president said.
However, he stressed that Ukraine was talking about the energy threat to the whole of Europe, and already now "they hear us, and there is already a reaction."
"After Nord Stream 2 is completed, it still needs to be launched. It is very important for us that the third energy package is applied to Nord Stream 2, like many other technical things, so that everything is in accordance with international law," added Zelensky.
In his opinion, Russia, "of course, does not want this," because it feels power through the available volumes of gas and oil and uses this power.
"I think Europe is shocked by the price of $ 2,000. I think they counted on $ 300-400. They were ready in case of a deficit of $ 500-600, but no one expected an increase to $ 2,000. And already some countries have looked on our experience in annual packages for the population ", – said the head of state.
According to him, the reaction of France and other European states testifies to the fact that even for Europeans such a price is very expensive.
"We need to react. Nord Stream 2 is a modern weapon. We see a powerful weapon, that is, apart from shots and besides Russian weapons, in the form of information policy and cyber weapons, a new weapon has appeared – energy. The consequences of these weapons, no one knows, winter we have not yet passed, Europe has not yet passed. We will see what will happen next, what will happen in the spring, "the president said.
Zelensky is confident that at the same time, Ukraine should be one step ahead and not just talk about how many gas reserves are in storage and whether they will be enough for the winter.
"Enough, but this is not enough. Because we do not understand what will happen next – next year. Next winter will also come to Ukraine and the world. And we will have to react," he stressed.
At the same time, the head of state called the end of the contract on the transit of Russian gas by Ukraine, which is valid until the end of 2024, as a serious challenge.
"What will happen on January 1, 2025? This is also a very serious challenge and a serious question that had to be answered yesterday, the day before yesterday, to which it was necessary to find an answer 10 years ago. we will definitely show people in the near future, "Zelensky stressed.
Gas price:
On October 6, 2021, the gas sales price in Europe reached almost $ 2 thousand per thousand cubic meters, which is an absolute record.
5 European Union countries are asking to investigate abnormally high gas prices. Thus, France, Spain, Czech Republic, Romania and Greece in their joint statement called for the establishment of common rules for the purchase of gas in order to mitigate the sharp jump in gas prices.
The main reasons for the record growth in natural gas prices in Europe are low gas reserves in storage due to the cold winter and weak injection rates due to a lack of supply.
Nord Stream 2: What You Need to Know
The Nord Stream 2 project provides for the construction and operation of two pipelines with a total capacity of 55 billion cubic meters of gas per year from the Russian coast through the Baltic Sea to Germany. The gas pipeline bypasses Ukraine.
The pipeline is operated by Nord Stream 2 AG, which was founded by Russia's Gazprom. The project is financed by European companies: French Engie, Austrian OMV, British-Dutch Shell, German Uniper and Wintershall.
The United States imposed a number of sanctions against construction contractors, due to which work on the construction of the gas pipeline was stopped at one time.
On September 2, after a meeting with US President Joseph Biden, Ukrainian President Volodymyr Zelenskyy said that Biden had guaranteed the imposition of sanctions against Nord Stream 2 in the event of threats to Ukraine's energy security.
On September 10, Russia announced the completion of the construction of the Nord Stream-2 gas pipeline.
On September 23, 2021, it became known that the Congress approved sanctions against Nord Stream 2.
On October 4, 2021, the operator of the Russian gas pipeline Nord Stream 2  began filling the  first branch with gas.
As of October 18, the  first string of the Nord Stream 2 gas pipeline was filled with technical gas.
On October 18, 2021, Ukraine applied for participation in the certification of Nord Stream 2.
(C)UNIAN 2021