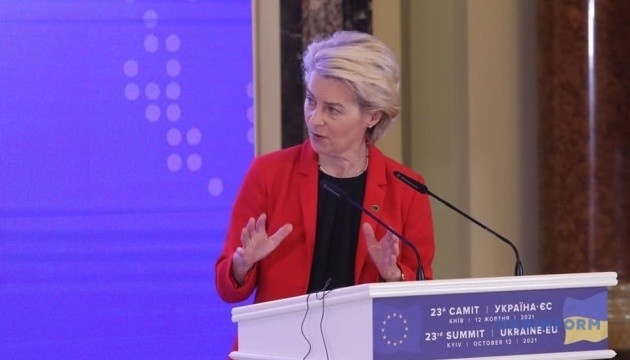 12.10.2021 15:40
The European Union is unwavering in its support of Ukraine's sovereignty and territorial integrity, insists on the full implementation of the Minsk agreements and calls on Russia to recognize itself as a party to the conflict in eastern Ukraine.
European Commission President Ursula von der Leyen said this at a joint press conference with Ukrainian President Volodymyr Zelensky and European Council President Charles Michel following the EU-Ukraine summit in Kyiv on Tuesday, October 12, according to an Ukrinform correspondent.
"Ukraine can be assured of our steadfast support and commitment to its independence, its sovereignty and its territorial integrity. We continue to back the implementation of the Minsk Agreements, fully. We commend Ukraine for its efforts. We support the position of President Zelensky's government, fully. And we call on Russia to assume its responsibility as a party to the conflict," she said.
Von der Leyen said that as a follow-up to the Crimea Platform, the EU has sent its own personnel to southeastern Ukraine to get an own picture of it so as to see how to best address the needs of the communities affected by the conflict.
"With immediate aid, of course, but also with investments for the future: healthcare, infrastructure, connectivity, civil society. We will soon fund, for example, school buses, so that the children that are living at the contact line in eastern Ukraine can simply go to class. Very simple means but an enormous effect for the better in the life of people there," she said.
(c)UKRINFORM 2021