The last call for the state. Why the profession of "teacher" is on the verge of extinction
Teachers are retiring en masse, and young people do not want to teach because of low salaries. Teachers have a crazy workload and remnants of the Soviet Union in the organization of the educational process. Is it possible to change this and how, but will there be anyone to teach the current first-graders in high school?
Mykola Dmytrovych has been leaving his nine-story building in Zhytomyr every morning for seventeen years. He has a thermos of hot tea with him and a little time – 25 minutes to get to his native 17th school and have time to prepare his workplace.
"Not always in the morning the teacher has time to eat, therefore I take a thermo mug", – Nikolay Tarasyuk tells TSN.Tyzhnya, walking through the sleepy city.
In any weather, he walks, because he is convinced that movement is life.
"I continue the dynasty of teachers. My mother was a physical education teacher, my aunt taught chemistry, my sister was a history teacher, my uncle was a mathematics teacher," he told TSN.Tyzhnya.
Crazy teacher
Mykola Dmytrovych teaches computer science. It is so successful that his high school students, studying at school, work in IT companies and earn their own money.
"In a year since I was a junior in an IT company, a student has become a midfielder. It's cool! I always play with children and we work as a small IT company, in which I am a manager who distributes magic tricks and teaches children to work in a team. ", – the teacher tells.
When teaching, a programmer-practitioner never raises his voice. He turns students of the most ordinary Zhytomyr school into winners of international competitions in digital drawing, programming, robotics. He keeps his students' awards in class.
"He, as my producer," says TSN. Weekly student Elizaveta Malinovska, "finds interesting competitions in which I participate."
"This is a drawing for the informatrix competition, it will take place in Mexico. I model costumes for the future generation that can live on Mars. I come from all over Ukraine," the girl shows her achievements.
The teacher constantly invents encouraging tricks. During the distance he distributed T-shirts and bracelets, even created his own brand – "Mytrych – crazy teacher from Ukraine".
"Crazy teacher – because children say that I am crazy, that, having many abilities and opportunities I remain to work at school. Only obsessed today will be able to sustain all this", – Nikolay Tarasyuk tells TSN.Tyzhnya.
The worst thing is that in these words there is a lot of hidden teacher's truth and not too bright side of the school.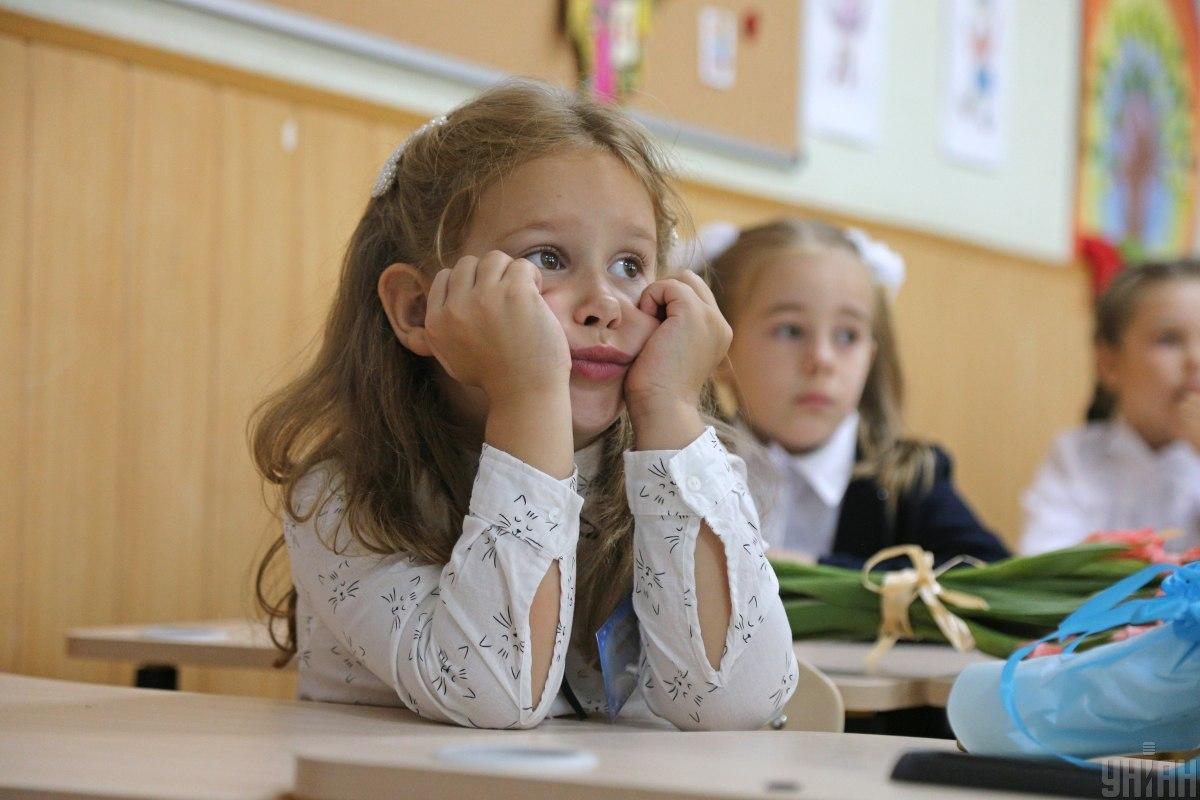 Teacher's revelations – taboo, if there is no permission from the director or department of education / photo UNIAN, Vladimir Gontar
Teacher's revelations
Open to everything new teacher – almost the only one who agreed on Teacher's Day to talk openly with TSN. Explains that teachers' revelations are taboo if they do not have permission from the principal or the education department.
"Which of the teachers writes their own posts, opinions? Their units for the whole country! This is an echo of the Soviet system. There is a department, you have to bend over and stand on your hind legs. Why? Someone is afraid that he will be fired," says Mykola Tarasyuk.
Soviet also calls the requirement for teachers to wear uniforms. Like, for the holiday he is in a jacket, but usually – in jeans and a sweatshirt. And so it is difficult to distinguish it from students. However – so convenient. "I'm comfortable in such conditions. And it's great for the children that I'm on an equal footing with them," says the computer science teacher.
But the real trouble of educators is low salaries: "The funds I receive today are not enough. I work on three jobs. Although they say that they are raising, raising. By 200 hryvnias? By 50!".
The salary of a young teacher today is less than five thousand and is 4 thousand 859 hryvnias. However, in December they promise to raise up to 5 thousand 265 UAH. The teacher of the first category receives 6 thousand. In December, will raise by 500 hryvnia. And the salary of a teacher of the highest category is 6.5 thousand, in December it will be 7. It is difficult to feed on such a salary. Therefore, one and a half rates – the practice is quite common. There are allowances for titles, experience, class leadership …
"They go as class teachers, because it's at least some surcharge to the salary… I also went from this point of view," Mykola Tarasyuk told TSN.Tyzhnya.
And the workload is insane: writing a class journal, checking students' personal files… "People burn out, they are overloaded with work. In that case I went to the gym and peeled a pear, there were such situations. I can't transfer my problems to work – it's not pedagogical." says the teacher.
However, that is why there is a catastrophic shortage of teachers in schools today. Especially – physics and mathematics. Nobody wants to teach for 5 thousand hryvnias.
For two years in a row, TSN.Tyzhden has been asking students of a specialized pedagogical university if they want to work as a teacher. And the answers are the same: "We need at least 10 thousand."
This year, 3,000 young teachers will join the educational community. At the same time, we have about 70,000 retired teachers. It will take more than a decade for this deficit to disappear. So in the minds of moms and dads of today's first-graders should now arise an insidious question: "Will anyone teach their children in high school !?".
Oksana Radionova, Alexander Shiyan
(c)UNIAN 2021