Zelensky is "very disappointed with behavior" towards Saakashvili
The President's Office notes that Mikheil Saakashvili is a citizen of Ukraine and she must "take her citizen".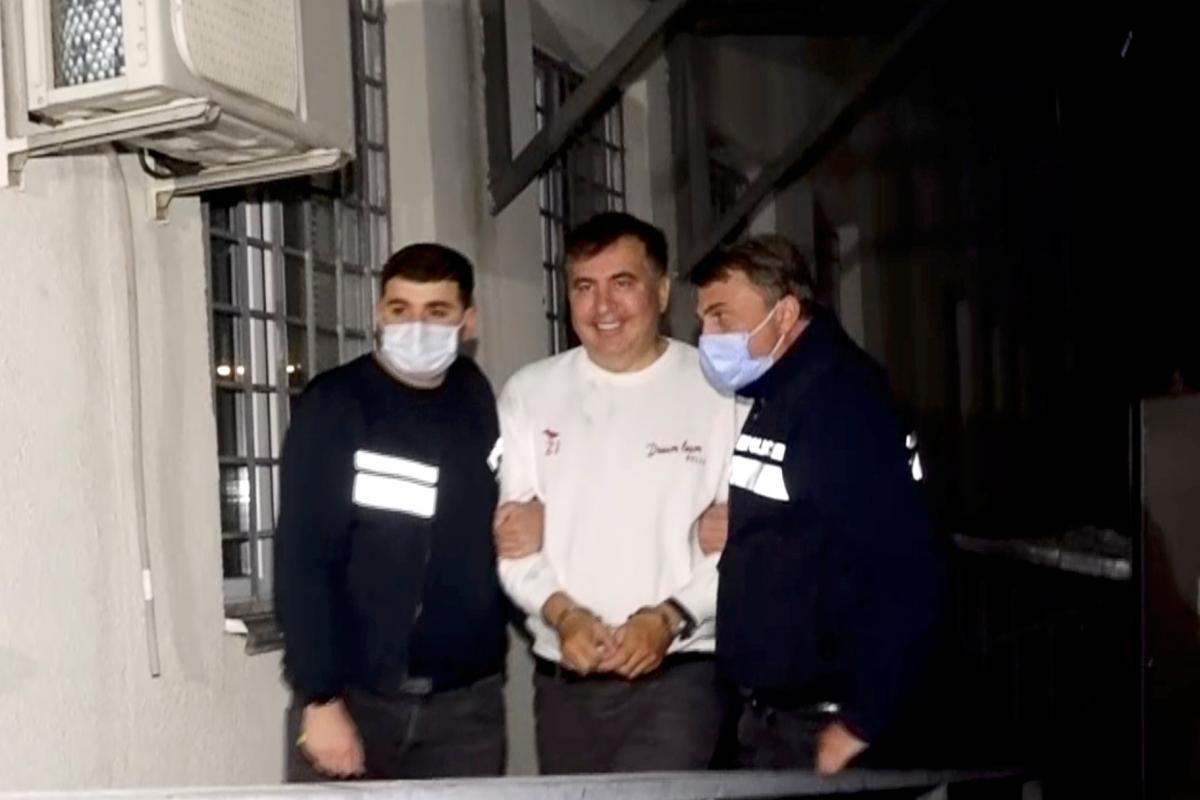 Saakashvili was detained in Georgia on October 1 / photo REUTERS
Advisor to the head of the President's Office Mikhail Podolyak notes that they are "very disappointed with the behavior" towards the former Georgian president, head of the Executive Committee of the National Council of Reforms of Ukraine Mikheil Saakashvili, who was detained the day before.
As a UNIAN correspondent reports, he said this in a comment to journalists.
Answering a question about the current situation around Saakashvili , Podolyak said:
"There is an official position on Saakashvili. We are very disappointed with the behavior towards Ukrainian citizen Mikheil Nikolozovich. cases ".
He added that the Ministry of Foreign Affairs is currently dealing with this issue.
To clarify whether they had already contacted the consulate, the advisor to the head of the OP noted: "The President is constantly monitoring this situation. This is really a little incomprehensible to us."
Podolyak stressed that Saakashvili is a citizen of Ukraine.
"We must take our citizen, that's all. That is, the Foreign Ministry must provide a formula for how we must do this, and so on," he said.
Detention of Saakashvili in Georgia
As UNIAN reported earlier, earlier Saakashvili, who has Ukrainian citizenship, announced that he would fly to Georgia on October 2, the day of local elections. According to Saakashvili, the fate of his country is being decided, he will not be able to watch it from the outside. On October 1, Saakashvili announced that he had arrived in Georgia and was in Batumi.
Later it became known that Saakashvili was detained and placed in a penitentiary institution.
After the arrest, Saakashvili declared that he considers himself a political prisoner and went on a hunger strike .
In Georgia, Saakashvili has been put on the wanted list – he has not been in his homeland for the past eight years. He was sentenced in absentia to six years in prison after being found guilty of organizing an attack on former Georgian MP Valery Gelashvili. The Georgian authorities have repeatedly stated that Saakashvili will be detained upon his return to the country.
On October 1, the press secretary of the President of Ukraine Serhiy Nikiforov said that President Volodymyr Zelensky was concerned about news from Georgia , where Saakashvili was detained. According to the representative of the head of state, the Ukrainian embassy in Georgia has not yet received official information about the detention.
The head of the ruling party in Georgia, Irakli Kobakhidze, said that the former president of the country, Mikheil Saakashvili, was preparing a coup d'etat . Kobakhidze said that Saakashvili was detained in Georgia as part of a pre-planned secret operation.
Georgian President Salome Zurabishvili refused to pardon her predecessor Mikheil Saakashvili. She added that she was unhappy to see the former president being arrested on cameras, but admitted that it was "required by the rule of law." According to Zurabishvili, Saakashvili's actions "led to destabilization in the country."
(C)UNIAN 2021