Ukraine brings to OSCE's attention neo-Nazism, xenophobia spreading in Russia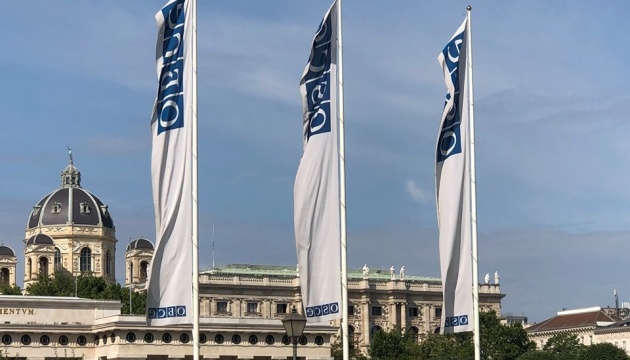 01.10.2021 11:00
Russia is experiencing an unprecedented rise in radicalism, hatred, aggressive nationalism, neo-Nazism, and xenophobia.
That's according to Ukraine's Permanent Representative to international organizations in Vienna Yevhenii Tsymbaliuk who spoke at an OSCE Permanent Council meeting on Thursday, an Ukrinform correspondent reports.
Tsymbaliuk said the trend has been fueled by Russia's state-run media, as well as broad support by many authoritarian regimes.
Moscow also has been seeking to liaise with far-right political forces across the continent and beyond, believing that having such allies will help the Kremlin expand its geopolitical influence, the diplomat added.
Russia's attempt to portray itself as the main fighter against Nazism and neo-Nazism, while widely glorifying Stalinism, the regime responsible for similar crimes against entire nations, looks "cynical and hypocritical," Tsymbaliuk said.
The Ukrainian ambassador's speech came as a response to a statement by the Russian delegation on the issue of growing neo-Nazism in the OSCE zone as a result of the 1938 Munich Agreement. In his statement, Tsymbalouk noted this was not the first time that the Russian delegation had put the issue of the Munich Pact on the agenda. Pointing out that history goes beyond the current problems discussed by the Permanent Council, the Ukrainian diplomat still decided to dwell on the topic.
In particular, the head of the Ukrainian mission branded as cynical the attempt to raise the issue of combating aggressive nationalism on the part of a state, which has transformed territorial expansionism into its state policy. He also called on the Russian delegation to discuss the 1939 Molotov-Ribbentrop Pact, according to which the Nazi and Soviet totalitarian regimes agreed to divide Europe and unfolded as allies what later turned out to be the bloodiest war in human history.
Tsymbaliuk believes the lesson of the Munich Pact is that appeasing an aggressor causes further aggression. In projecting this lesson into reality, Ukraine notes that in 2014, Russia deployed troops and agents to illegally occupy parts of Ukraine – the Crimean Peninsula and Donbas region, trying to forcibly alter the borders, and since then has been supporting hostilities in Donbas with their regular troops, mercenaries, proxy forces, and military hardware, according to Tsymbaliuk.
The envoy added that that is why it is extremely important to bring the Russian aggressor to justice and apply all tools necessary to force the Kremlin to return to the principles of international law and basic principles of the European security order.
(C)UKRINFORM 2021