Ukrainian border guards detained a Russian woman who was carrying an arsenal of weapons to Russia in a children's backpack (photo)
Among the things in the woman's backpack were a sniper scope, hunting knives and handcuffs.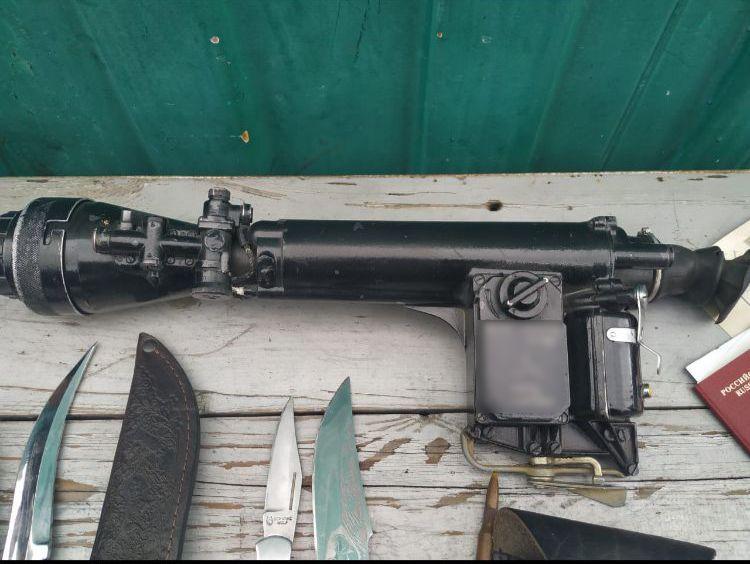 Border guards detained a Russian woman who tried to smuggle dangerous things across the border / photo mvs.gov.ua
On the border with Russia, at the Milove checkpoint in the Luhansk region, Ukrainian border guards stopped a car traveling to Russia for inspection. There was a driver and a passenger with a Russian passport in the cabin.
Border guards inspected the car and found a backpack with dangerous items in the luggage.
According to the website of the Ministry of Internal Affairs , the woman tried to take a backpack to Russia, where they found a universal night sniper rifle, Bickford cord (used as a fuse for explosives), three hunting knives, metal handcuffs and a holster for a Makarov pistol and one 7.62-millimeter bullet. .
A woman with dangerous objects was detained in Luhansk region / photo mvs.gov.ua
The Russian woman tried to explain this by saying that "the backpack belongs to her son", and she did not know about its contents, but simply "took away all the things she had".
As a result, dangerous items were seized. The incident was entered into the Unified Register of Pre-trial Investigations under the article of the Criminal Code on violation of the procedure for international transfers of goods subject to state export control. The range of punishments for this in Ukraine is wide: from a fine to imprisonment for up to 3 years.
We will remind, the other day on KPVV "Kalanchak" border guards detained "the militia of the Crimea" with numerous medals from occupiers. According to the SBGS, the man, born in 1957, was traveling from the temporarily occupied Crimea to the mainland of Ukraine. During inspection of his things frontier guards together with customs officers found medals "For services to the fatherland", "For protection of the Crimea", "5 years of the Crimean spring", "Crimean spring" "signed" by signatures of the president of the Russian Federation and representatives of the so-called power of the Crimea. received during 2014-2018. Besides, the man had the certificate of the participant of the so-called Crimean regional public organization "union of veterans of a free regiment of national militia of the Republic of Crimea".
(c)UNIAN 2021