Ukrainian PM reveals main parameters of draft state budget for 2022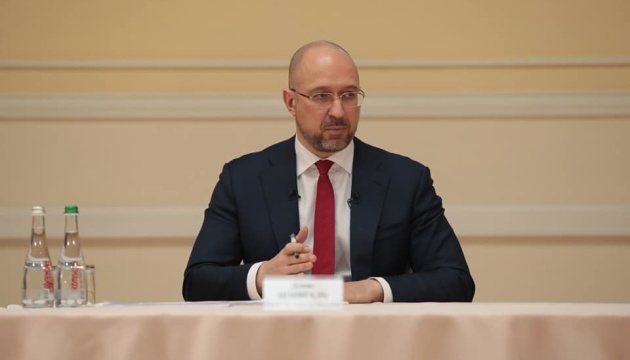 14.09.2021 16:00
The revenues of Ukraine's draft state budget for 2022 are projected at UAH 1.277 trillion, expenditures at UAH 1.465 trillion, and the budget deficit at UAH 188 billion, Prime Minister Denys Shmyhal has said.
He said this at a press conference on Tuesday, September 14, according to an Ukrinform correspondent.
He recalled that in accordance with the requirements of the law, the government will on September 15 submit to parliament a bill on the country's state budget for 2022.
Shmyhal said he considered the prepared document to be fair and balanced.
"The projected nominal GDP next year is UAH 5.368 trillion. Expected budget revenues are UAH 1.277 trillion (plus UAH 161 billion compared to this year's figures), expenditures are UAH 1.465 trillion (plus UAH 103 billion), and the nominal budget deficit is UAH 188 billion. Thus, the budget deficit is reduced to 3.5% against 5.5% in 2021. That's what we agreed upon with the IMF. And this is our consistent strategy to reduce the deficit," he said.
Most funds to cover the budget deficit (70%) are expected to come from the placement of domestic government bonds. The remaining funds are borrowing through the issuance of foreign government bonds and through credit support from international financial institutions.
"The debt reformatting strategy is to increase the share of domestic borrowing in the next five years," Shmyhal said.
As for other parameters of the budget bill, the projected exchange rate is UAH 28.6-28.7 per U.S. dollar, the level of expenditures on the security and defense sector is 5.95% of GDP, and the average monthly salary is UAH 15,258 (UAH 17,500 in December). The minimum wage will be raised to UAH 6,500 from December 1 this year, and it will be indexed in 2022.
"We also want to reduce the unemployment rate to 8.5% according to the methodology of the International Labor Organization. By the way, the number of officially registered unemployed in the country is decreasing this year. Now there are 293,000 of them, while before the beginning of lockdown there were more than 360,000, with more than 700,000 recorded 'at the peak' of quarantine restrictions," Shmyhal said.
Describing budget expenditures, he also announced an increase in the draft budget for 2022 of spending on infrastructure and digitalization (plus UAH 14 billion). Funds are also to be allocated to prepare for the 2023 All-Ukrainian Population Census.
(C)UKRINFORM 2021