Major Non-NATO Ally status: Rada votes down appeal to U.S. Congress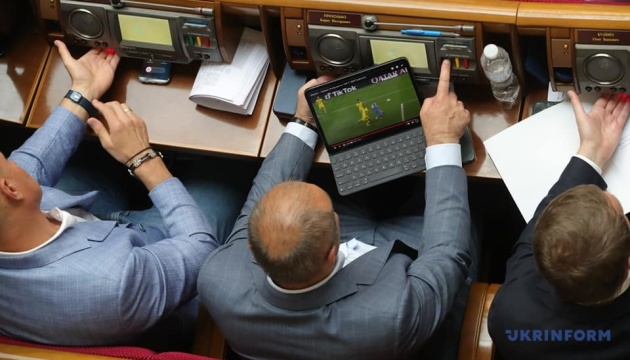 08.09.2021 17:04
The Verkhovna Rada has voted down draft resolution No. 5380 "On the Appeal of the Verkhovna Rada of Ukraine to the Congress of the United States of America on Granting Ukraine the Status of a Major Non-NATO Ally (MNNA)."
Some 24 MPs voted for the document at an extraordinary meeting of the Verkhovna Rada on Wednesday, September 8, according to an Ukrinform correspondent.
The draft resolution asked the Ukrainian parliament to call on U.S. Congress to grant Ukraine the status of a Major Non-NATO Ally (MNNA).
The document states that Ukraine's staying in the "gray zone" of international security and Russia's violating current international security legislation will threaten every European and — given the nuclear blackmail of the Russian leadership — the whole world.
"An important element of the response to such a global challenge could be the deepening of the bilateral partnership between Ukraine and the United States. There is the experience of such a partnership in international politics – the United States' Major Non-NATO Ally. This status has been granted to countries that are in a state of peace, such as Zealand or Japan, and to countries at risk of hostilities, such as South Korea, Afghanistan or Israel," the appeal said.
It notes that as of today, the security situation in eastern Ukraine is deteriorating due to Russia's building up its military presence near Ukraine's borders and in the temporarily occupied Ukrainian Crimea and through Russia's provocations in the temporarily occupied part of eastern Ukraine.
The author of the draft resolution is Oleksii Honcharenko, an MP from the European Solidarity faction.
Verkhovna Rada Chairman Dmytro Razumkov earlier convened an extraordinary parliament meeting on September 8 to consider the draft resolution "On the Appeal of the Verkhovna Rada of Ukraine to the Congress of the United States of America on Granting Ukraine the Status of a Major Non-NATO Ally (MNNA)."
Ukraine's Ambassador to the United States Oksana Markarova said the MNNA status is given to countries that do not plan or cannot join NATO.
Markarova recalled that Ukraine has the status of an Enhanced Opportunities Partner (EOP), which provides great opportunities for enhanced cooperation with NATO and improving Ukraine's interoperability and capacity building.
(C)UKRINFORM 2021