"Lame job": Ukraine minister ridicules Russia's latest propaganda stunt on "WW2 Ukrainian hit squads"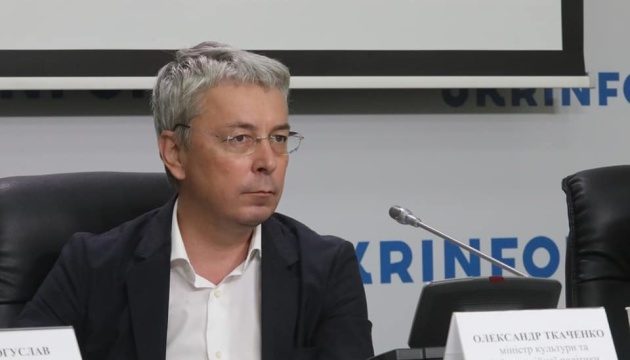 03.09.2021 12:00
Minister of Culture and Information Policy Oleksandr Tkachenko says yet another disinformation spin by the Russian FSB security service, this time – about World War 2-era "Ukrainian hit squads" is a hasty response to the recent discovery of a mass shooting site near Odesa where NKVD victims are buried.
Tkachenko took to Telegram to decry Russian allegations, Ukrinform reports.
"The FSB declassified some data on the executions of civilians by alleged 'Ukrainian hit squads' during World War 2. The IC (Investigative Committee – ed.) of the Russian Federation immediately hopped on a bandwagon," Tkachenko wrote.
The spin was in fact a lame job by its masterminds, Tkachenko said, noting that it was merely "a hasty response to the terrifying discovery of Ukrainian researchers near Odesa."
He reminded that works are now underway to research the site of what once used to be a Soviet security service (NKVD) facility outside Odesa where, according to various estimates, between 5,000 and 20,000 civilians have been tortured and killed by the Bolsheviks before being buried at the premises during the period of "Great Terror" in 1937-1939.
"This is a crime, the evidence of which, besides archival materials, includes execution ditches filled with the bodies of innocent victims – Ukrainians, Odesa residents. This is a real mass crime committed by the communist totalitarian system, whose successor is modern Russia," Tkachenko said.
Obviously, Ukraine's intention to investigate the site of mass burials and executions is in sharp contrast to the "Russia's greatness" and "a good man Stalin" narratives. We've grown used to this," Tkachenko declared.
The minister said that, even in the face of a grueling defensive war, constant blackmail and disregard for international norms by the aggressor power, Ukraine will still find the resources to let the world learn the truth about all crimes committed by the NKVD-KGB-FSB.
"As for filling Russia's information field with lies and manipulative information, this content is for domestic consumption only. It's just spam aimed to not let an average Russian never even have a chance to think, analyze, and see where the truth is and where's half-truth and outright lies," Tkachenko remarked.
As reported earlier, on September 1, Russia's Investigative Committee, based on the allegedly declassified materials provided by the FSB, opened a criminal case into the killings during WW2 of civilians in Russia's Orel region by the Nazis and their accomplices.
These materials contain information about a punitive detachment led by a POW, former Red Army officer nomme de guerre "Hetman," set up by the Germans during the occupation of Orel region in 1941-1943. As per the FSB, this man, whose call sign hints at his Ukrainian origins, orchestrated the executions of civilians in the villages across Orel region's Znamyansky district in 1942.
(C)UKRINFORM 2021