Zelensky told a tragic story from the life of his family
The president addressed the leaders of Jewish organizations at the Holocaust Museum in Washington and spoke about the murder of his grandfather's three brothers.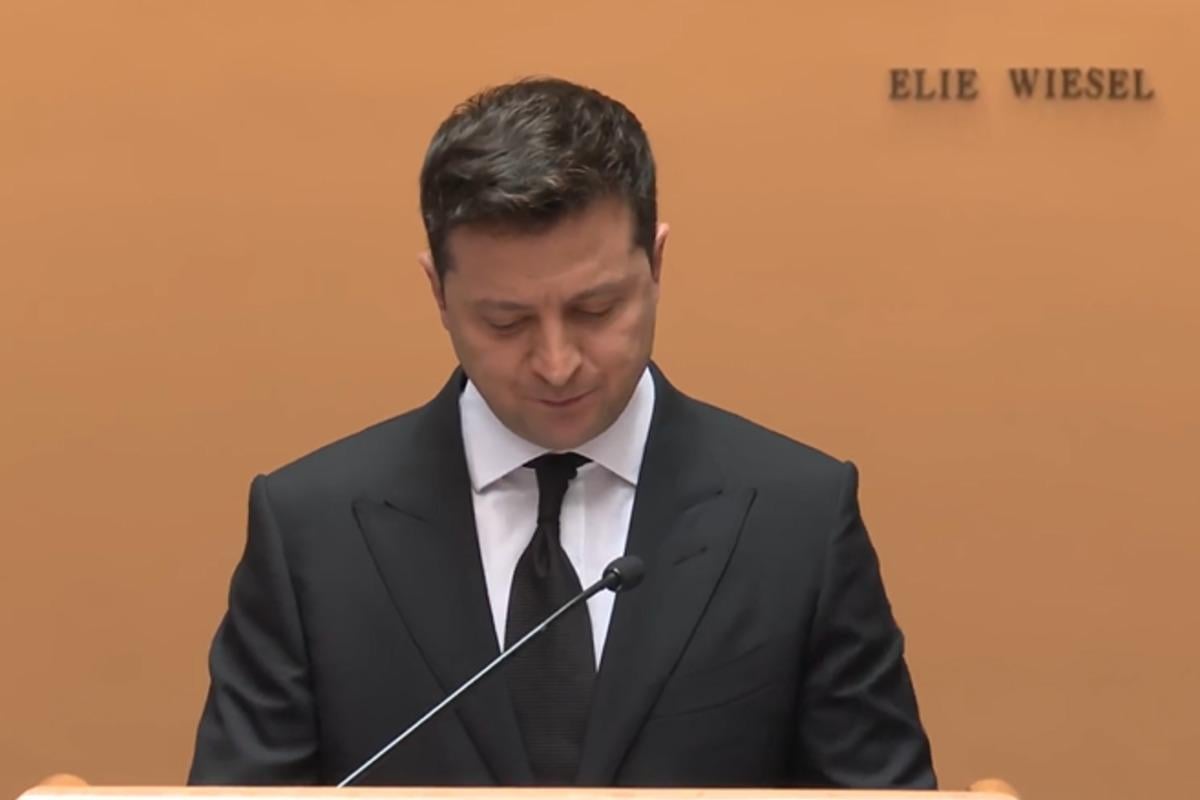 Volodymyr Zelensky shared that his family suffered during the Holocaust / Screenshot
President of Ukraine Volodymyr Zelenskyi spoke about how his family suffered during the Holocaust. The German occupiers shot three of the president's grandfather's brothers, as well as their parents, wives, children and relatives.
He said this during a speech to the leaders of Jewish organizations at the Holocaust Museum in Washington, which was broadcast on the Facebook page of the President's Office.
He noted that today – September 1 – is of special significance in history, because World War II began 82 years ago.
"This day is special with its consequences caused by human cruelty, or rather hatred … which is caused by a particularly terrible virus, it has a very short name – Nazism," the president said.
Zelensky reminded that at least 6 million Jews had fallen victim to the Holocaust in Europe, one in four of whom was from Ukraine.
He added that among them was a family whose story is worth telling.
It was about four brothers, three of whom, as well as their parents, wives, children and all relatives were shot by the German occupiers who invaded Ukraine.
"The fourth brother was at the front at the time. He went through World War II, contributed to the victory over Nazism and returned home four years later. Two years later he had a son, 31 years later a grandson, and 40 years later his grandson became president. Ukraine. Now he is in front of you, "the head of state said.
He stressed that "Nazism has lost and lost forever," but its supporters and manifestations still exist in various countries.
"What is their role and influence in modern Ukraine? Less than zero. Does the ideology of racism and intolerance stand a chance in modern Ukraine? Less than no chance. And a convincing response to the propaganda of some third countries that sometimes call Ukrainians Nazis or anti-Semites is obvious. "Ukrainians elected me president of Ukraine," Zelensky stressed.
The President stressed that the people of Ukraine "cannot have the germs of Nazism or anti-Semitism at the genetic level, they cannot be in the soul or heart of the Ukrainian people who survived Babyn Yar on their land."
He added that honoring the memory of Holocaust victims was "our undisputed duty."
Zelensky noted that it is never too early to tell children about the Holocaust, but it may be too late.
The head of state said that he had brought with him to the United States digitized copies of 43 letters in Yiddish from 1941, most of the authors of which died in August of that year during the largest massacre of the Jewish population in Ukraine.
He also noted that he would donate copies of these letters to the Holocaust Museum, and quoted a fragment of one of the letters, the author of which wrote that he "wants and will live."
"Today, we are doing everything we can to make 'never again' really mean 'never again.'
It will be recalled that Volodymyr Zelenskyi arrived in Washington on an official visit on August 31. Zelensky is scheduled to meet with US President Joe Biden on August 1.
(c)UNIAN 2021