Standoff On Belarus-Poland Border As Stance Hardens Toward 'Weaponized' Migrants
A group of migrants apparently shipped to the border of the European Union by Belarusian authorities is stranded in no man's land as Polish police prevent them from stepping foot on EU soil.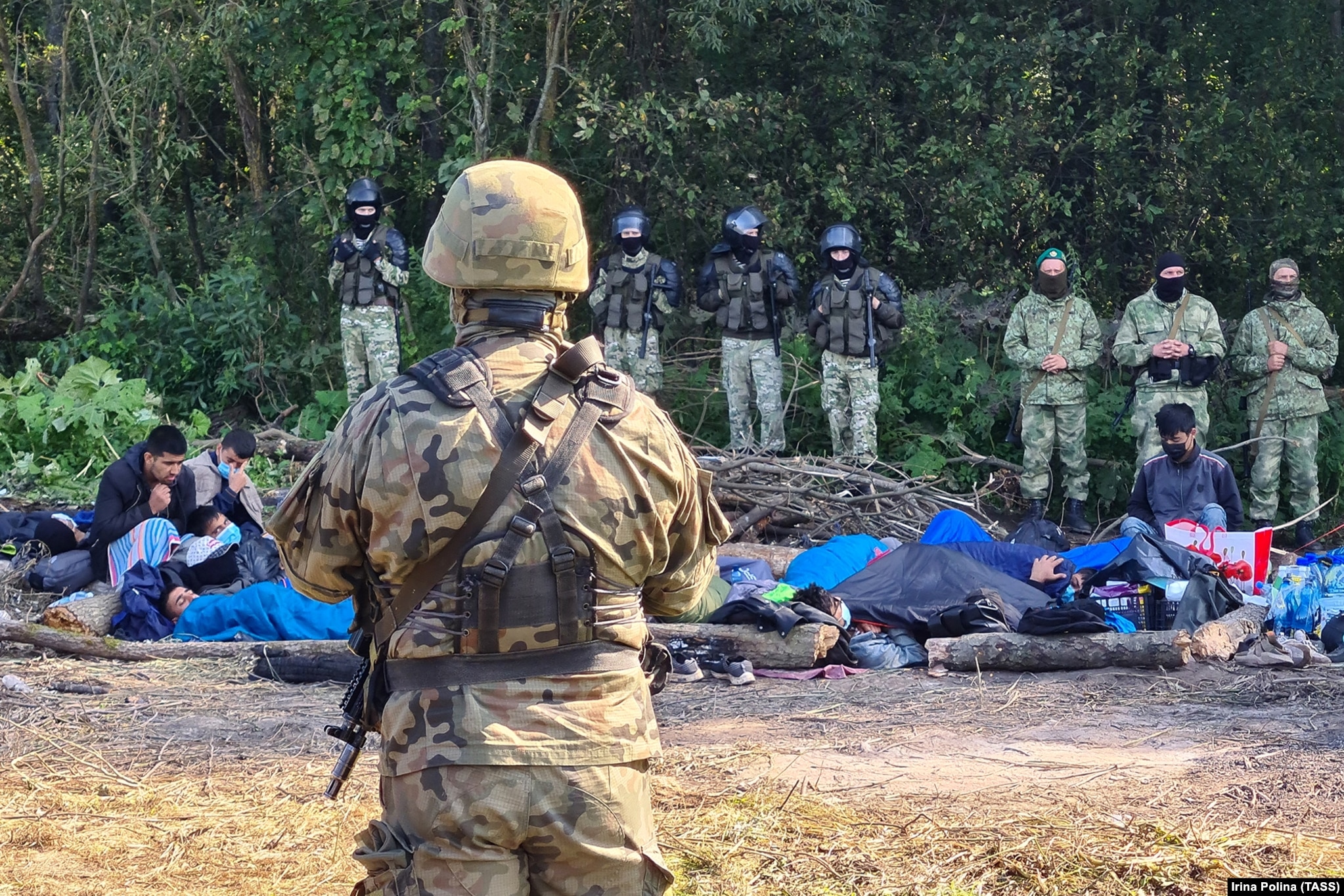 2/ The group of migrants, photographed between an armed Polish serviceman (in foreground) and Belarusian police. The standoff comes amid a surge in mostly Middle Eastern migrants entering the EU illegally from Belarus. European authorities accuse Minsk of deliberately engineering the crisis as a reaction to sanctions imposed by the EU since Belarusian strongman Alyaksandr Lukashenka's crackdown began following a disputed election one year ago.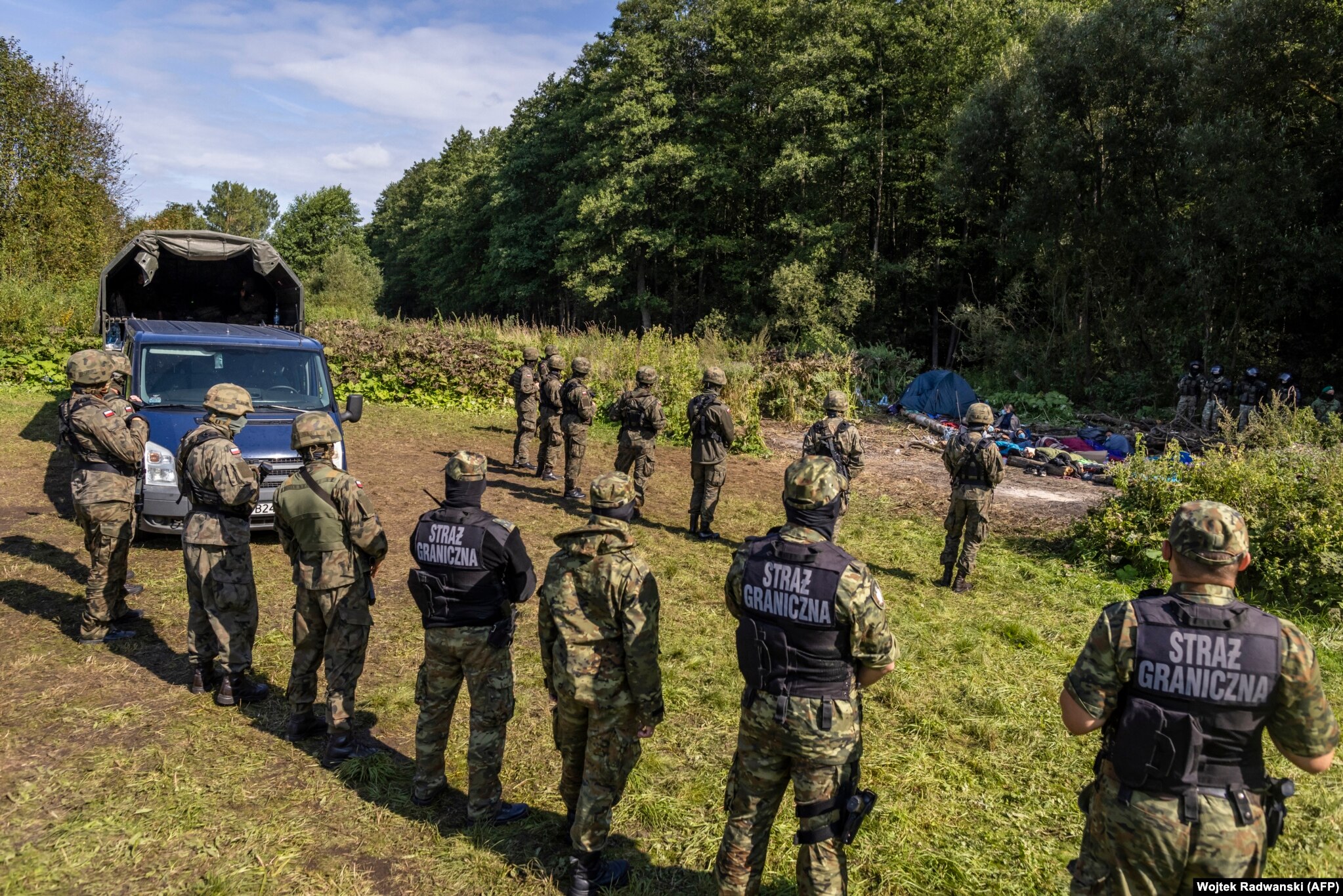 3/ Polish border police face off against their Belarusian counterparts (right), with the migrants stranded in the middle. The group has reportedly been stranded in the open near the Polish village of Usnarz Gorny for two weeks. Temperatures in the area have dropped to around 10 degrees Celsius on recent mornings.
4/ Migrants gather near a fence at a temporary detention center in Kazitiskis, Lithuania, on August 12.

The stalemate on the Poland-Belarus border follows Lithuania's decision in early August to physically force migrants back into Belarus after more than 4,000 illegally entered that Baltic country from Belarus in the space of a few months in 2021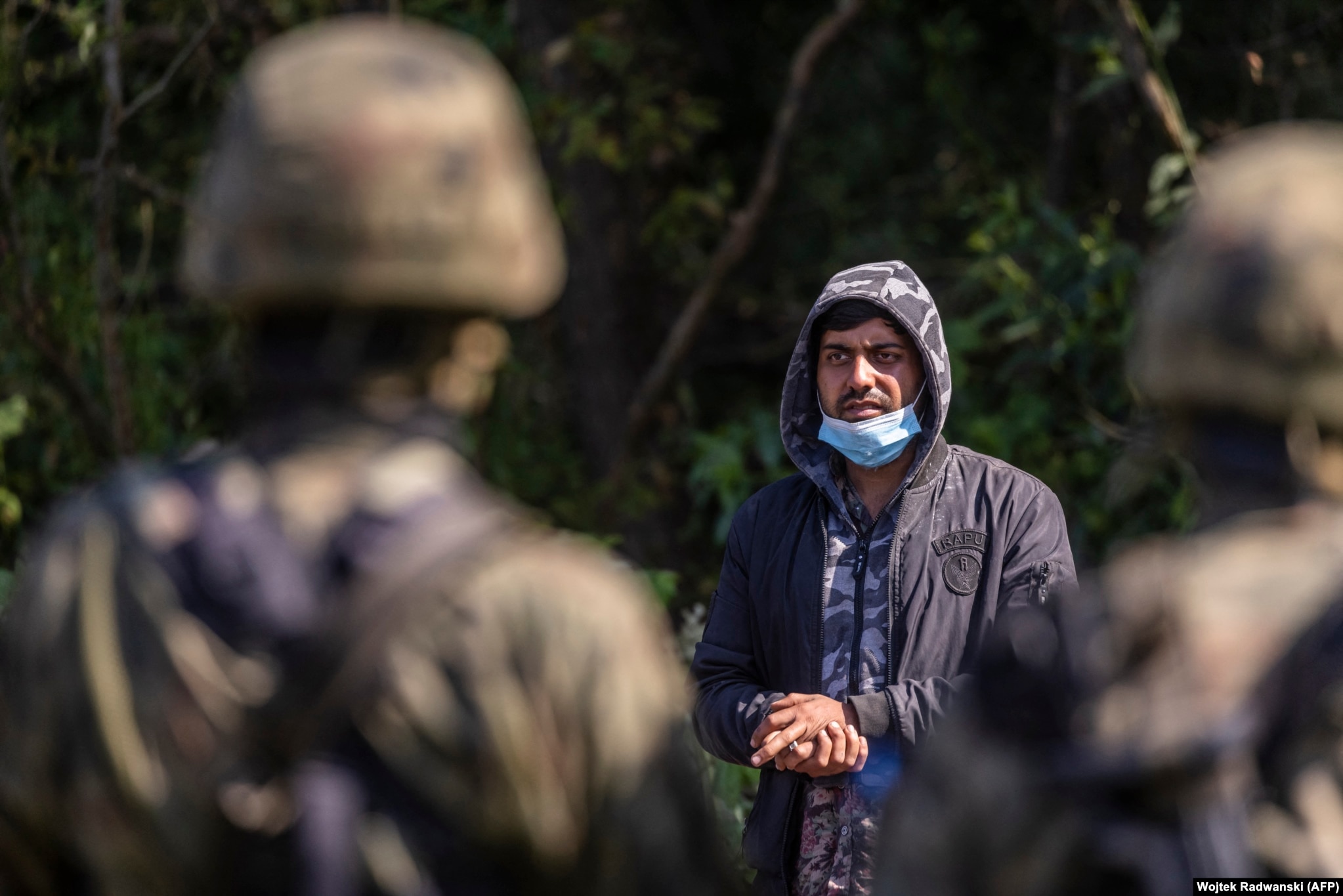 5/ A stranded migrant seen behind Polish servicemen.

Defense Minister Mariusz Blaszczak announced on August 23 that Poland would be erecting a fence along the border with Belarus and that troop numbers stationed to deal with the border influx would be doubled to 2,0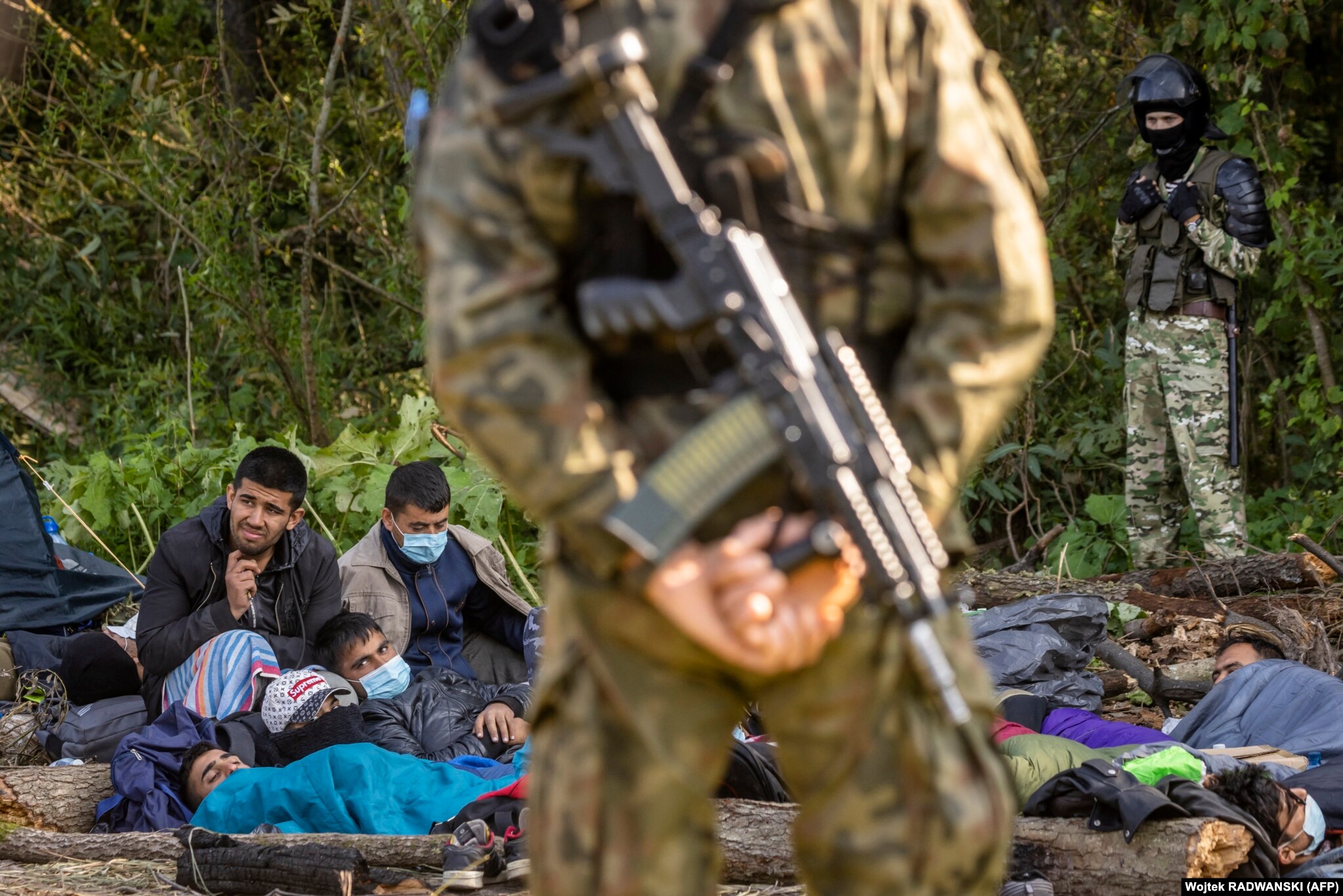 6/ The stranded migrants photographed on August 20.

Polish Deputy Foreign Minister Marcin Przydacz told reporters that the group near Usnarz Gorny "are not refugees, they are economic migrants brought in by the Belarusian government."
7/ Poland's border authorities say they apprehended the migrant group before they reached Polish territory. The Polish human rights ombudsman said the Border Guard had violated the Geneva Conventions by not accepting verbal declarations from some of the migrants that they wanted to apply for international protection in Poland.
8/ Activists on August 23 behind coils of barbed wire at the headquarters of Poland's Border Guards to protest the stance taken by the authorities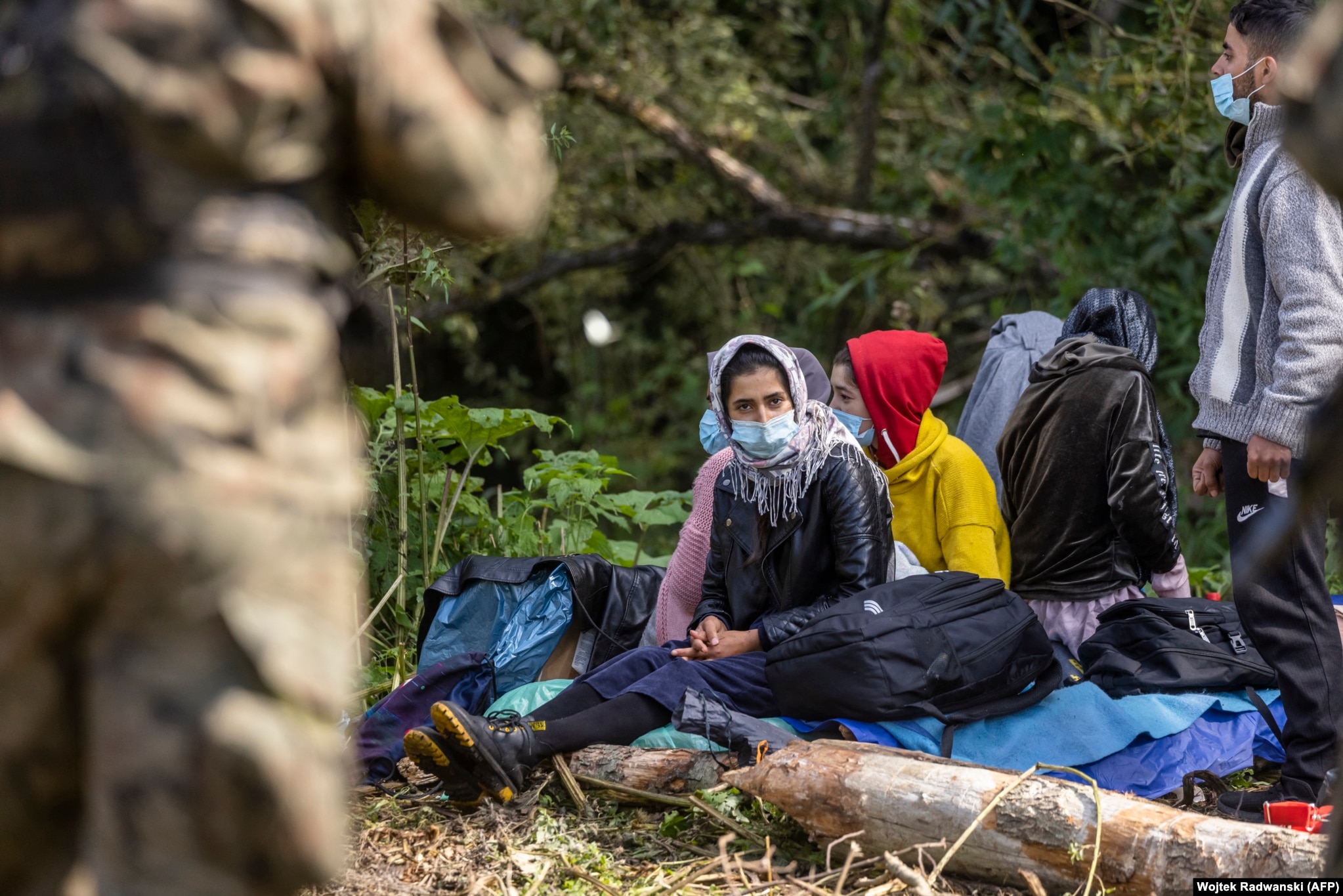 9/ The United Nations refugee agency, the UNHCR, has urged Poland to take in the stranded migrants, saying, "While we acknowledge the challenges posed by recent arrivals to Poland, we call on the Polish authorities to provide access to territory, immediate medical assistance, legal advice, and psychosocial support to these people."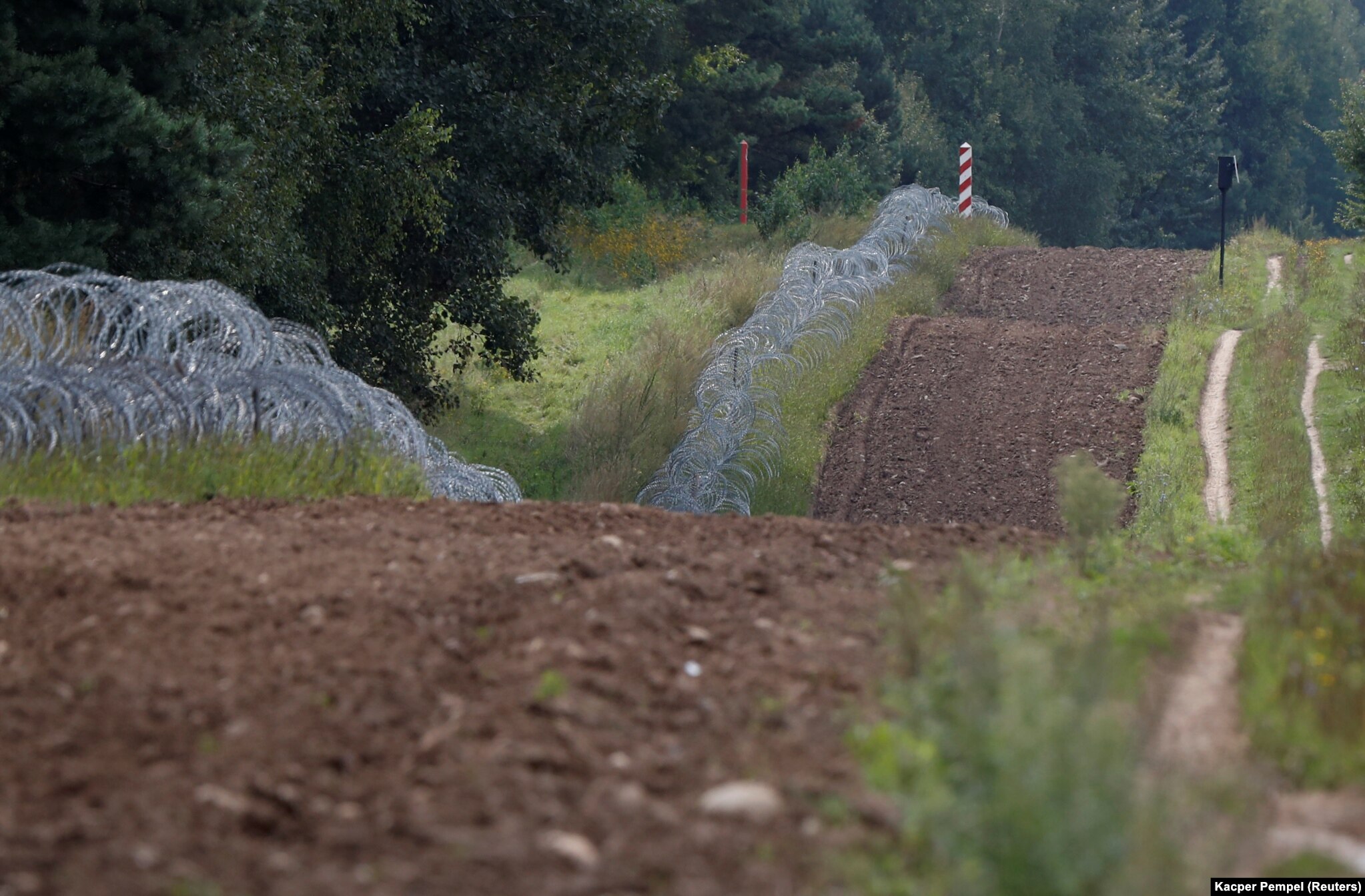 10/ Polish and Belarusian border markers divided by rolls of razor wire.

Polish Prime Minister Mateusz Morawiecki says accepting migrants entering from Belarus would be bowing to "blackmail" from Minsk. On August 24, Morawiecki told reporters that the stranded migrants are on Belarusian territory, adding that "If someone on the Belarusian side wants to apply for refugee status, please do so in Minsk."