Ukraine – the perfect place on Earth, where comedy and tragedy are combined – cult director Terry Gilliam
Gilliam came to the 12th Odessa International Festival, and almost 1,000 people came to meet him.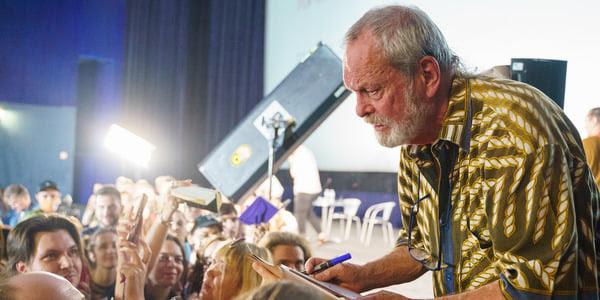 Terry Gilliam visited the 12th Odessa International Festival / photo OIFF press service
Almost 1,000 people came to meet the famous British director Terry Gilliam, who came to the Odessa International Film Festival (OIFF).
According to an UNIAN correspondent, the meeting with the author of the cult films "12 monkeys", "Fear and hatred in Las Vegas", "Brazil" and others took place today at one of the locations of the OIFF – in the cinema "Family". A lot of people came – about 1 thousand people.
The director answered the questions of the audience, was in a good mood and joked a lot.
Usually my movies combine tragedy and comedy. If I were shooting a new film in Ukraine, I would think that this is the perfect place on Earth, where comedy and tragedy are suddenly combined, – he said, noting the acting past of Ukrainian President Volodymyr Zelensky, including his comedic role.
Gilliam admitted that he never wanted to make a career, but was looking for a job that brings him pleasure and "some money."
"Besides, I made movies. Finding money for a movie is when you fool the producer's head, convincing him that your movie is worth a lot of effort to find other fools who will give you money for a movie …", – said Gilliam.
At the same time, he acknowledged that Hollywood is a place where big capital circulates, but this is the reason for controlling all the processes that take place there.
"And I don't like control …", – the director declared.
He also shared his vision of interaction with actors, with the audience, and shared how he spent time in Odessa.
I was at your flea market (Old Horse Market, – UNIAN) and I was most surprised by the cats, kittens that are sold. I have a question, what do Odessans do when they buy these cats? Maybe they eat them? Because these cats are very, very many! – Gilliam joked.
As part of the film festival, the director's films were screened, including the high-profile film "The Man Who Killed Don Quixote."
As UNIAN reported, the 11th Odessa International Film Festival due to the coronavirus pandemic was held online from September 25 to October 3, 2020. The 12th OIFF is held as usual on August 14-21 . More than 250 applications were received from Ukrainian filmmakers, of which about 60 were feature films.
Six feature films and eight short films were selected from them.
(c)UNIAN 2021