Rain, green parks and ponds with swans. What tourists from Arab countries are looking for in Ukraine
Over the past two months, the streets of Lviv have been literally flooded with guests from Saudi Arabia, Bahrain, Qatar and Oman. Why did they choose this tourist destination and what can Lviv tour operators offer to such demanding guests, UNIAN found out.
In recent decades, Lviv, where different cultures are intertwined, has become a major tourist center of Eastern Europe. No wonder the city ranks first in Ukraine in the number of architectural monuments, and its historic center is included in the UNESCO World Heritage List. Some people come here for fragrant coffee, some are attracted by the bitter taste of Lviv chocolate, and some just want to walk through the quiet, narrow streets of the ancient city.
On the way to the Carpathians
Lviv residents will no longer be surprised by crowds of noisy tourists from Poland, Germany, Italy, Great Britain or the USA. However, recently on the streets of the city increased the number of guests from Saudi Arabia, Bahrain. Here they are attracted by the incredible nature, cool weather and frequent showers. Rain for them is as exotic as for the average Lviv desert.
This summer, tourists from Saudi Arabia in Lviv are everywhere – on Rynok Square and adjacent streets, in parks and squares, cafes and restaurants, in markets, in shopping malls. It increased them so much that Lviv even began to lack guides who know Arabic.
The number of Arab tourists in Lviv has increased since mid-June, when the Saudi low-cost carrier opened direct flights to Kyiv and Lviv . Usually, the route of foreign tourists looks like this: Kyiv – Lviv – Carpathians. Some go with friends, some with families.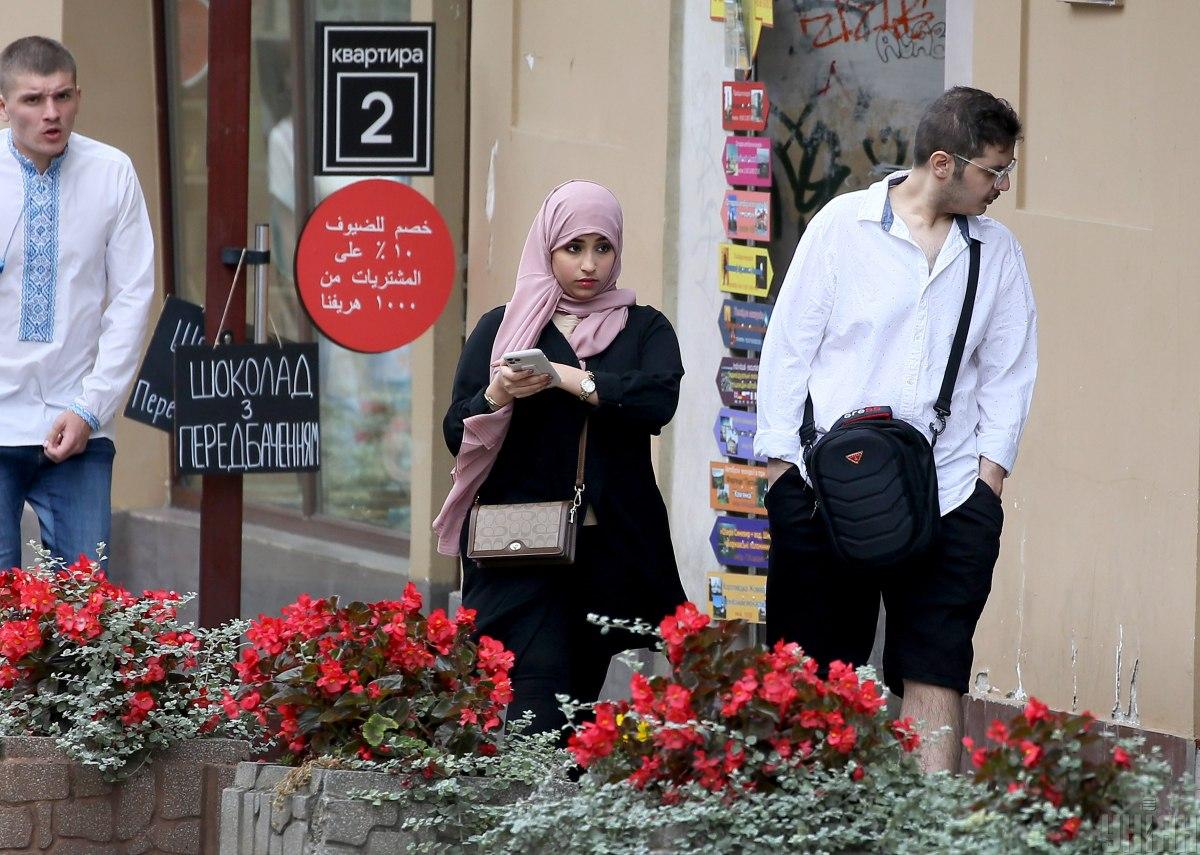 The number of Arab tourists in Lviv has increased since mid-June / photo UNIAN, Eugene Kravs
Ahmed came to Lviv with his wife. He says he plans to stay here for ten days, then go to Bukovel.
"We haven't seen much yet, but we really like your nature – your city is very green, you have beautiful architecture and delicious food," says the man. .
Rich and demanding
Tourists from the East are not poor. Stay mostly in expensive hotels. For example, in an establishment located on Grabowski Street, 10% of all guests are from Saudi Arabia. They eat in restaurants, often rent a car, because they like to relax in comfort.
"They have a different culture and language, they are specific, have certain mental attitudes, there is a big difference between us, but they are very interested in everything in Ukraine, – says UNIAN guide Tatiana Metelskaya. – For them here is a comfortable temperature. , but compared to Saudi Arabia, our climate is quite fresh ( laughs ). Many of them speak English, Google translator helps, so there is no language barrier. But we have almost no guides in Lviv who know Arabic. "
Some restaurateurs pay attention to Islamic culture, so some say on the menu that there is halal (that is, one that complies with Sharia law) food, because Muslims have certain requirements for meat. Arabic menus have appeared in some restaurants and cafes.
"They try our cuisine, although they prefer their own. In addition, we have many Chinese and Thai restaurants, whose dishes they like more," – adds the guide.
There are not many locations in Lviv that interest Arab tourists, so guides have to think carefully about the program. Tourists from the East do not go to churches, do not go to Lychakiv cemetery. The main locations for them are the Market Square, the Opera House, the Museum of Folk Architecture and Life. They are also taken to Tustan – they show a lavender field.
"They rarely book tours, although they are fond of our architecture, but they are most interested in nature," says Ms. Tatiana.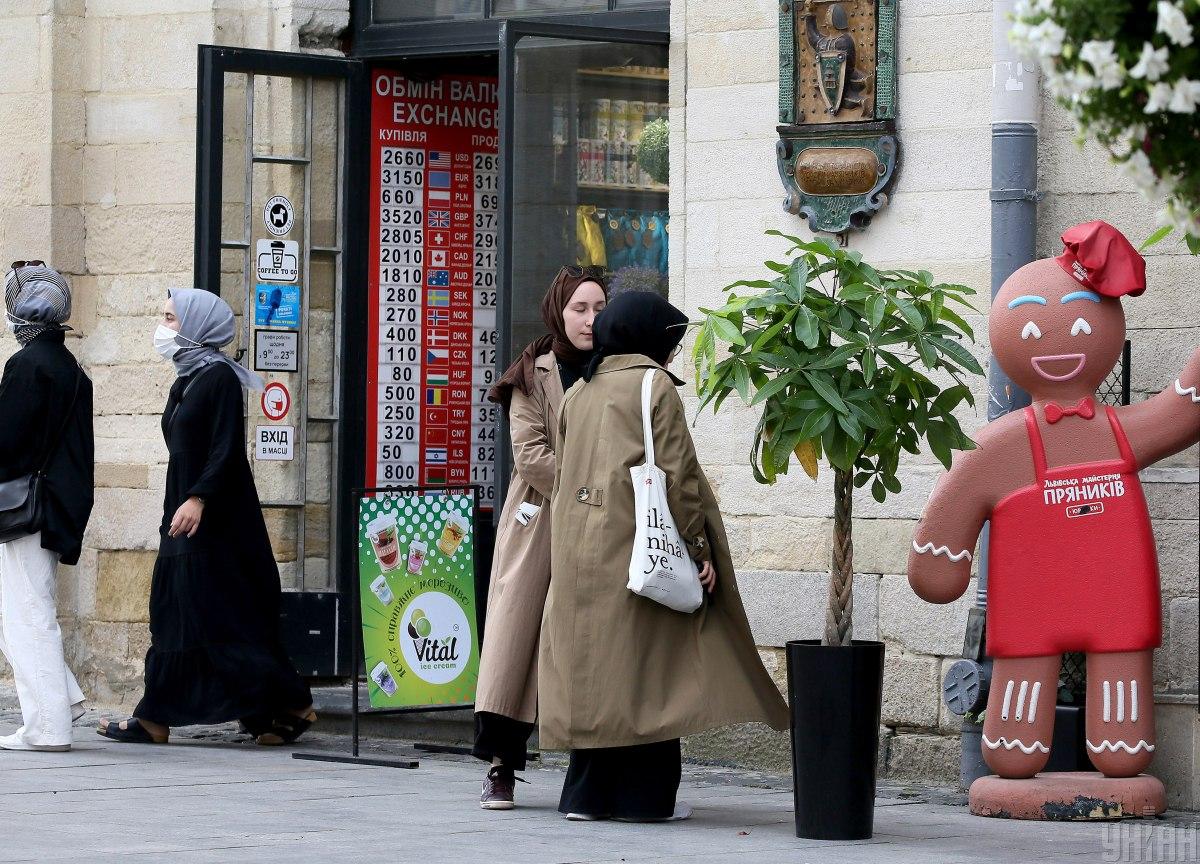 There are not many locations in Lviv that interest Arab tourists / photo UNIAN, Eugene Kravs
A tourist who forces to change and adapt
According to the acting Galyna Hrynyk, Head of the Tourism Department of the Lviv City Council, and tourists from the East made it clear to Lviv tour operators and restaurateurs that they need to change, develop and adapt quickly.
"They come to us not only from Saudi Arabia (although most from there), but also from Bahrain, Qatar, Oman. There are really a lot of them on the streets of Lviv now, they differ in style of clothing, so they are easy to identify. Such wild popularity of Lviv among In addition, the visa regime was simplified for them last year, which also gave them a boost and made Ukraine desirable and affordable for them. We have two flights a week, there are also flights to Kiev, usually these tourists go to rest in the Carpathians, but on the way they want to stop for a few days and to the city of Leva. ,,so hotels and restaurants must have the conditions to spend time with children, "she said.
According to the official, tourists from Saudi Arabia are very demanding of the conditions of rest – they can even live in different hotels for a few days, choosing where they are better, more comfortable.
"When we started to develop this tourist destination, we organized an advertising tour for tour operators from Saudi Arabia. We showed them our program, which included visits to cultural institutions, acquaintance with the hotel base. Tour operators talked about our features. But we carefully watched what they shoot in their They like our green areas, parks, comfortable temperature… We have cool evenings, and the greenery is unusual for them in general. lakes in Stryj Park and swans, they are just delighted! ", – says Hrynyk.
There are not many restaurants with halal food yet
The city council says that there are already restaurants in Lviv that have certificates for halal food, although there are very few of them yet, because getting such a permit is not a cheap pleasure. The menu of such establishments should include dishes that do not contain alcohol, pork, blood and some animal organs, meat of predators, animals killed without prayer.
"But Turkish or Lebanese cuisine is suitable for tourists from Arab countries. There are such restaurants in Lviv and we are very pleased to be able to offer such a variety," said Galyna Hrynyk, head of the tourism department. there were no complaints about food from such guests in Lviv. "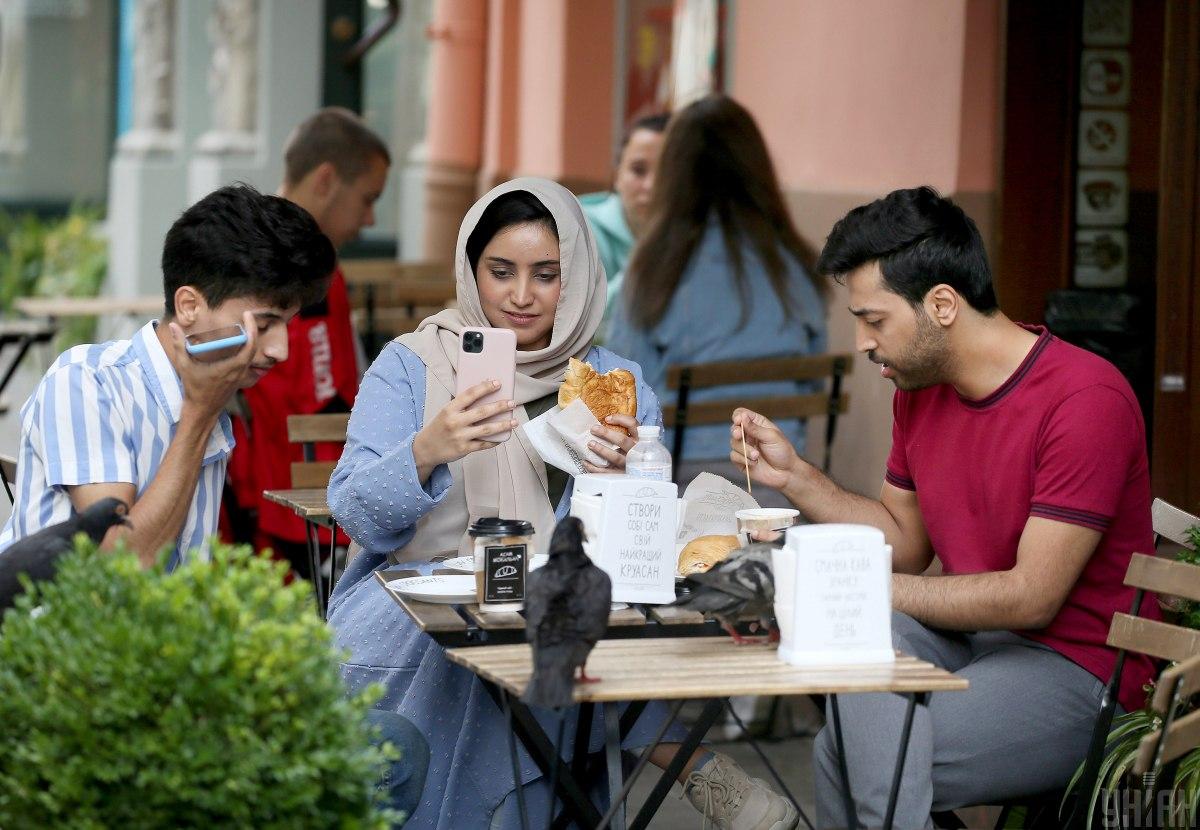 There are already restaurants in Lviv that have certificates for halal food / photo UNIAN, Eugene Kravs
It is difficult to say exactly how many tourists from Arab countries have already visited Lviv, the official said. After all, they come from other cities, such as Kiev.
According to the Minister for Foreign Affairs of Ukraine Dmytro Kuleba, more than 40,000 tourists from the Arab countries of the Persian Gulf have already visited Ukraine this summer.
"According to our estimates, this summer alone, more than 40,000 tourists from the Gulf countries visited Kyiv, Odessa, Lviv and Bukovel. Now we are working to get them back to us next year and to bring new tourists with them," he said. minister.
And in Lviv I don't mind. "The main thing for us is that they come back again and again. This is the tourist we always want to see in the city," said Hrynyk.
It is possible that guests from Arab countries will be the first foreign swallows to force the domestic tourism industry to develop faster and better. And Ukrainians will also benefit from this.
Myroslav Bzikadze
(c)UNIAN 2021