Stefanishyna on Nord Stream 2 deal: Ukraine has not received any guarantees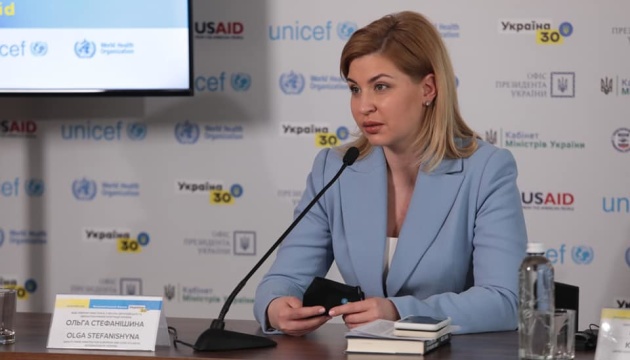 23.07.2021 12:10
Deputy Prime Minister for European and Euro-Atlantic Integration of Ukraine Olha Stefanishyna said that the deal between the United States and Germany on Russia's Nord Stream 2 gas pipeline does not provide any guarantees for Ukraine.
"Perhaps, the positive thing is that this is a public statement [on the deal] and this is the first documentation of these intentions as earlier there were no official documents on the agreement between the United States and Germany on this pipeline. But I think it is the only position that can be positive in this context. I want to emphasize unequivocally that Ukraine has not received any guarantees, either in this statement or outside of this statement. Let me remind you that this statement says that Germany will support the Three Seas initiative which Ukraine already tries to join, which already exists, so I do not understand what this support means," Stefanishyna said on the air of Ukraine 24, Ukrinform reports.
The Deputy Prime Minister added that the deal also provided for the creation of a green transformation fund, while Ukraine had been negotiating it for about six months already.
"Additional financial support and the creation of a green transformation fund, which we have been negotiating for about six months, are also announced. This statement does not envisage any new initiatives. Instead, no prospects and security guarantees, including NATO membership, integration with ENTSO or ENTSOG, are given," Stefanishyna noted.
According to the Deputy Prime Minister, an acceptable compensation and guarantee for Ukraine would be a package of energy solutions – a guarantee of maintaining gas transit and extension of the tripartite contract, security guarantees for the territorial integrity and sovereignty of Ukraine, and fulfillment of EU's obligations on gas and electricity markets integration pursuant to the Association Agreement.
As reported, on Wednesday, Joe Biden's administration and Angela Merkel's government announced a deal to complete the construction of Russia's Nord Stream 2 gas pipeline bypassing Ukraine.
(C)UKRINFORM 2021