The WHO is studying the Russian version of the coronavirus, which could pose a potential threat
he Russian strain of coronavirus was first recorded in Russia in January 2021, now the mutation has worried WHO.
WHO will monitor the risks of spreading the Russian strain / photo UNIAN
The World Health Organization has announced that it has included in the watch list the Russian version of the coronavirus, which was first discovered in Russia in January.
According to the organization's website , the WHO lists COVID-19 strains in the Alerts for Further Monitoring, when their mutations are likely to alter the properties of the virus and pose a threat, but for which there is currently insufficient data.
Currently, the list includes 12 variants of COVID-19 , which require further study.
Russian strain of coronavirus: what is known
AT.1 was first recorded in Russia in January 2021, now the mutation has worried WHO.
While the variant does not have its own designation by the letter of the Greek alphabet – such labeling is received only by strains included in the WHO lists which:
1st list – of interest (VOI).
2nd list – cause concern (VOC – Variants of Concern).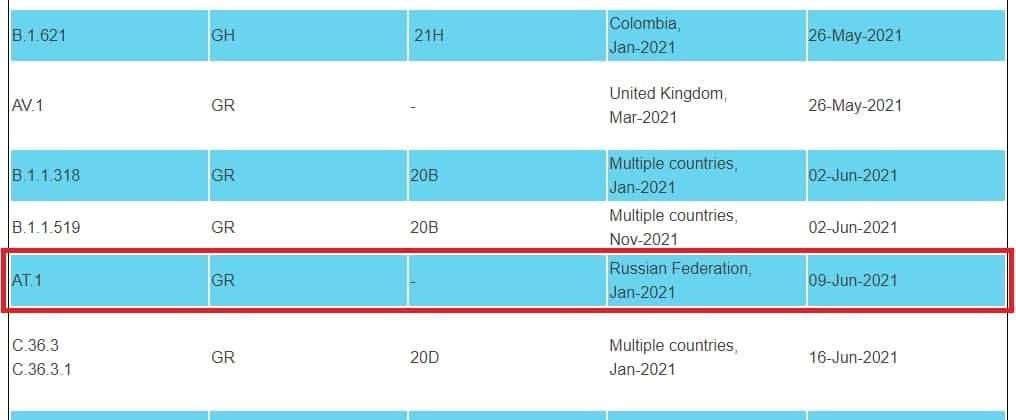 List of potentially dangerous strains of coronavirus / Data from who.int
The first group includes strains, infections of which are registered more and more often in different regions, and there is a danger of the ability of strains to mutate.
The second list of mutations that cause WHO concern are the most dangerous variants of COVID-19 from the first group, mutations which increased the ability of coronavirus to be transmitted from person to person and changed its epidemiology, increased the possibility of infecting new carriers and changed symptoms or made it more resistant to vaccines, drugs or other countermeasures.
There are currently four strains of COVID-19 on the WHO list of mutations of concern :
Alpha – of British origin
Beta is a South African version
Gamma – first registered in Brazil
Delta is a so-called Indian strain.
The situation with the coronavirus in Russia
In Russia, according to the portal "Stop.Coronavirus.RF" in recent weeks, the incidence of coronavirus has increased significantly – the increase in the number of infected reached the peak of the second wave of the pandemic. So, for the last days in the Russian Federation almost 25 thousand patients were registered.
In total, more than 5 million cases of coronavirus infection have been registered in Russia since the beginning of the pandemic . More than 140,000 Russians fell victim to the disease.
(c)UNIAN 2021