Hungary supports Ukraine's European integration, but after Western Balkans – ambassador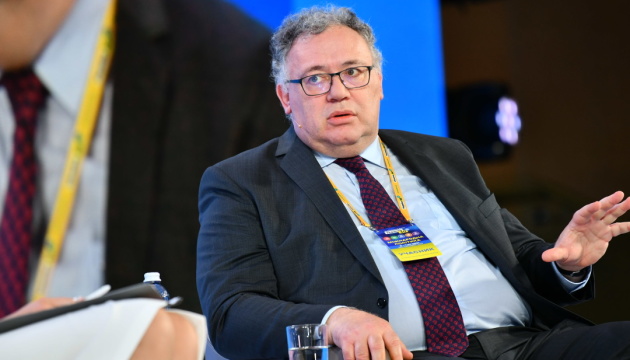 06.07.2021 15:56
Hungary supports the future European integration of Ukraine, but after the completion of the process of European integration of the Western Balkan countries, which meets its interests.
Ambassador of Hungary to Ukraine István Íjgyártó said this at the All-Ukrainian Forum "Ukraine 30. International Relations" on July 6, an Ukrinform correspondent reports.
"I understand the ambitions and desires of Ukrainian leadership and Ukrainian society that we [the European Union] should speed up the process of European integration [of Ukraine], but we should not forget that there are Balkan countries that are already "waiting in line", and the integration process there is not over yet. Therefore, this should be a priority. We strongly support it, since it is in Hungary's interest to support the integration of the Western Balkans," the ambassador said.
It should also be taken into account that the societies of the old EU member states are less and less enthusiastic about the further enlargement of the EU, and it is necessary to speak openly about the "integration fatigue" in the European Union.
According to the Hungarian diplomat, it is necessary to find a balance between the integration of new possible candidates for EU membership, for which there is a "desire, willingness and energy to move it all" and the potential for absorption in the EU.
"Sometimes it can cause some negative feelings. This is neither Hungary, nor the Czech Republic, nor Poland, which support integration, but we have to take into account the feelings and emotions of the so-called Old Europe, because the EU is constantly changing, where new challenges arise, including competitiveness," the ambassador concluded.
As reported, on June 6, European Parliament President David Sassoli urged to provide the Western Balkan countries with EU membership, noting that such enlargement would create prospects for peace and prosperity.
The Western Balkan Countries include Albania, Bosnia and Herzegovina, Kosovo, Montenegro, North Macedonia and Serbia. Albania and North Macedonia are EU membership candidates, Serbia and Montenegro are potential membership candidates.
(c)UKRINFORM 2021