Ukraine is seen as a pilot partner in the field of "green" energy.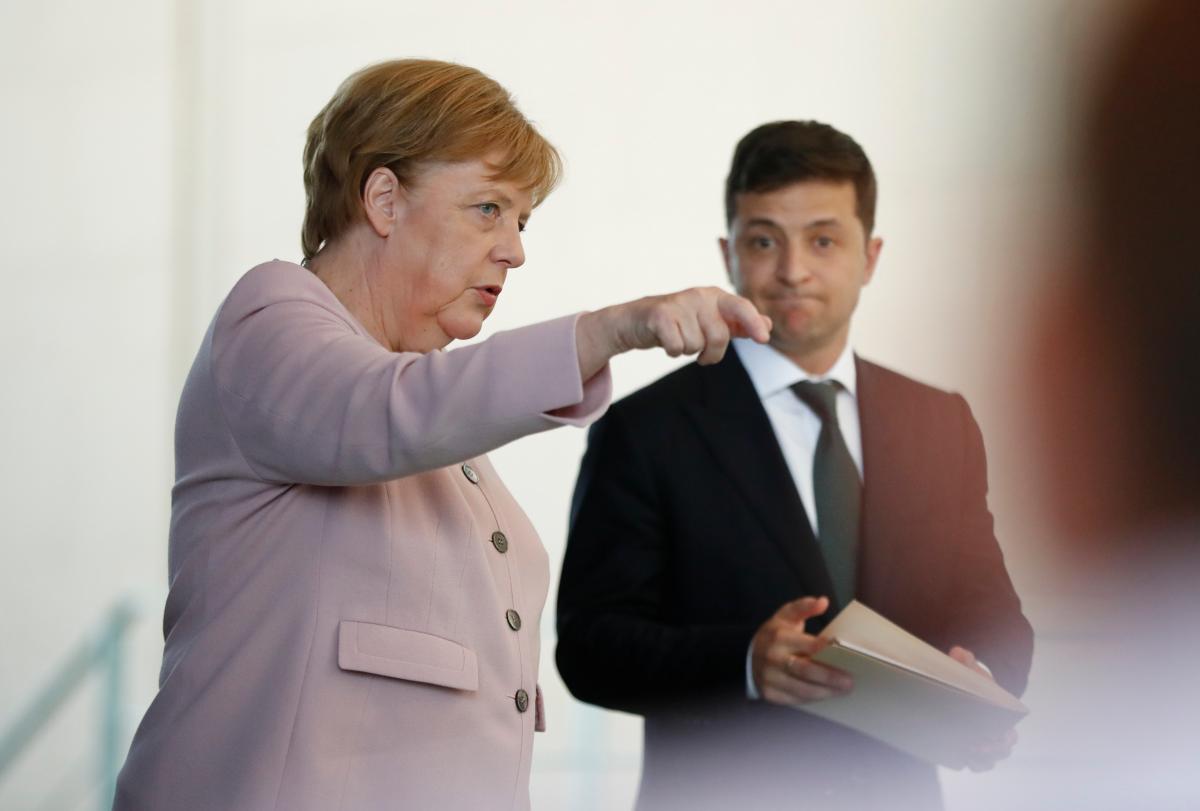 Angela Merkel and Vladimir Zelensky / REUTERS
The United States and Germany are exploring ways to strengthen Ukraine's energy sector and deter Russian aggression through sanctions if an agreement is signed to complete the completion of Russia 's Nord Stream-2 gas pipeline bypassing Ukraine.
This was reported by Bloomberg .
The agreement, which some officials plan to prepare for Chancellor Angela Merkel's visit to Washington in July, could mean that states commit to compensating Ukraine for transit losses following the launch of Nord Stream-2. Germany may also commit itself to supporting a plan to develop Eastern European cooperation in energy and transport.
Bloomberg notes that possible options for the agreement have been outlined by several people familiar with the negotiations. Nevertheless, the parties expect protests from members of the US Congress, because of the already mentioned proposals were those that were proposed earlier and which could not restrain Russia in the past.
Discussions are being held at the level of the State Department and the German Foreign Ministry with the active participation of US National Security Adviser Jake Sullivan and Merkel's Foreign and Security Adviser Jan Hecker.
Earlier, Handelsblatt reported on the German Chancellor's planned visit to Washington in July 2021 to finalize the US position on the Russian gas pipeline.
At the time, journalists noted that Berlin could offer Ukraine to become a hydrogen exporter. If Europe wants to achieve its climate goals, it will need hydrogen as an energy source. The idea is to re-equip the existing network of gas pipelines.
UPDATED. This was confirmed in an interview with ZN, UA by German Ambassador to Ukraine Anka Feldgusen. She noted that Germany plans to abandon carbon energy sources by 2045.
"I talked to experts: we still need quite a lot of gas before, perhaps, 2032, but then its use will decrease greatly, and we need to think what will happen later. I know that Ukraine will now and in the future fight against PP2, but at the same time we need to think about our very great opportunities in other areas. Including about hydrogen and its transit to Europe, because our entire system will be rebuilt for hydrogen in 15 years, "the ambassador said.
Feldgusen is convinced that Berlin must find a solid foundation for Ukraine's development in the future, it is about "green" energy: "And we must give Ukraine the opportunity to make money on it. I think it's very important. "
And the contract with Gazprom, which is currently signed until the end of 2024, can be extended for another 5 years, the diplomat added.
Feldgusen explained that this will be a joint project, and Ukraine is seen as a pilot partner in this area: "Because" green "hydrogen production requires a lot of opportunities in" green "energy, which Ukraine theoretically has – wind and sun."
The Nord Stream-2 gas pipeline has already been built by more than 90%. The new pipeline bypassing Ukraine was planned to be completed by the end of 2019, along with the existing Nord Stream-1.
The United States has imposed a series of sanctions against Nord Stream 2 and has repeatedly called on European allies and private companies to suspend construction of the pipeline. Washington believes that in this way the Kremlin wants to make Europe energy-dependent and use it for political purposes.
On March 14, European Commission Vice President Franz Timmermans said Europe did not need the Nord Stream-2 gas pipeline. Despite this, Germany continues to insist on the completion of the project.
On May 19, 2021, the US State Department announced that it would not impose sanctions on Nord Stream 2 AG, which is responsible for the construction of the Nord Stream-2 gas pipeline, and its head Matthias Warnig. US Secretary of State Anthony Blinken said that the abandonment of these sanctions "is in the national interests" of the country.
In response, Ukrainian President Volodymyr Zelensky said that after the launch of Russia's Nord Stream-2 gas pipeline, Russia will do everything possible not to extend the current contract for the transit of natural gas through Ukraine.
US Secretary of State Anthony Blinken soon noted that decisions on sanctions could be reconsidered. And on June 11, State Department spokesman Ned Price said the United States had not backed down from its initial position on the need to contain Russia's actions in the Baltic Sea.
(C)UNIAN 2021