Basta, who toured in the occupied Crimea, performs in Kiev: near Stereo Plaza protests (video)
There was a brief verbal altercation between Basta activists and fans.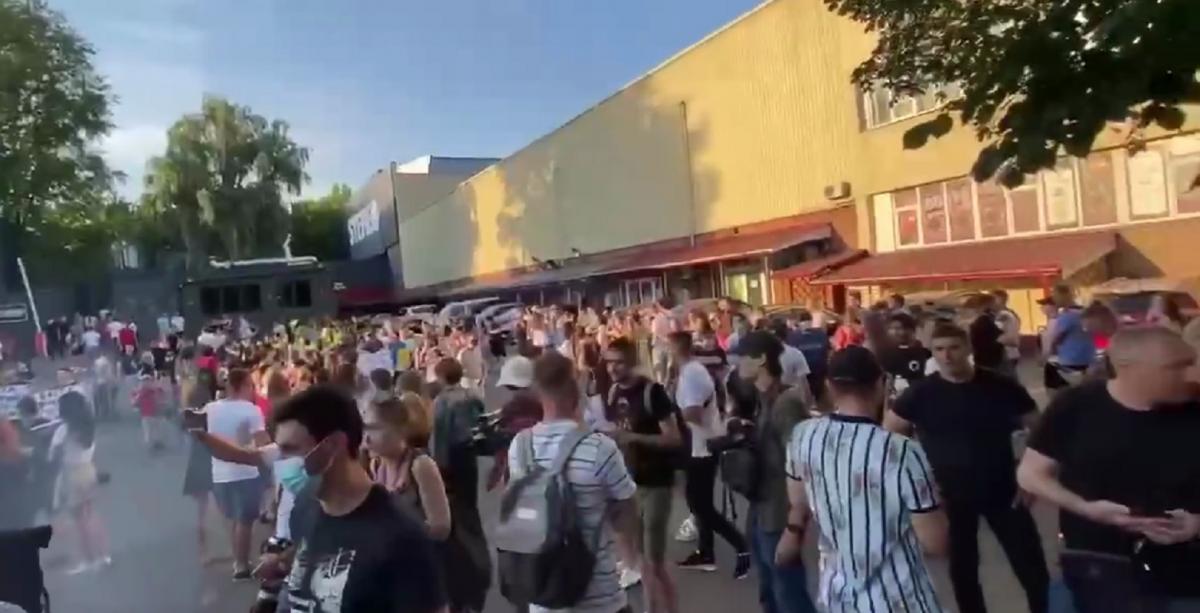 Screenshot
Russian rapper Basta (Vasily Vakulenko) performs today at Stereo Plaza in Kyiv. However, the event began with protests.
A dozen people came to the concert hall with posters: "Basta supports the occupation of Crimea," "Basta finances the Russian army," "Basta is Putin's six."
From the loudspeaker, they spoke about the political position of the performer and reminded those who came to the performance that he was touring in the occupied Crimea, participated in Russian propaganda competitions.
"This man is speaking today. This is a man who should never have set foot on Ukrainian soil because of his consistent support of the Russian government, the policy of the Russian government against Ukraine. This bastard came to Kyiv today and wants to make money on Ukrainians. Going to this person's concerts means supporting the occupation of Crimea, "said one of the protesters.
However, the guests ignored the calls of activists – they passed by the building. As soon as the man's loudspeaker was turned off, people in the queues shouted: "Hurray!" Eventually, activists chanted, "Get out of here!"
The footage, taken by photojournalist Jan Dobronosov, revealed communication between activists and Basta fans. One of the women responded to the demonstrators' posters by shouting.
"We got the posters, damn it!" Fuck you! "Exclaimed the rapper's fan. To which she was reproached that she did not seem to know what war was.
"And there was no war before Basta ?! Wasn't it, fuck ?! Basta is to blame for everything! Are you idiots ?! Piz * etz, bl * t. Under * race! Su * a », – the woman added. A man next to her asked activists to go elsewhere. Asked if he was embarrassed that his favorite singer supported the occupation of Crimea, he replied: "Not at all embarrassing."https://t.me/uniannet/24837?embed=1
On June 25, Stereo Plaza hosts a solo concert by Russian rapper Vasily Vakulenko. From 2017 to 2020, he was on the list of people who threaten Ukraine's national security due to regular tours in the occupied Crimea. However, in 2021, the SBU and the Border Guard Service did not extend the ban.
(C)UNIAN 2021