Ukraine-China trade turnover grows by 48 percent in January-May 2021 – ambassador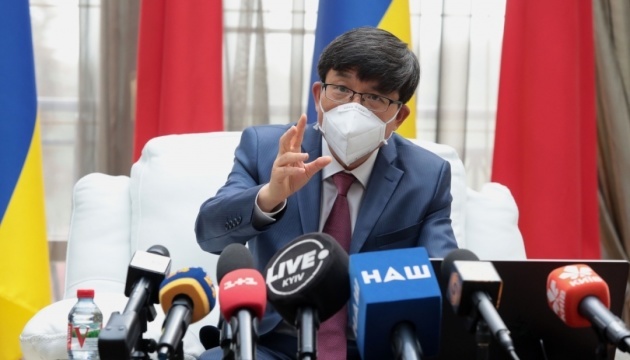 24.06.2021 16:50
In January-May 2021, trade turnover between Ukraine and the People's Republic of China increased by 48 percent compared to the same period last year and amounted to over USD 7.4 billion.
Chinese Ambassador to Ukraine Fan Xianrong said this at a press conference dedicated to the 10th anniversary of the strategic partnership between the People's Republic of China and Ukraine, an Ukrinform correspondent reports
"From January to May this year, trade turnover between our countries amounted to over USD 7.4 billion. This is almost 48 percent growth compared to last year's level," he said.
The diplomat emphasized that these are indicators for only five months and suggested that this year "good development" can be expected.
According to the ambassador, there is great potential for the development of mutual trade, in particular, in the agricultural sector. He said that Ukraine ranks first among the importers of wheat, sunflower oil, and sunflower meal to China. At the same time, the diplomat noted that last year China bought over 100 million tonnes of soybeans on global markets, of which 50-60 thousand tonnes accounted for Ukraine.
Fan Xianrong also said that China imports a lot of barley, beef, and peas. "We are ready to buy more products from Ukraine. The Chinese market is open to Ukraine," he assured.
As reported, trade between Ukraine and China in 2020 increased to USD 15.4 billion compared to USD 12.79 billion in 2019.
In 2020, Ukrainian imports to China amounted to USD 8.3 billion; while exports – USD 7.1 billion.
(C)UKRINFORM 2021