In Belarus, the flag and slogan of the opposition are going to be included in the list of Nazi symbols
The Belarusian Interior Ministry is initiating the inclusion of the BCHB flag and the slogan "Long Live Belarus" in the list of Nazi symbols.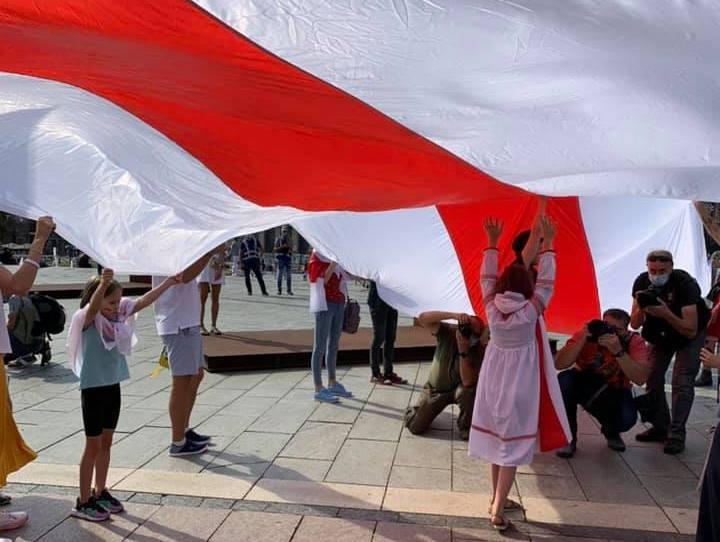 Belarusian white-red-white flag is going to be recognized as extremist / facebook.com/DyakovaAnastasiyaD
The KGB of Belarus is going to approve a resolution calling the white-red-white flag of the Belarusian opposition extremist, and want to equate the slogan "Long Live Belarus" to the Nazi salute "Heil Hitler".
This was reported by the Belarusian service " Radio Svoboda " with reference to the telegram channel of the Belarusian State Union of Journalists (BSJ).
The document states that such a symbol was "used by punitive and police officers", and the slogan is called "collaborationist greeting and battle cry" and is equated with "Nazi party greeting" Heil Hitler ".
Sanctions against the Lukashenko regime
At the summit on May 25, EU leaders agreed to prepare new sanctions against Belarus over the forced landing of a Ryanair plane in Minsk and the detention of Roman Protasevich, founder of the opposition NEXTA Telegram channel, on board the plane.
On October 2, 2020, the European Union imposed sanctions on 40 Belarusian officials, and later, on November 6, on 14 more, as well as on Alexander Lukashenko. The decision to impose restrictive measures was taken due to the suppression of peaceful protests and falsification of the results of the presidential election.
On December 17, 2020, the EU Council imposed a third package of sanctions against 29 people and 7 companies from Belarus. Restrictive measures include a ban on entry and the freezing of assets. Citizens of EU member states are prohibited from providing financial assistance to all individuals and legal entities from Belarus that have been subject to sanctions.
(C)UNIAN 2021