'It was our children they killed' Russian mercenaries implicated in the torture and killing of civilians in Central African Republic
Fatouma was at home with her children in the town of Bambari when the firing began, on the afternoon of February 15.Terrified, she gathered them up and fled to the nearby mosque, thinking it would be a safe refuge in the Central African Republic (CAR) market town.But instead of finding sanctuary within its walls, she and dozens of others — men, women and children — became targets. Both her children were shot but survived. At least a dozen people didn't."It was the Russians and the FACA [the CAR army]," Fatouma said.Russian mercenaries, supported by at least one combat helicopter, attacked the neighborhood as they hunted for rebels known as the Seleka. But according to multiple witnesses, they opened fire indiscriminately against civilians, many of them hiding at the al Taqwa mosque."There was not a single Seleka element found in the mosque," Fatouma said. "It was just the civilian population that they killed. We didn't even see a dead Seleka body on the ground, it was our children they killed."CNN has changed the names of witnesses and victims to protect them from possible retribution.Other local sources say there may have been two Seleka taking refuge in the mosque, but they were unarmed.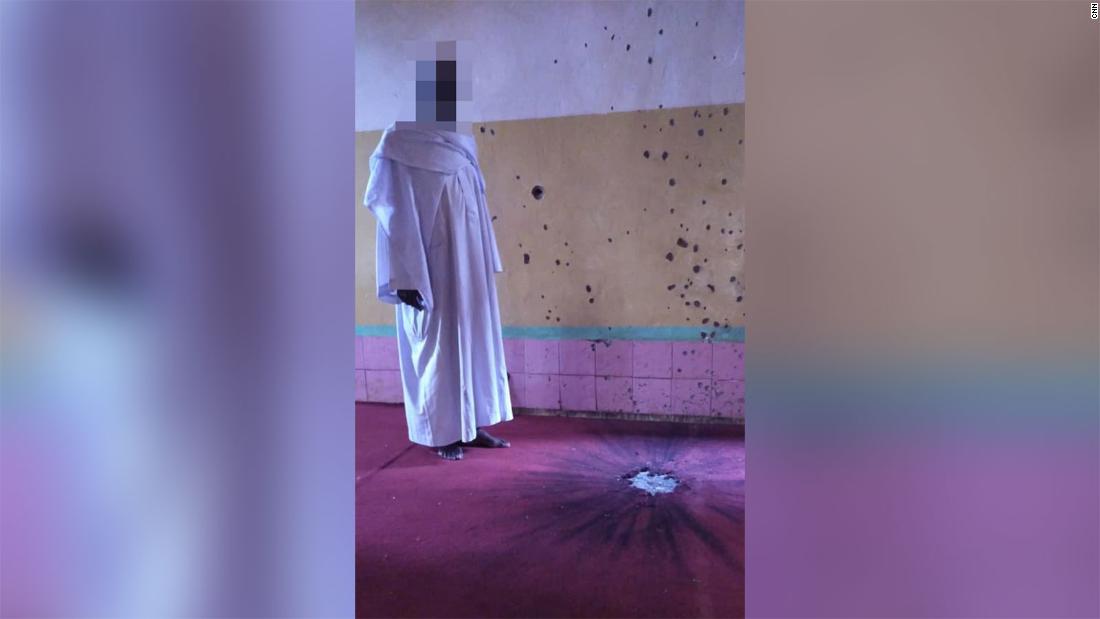 Bullet holes are seen inside the al Taqwa mosque in Bambari, Central African Republic in a photo taken in May 2021.The incident in Bambari is one of dozens investigated by CNN and The Sentry that show a wide range of human rights abuses by Russian mercenaries deployed to CAR.The Sentry is an independent investigative group co-founded by George Clooney and John Prendergast that follows the money connected to mass atrocities.Despite a pervasive climate of fear, dozens of people in the Central African Republic have spoken of summary killings, instances of rape and torture, and indiscriminate attacks on civilians, including the burning of homes.CNN and The Sentry have spoken with multiple witnesses to events in Bambari that afternoon. According to some, several civilians were shot in cold blood when the Russians and local troops ordered people to leave the mosque late that afternoon.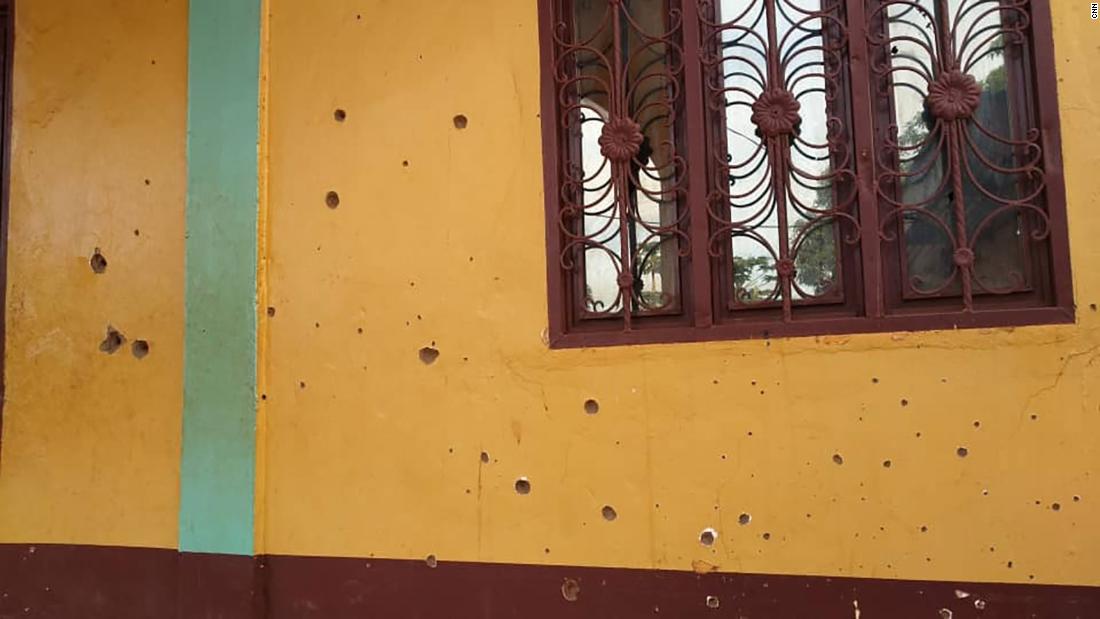 Bullet holes are seen in an exterior wall of the al Taqwa mosque in Bambari, Central African Republic, in a photo taken in May 2021.One 20-year-old man, Abdoulaye, told CNN that he came out with several others, hands in the air. They were searched but then Russians and FACA started shooting."We were five meters from them when they opened fire," he said in an almost matter-of-fact way, using his hands to show what happened. "Four people were killed, another escaped over a wall."A bullet struck Abdoulaye in the lower leg as he ran. He hid for nearly 10 hours because access to the local hospital had been blocked by the FACA and later had to have his leg amputated below the knee.Others told CNN that they were fired on by Russian helicopters that afternoon. CNN has confirmed that several Russian combat helicopters were shipped to CAR earlier this year.The total number killed in and around the mosque that February afternoon is unknown; but from the accounts gathered by CNN it was somewhere between a dozen and 20. It was far from an isolated incident.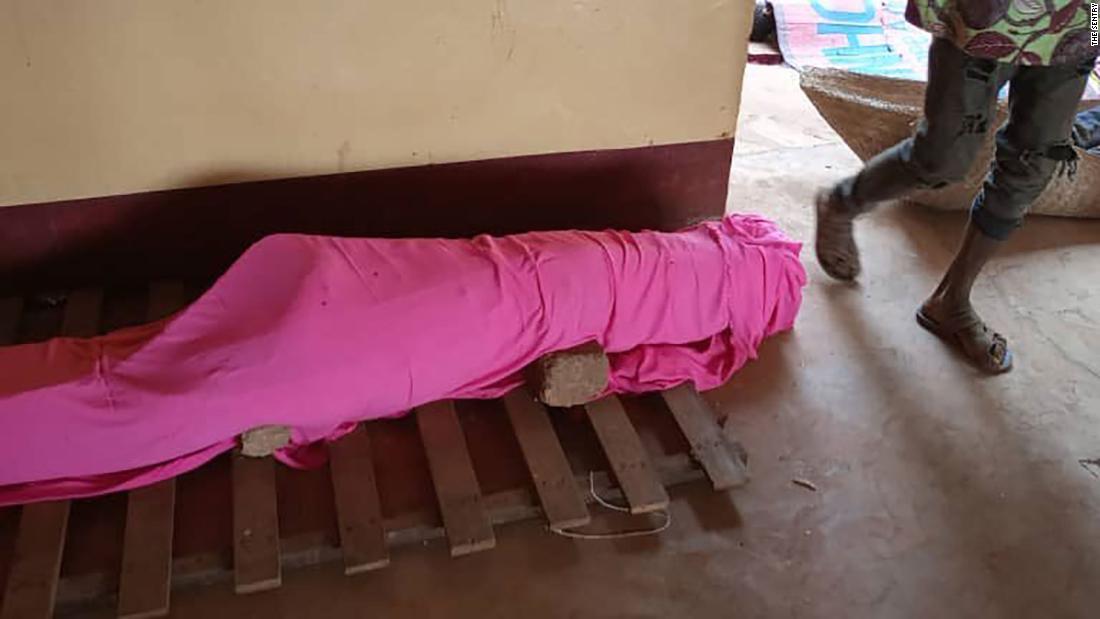 The body of a victim of the shootings in and around al Taqwa mosque is seen in February 2021.CNN and The Sentry obtained confidential UN documents that support the accusations against the Russian mercenaries made by witnesses and victims.A report compiled by the UN peacekeeping force in CAR, known as MINUSCA, said that in Bambari, "FACA and bilateral forces especially Russians and elements believed to be Syrians may have committed war crimes, especially in executing civilians and other individuals who were not taking part in hostilities."Sources tell CNN that an unknown number of Syrian mercenaries who had been fighting for Russian contractors in Libya were subsequently sent to the CAR. CNN has previously reported on their role in Libya.In its report on the incident in Bambari, the UN Working Group (UNWG) on Mercenaries said Russian mercenaries stood "accused of using excessive force and shelling protected sites such as a mosque and IDP camps."One woman in Bambari, Adja, told CNN her husband had taken shelter at the mosque. "Even though civilians took shelter there, the Russians fired," she said. "For three days, the Russians would not allow us to retrieve the bodies."Another woman, Djibrila, told CNN her 15-year-old son was killed by Russians firing from a helicopter. When her husband tried to find him, he too was cut down; he died in hospital four days later."My husband was buried together with my 15-year-old son," Djibrila said, cradling her baby.The MINUSCA team that investigated the incident in mid-March reported that three men were believed to have been "executed" by FACA/Russian forces. "These three men were not armed when they were arrested at the entrance of the mosque," according to the confidential MINUSCA report.
MINUSCA's Human Rights Division made a preliminary report in March 2021 following a specific trip to investigate allegations in Bambari and Grimari, the scene of two alleged atrocities involving Russians. The document was obtained by the Sentry and shared with CNN.Two weeks later, the UN went public with its concerns, with experts saying they had received "and continue to receive, reports of grave human rights abuses and violations of international humanitarian law, attributable to the private military personnel operating jointly with CAR's armed forces (FACA) and in some instances UN peacekeepers."The UNWG sent a list of allegations to the governments of Russia and the CAR, as well as to representatives of the military contractors.One member of the working group, Sorcha MacLeod, told CNN: "We're seeing some of the most serious human rights violations and humanitarian law violations. And we're seeing them on a widespread scale. People on the ground are absolutely terrified."MacLeod, a law professor at the University of Copenhagen, added: "We gather evidence from a wide variety of sources, and it is corroborated."UNWG has not received a reply from the company running the mercenary operation. The Russian government denied the allegations and insisted the contractors in CAR are "unarmed and do not take part in hostilities." The CAR government also denied the allegations but said an inquiry would establish the facts.
An expanding mission
In 2017, the UN Security Council waived an arms embargo on CAR, agreeing to the deployment of 175 Russian trainers for the local military.For the Russians, that was a foot in the door.A former Russian military intelligence officer, Valery Zakharov, became the security adviser to CAR President Faustin-Archange Touadera.But as CNN has previously reported, all but five of the trainers who arrived — along with a large supply of weapons — were not Russian military but private contractors, hired by companies linked to a Russian oligarch close to President Vladimir Putin, Yevgeny Prigozhin.
(C)CNN 2021