Stoltenberg supports Ukraine's right to apply for NATO membership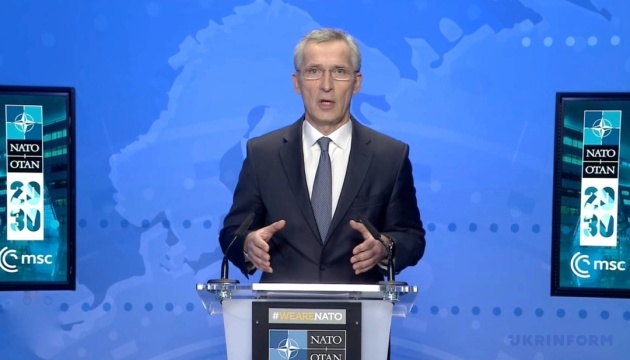 13.04.2021 15:10
Only 30 allies can decide when Ukraine can be ready for NATO membership, and no third country, including Russia, has any right to veto Ukraine's decision to choose its sovereign path, NATO Secretary General Jens Stoltenberg has said.
He said this at a briefing in Brussels on Tuesday, April 13, following an extraordinary meeting of the North Atlantic Council, which was convened at Ukraine's initiative, according to an Ukrinform correspondent.
"It's a sovereign right of every nation like Ukraine to apply for membership, but that is the right for the 30 allies to decide when membership is going to be offered. This is an important principle because Russia is now trying to reestablish some kind of sphere of influence, where they try to decide what neighbors can do. That is a world we really try to leave behind. Those were big powers could decide what the small neighbors could do. So therefore we strongly support the sovereign right of Ukraine to apply, and to decide its own path, and then for the 30 allies, and only the 30 allies, to decide when the standards are met," Stoltenberg said.
He stressed that NATO has consistently supported Ukraine's efforts to reform and modernize.
"Reform is the only path, the best way towards further Euro Atlantic integration, and we strongly reject the idea that we hear from Moscow that Russia has a kind of veto, a right to deny other countries, the sovereign right to decide its own path, including what kind of security arrangements they want to be part of, including a membership of NATO," Stoltenberg added.
Ukrainian Foreign Minister Dmytro Kuleba is on a working visit to NATO headquarters in Brussels on April 13. He took part in an extraordinary meeting of the NATO-Ukraine Commission initiated by Ukraine under Article 15 of the Charter on a Distinctive Partnership between Ukraine and NATO to implement the April 6 agreement between Ukrainian President Volodymyr Zelensky and NATO Secretary General Jens Stoltenberg.
Ukraine's strategic course towards full-scale membership in NATO is enshrined in the Constitution.
Zelensky said in a phone call with Stoltenberg on April 6 that the Membership Action Plan was the most pressing issue for Kyiv and a real signal for Russia. "NATO is the only way to end the war in Donbas," Zelensky said.
(C)UKRINFORM 2021