Ukraine is ready for any provocations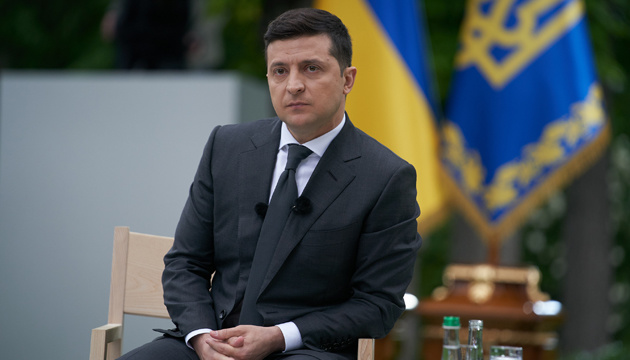 Zelensky on Russian troops near border: Ukraine is ready for any provocations
02.04.2021 President Volodymyr Zelensky has said that the so-called "muscle-flexing" in the format of military exercises and possible provocations along the border is a traditional affair of the Russian Federation, which is trying to create an atmosphere of threat and pressure during the peace talks.
The head of state said in a post on his Facebook page that Ukraine was ready for such actions.
"Russian military build-up on the border with Ukraine and muscle-flexing in the form of military exercises and possible provocations along the border is a traditional Russian affair. In this way, it seeks to create an atmosphere of threat and, at the same time, of pressure during the negotiations on the ceasefire and on peace as our value. Our army is not just strength and power; it is also wisdom and balance. Our state is unity. We are always ready for any provocations," Zelensky said.
He stressed that the escalation in eastern Ukraine had been noticeable since the beginning of this year. According to him, in the first months alone, 20 Ukrainian servicepersons have been killed and 57 have been wounded.
He also noted that sanctions against Viktor Medvedchuk, a "loud and firm" stance on Ukraine's independence and progress towards peace, as well as unquestioning support from Western partners, irritate the enemy that invaded the Donetsk and Luhansk regions and occupied Crimea.
Zelensky said that Ukraine would like to return to the conditions when the ceasefire was more effective – as of July 27, 2020, when there were ten times fewer wounded and dead for months.
"The peace negotiation process is not easy. But no one hoped it would be easy. It always hurts to lose our people. Every news of death is taken with pain by families, relatives, all Ukrainians and me as president. That is why we do not stop and are agreeing on a truce as the fastest tactical step. Our strategy is definitely peace and the return of our people and territories," Zelensky said.
The Main Intelligence Directorate of the Ukrainian Defense Ministry warned earlier that the Russian Federation was ready for large-scale provocations against Ukraine.