Russia's Top Diplomat Dons Profane Anti-Quarantine Mask for China Tour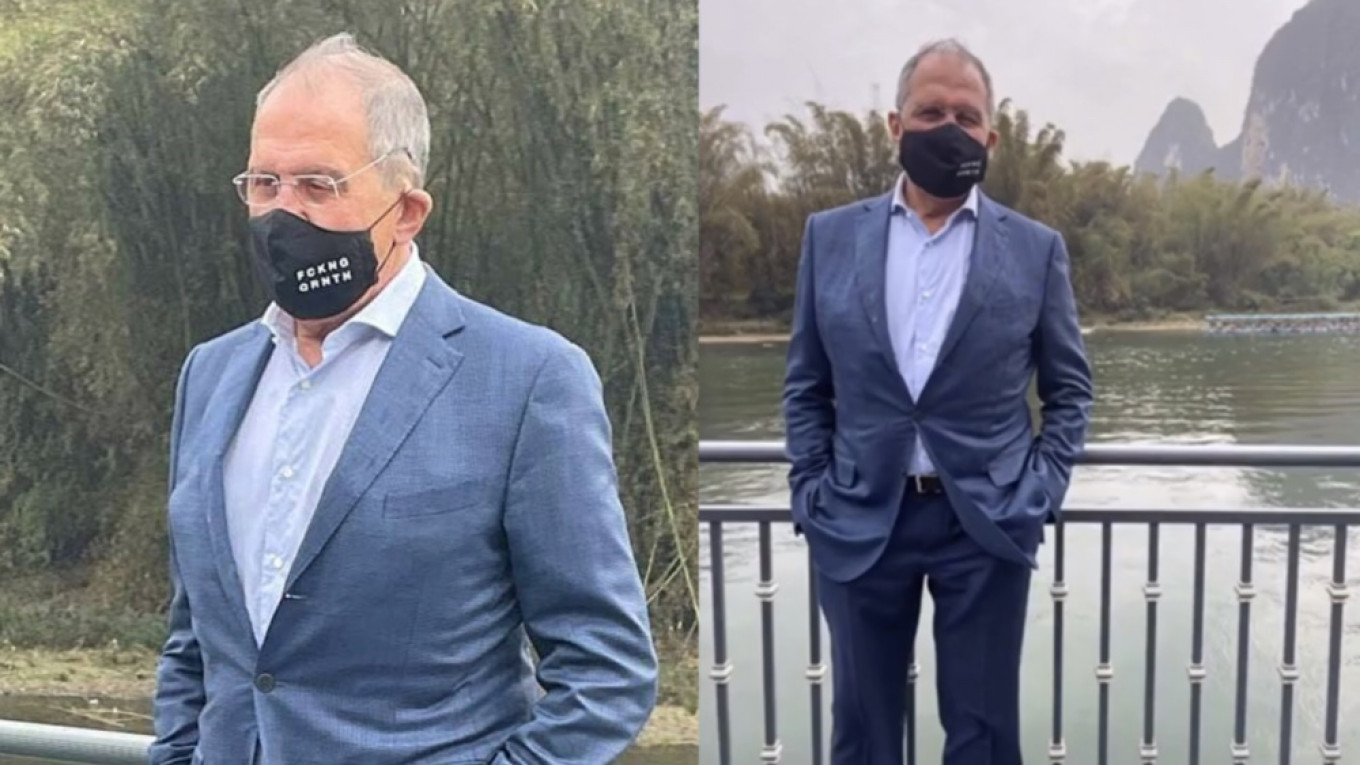 Unlike most other countries worldwide, Russia has largely rejected a return to the coronavirus lockdown measures it had imposed during the first weeks of the pandemic last spring.
And on Monday, the country's Foreign Minister Sergei Lavrov let his own opinions on self-isolation orders be known with a profanity-laced face mask.
https://v16-web.tiktok.com/video/tos/alisg/tos-alisg-pve-0037c001/d32e834871334e00bd90d98726ce756b/?a=1988&br=1996&bt=998&cd=0%7C0%7C1&ch=0&cr=0&cs=0&cv=1&dr=0&ds=3&er=&expire=1616537560&l=2021032316123301019021822211249B2A&lr=tiktok_m&mime_type=video_mp4&net=0&pl=0&policy=2&qs=0&rc=M2lvdmx0dzs6NDMzPDczM0ApaTRoN2kzOmQ0N2VnNTc8OGc1bWIvZC1oZGBgLS1hMTRzczUuMWAuNTAzMDAvX2IuNjY6Yw%3D%3D&signature=2597e9a31c408332499787f538a83be8&tk=tt_webid_v2&vl=&vr=
Lavrov posed for a video in the black mask, which featured the words "FCKNG QRNTN," while on tour of the Lijiang River in southeastern China.
"Pool journalists gave S.V. Lavrov a mask. Both the mask and the text suit the minister just right," Russia's Foreign Ministry said in its TikTok post.
The government daily Rossiiskaya Gazeta said the pool reporters gifted the mask to Lavrov, who turned 71 on Sunday, as a birthday present.
"The mask jokingly describes an attitude to quarantine measures imposed around the world due to the coronavirus pandemic," the paper wrote.
Subsequent footage from Lavrov's visit to China showed the Russian diplomat wearing different face masks.
Observers drew parallels between the flippant inscription and the Russian authorities' casual attitude toward safety measures, most recently at a packed, maskless Moscow stadium concert Thursday celebrating the seventh anniversary of Russia's annexation of Crimea.
President Vladimir Putin echoed during a Monday videoconference his frequent assertions that Russia has "stabilized" the coronavirus epidemic despite nearly 10,000 new cases registered every day.
Russia has the world's fourth-highest total Covid-19 caseload at 4.5 million.
(C)MOSCOW TIMES 2021